Football might the most followed sport in the world, but the tables are turned when the arch rivals and possibly the best batting team and the best bowling team face each other. Yes I'm talking about India vs Pakistan. Not only in Cricket but in any sport, whenever the two countries are playing, the world is following the game closely. India vs Pakistan rivalry has been intense and has been going on for quite sometime now. The clashes have give us a lot of memories which come alive the moment we hear about India vs Pakistan and one of them is Sachin Tecndulkar hitting Shoaib Akhtar for a six over third man in 2003 world Cup.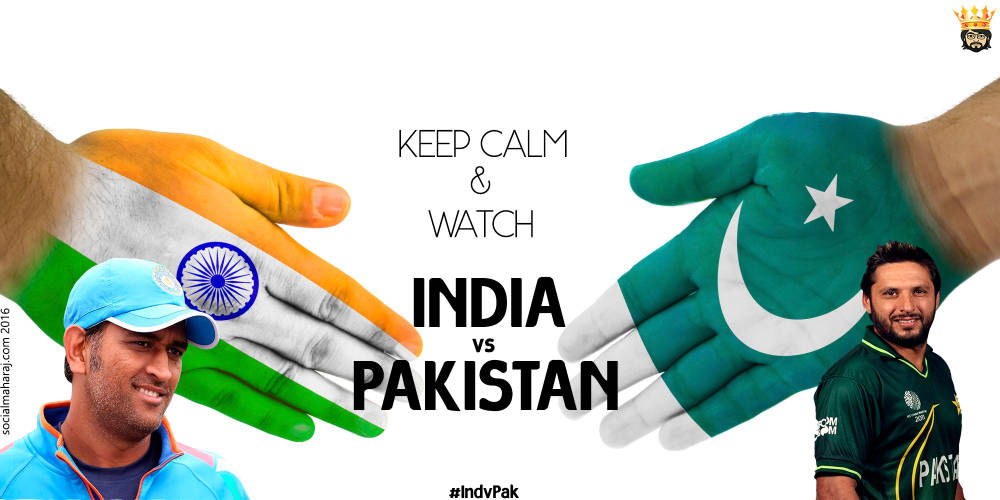 With the emergence of Twitter and the hashtags, India vs Pakistan rivalry is now happening virtually too. With various hashtags: #IndvPak, #PakvInd, #IndiavPakistan and others, the fans are rooting for their favorite team. Fans from both the countries are at it much before the game beings. For example you can see that it's about 2 in the afternoon and #IndvPak is already trending on Twitter even though the match is 4 hours away ! There are different types of fans you will find on Twitter. Some for whom #IndvPak is life and for others, well there are no other people ! For instance you can have my conversation with this gentleman on Twitter who was deeply rooting for Pakistan to win.
@anjumziaDr inshallah dua karte hain ki sabse behetareen team ki fateh ho ! #MakeLoveNotWar #IndvPak

— Atulmaharaj (@Atulmaharaj) February 27, 2016
Nonetheless, India vs Pakistan matches are crowd-pullers. People from all walks of life will stop their work to catch a glimpse of the match. There are some who fast for their teams. Well Yes ! I know some of my friends who fast whenever India plays but when it is India vs Pakistan, it's a total annshan !! 😛 The relations and the history that the two countries share has made the matches more exciting. The matches are electrifying and are definitely not for the weakhearted. Like a true cricket fan, all I want to see is a good, closely fought match. And yes, India winning it too 😉
The reason behind this post Keep Calm and Watch India vs Pakistan was the electrifying atmosphere on twitter currently going on between the fans of both the nations. So get those chips and popcorn ready. Fill your refrigerator with cold drinks and gear up for one of the most fiercely fought battles of alltime – India vs Pakistan !