Seems like the taxman have suddenly woken up. Thanks to the sudden announcement of demonetising Rs500 and Rs1000 notes, taxmen are all over the place to catch hold of the defaulters. Even as the rules have been relaxed and you are allowed to use the demonetised notes till 14th November, comes another blow. This time the target are netizens who use online services provided by a foreign service providers. The government has decided to impose a whopping 15% service tax for online services provided by providers from a foreign destination. Seriously !? I'm sure this is going to affect millions on Indians who use such services and things will surely take a hit. So now you pay 15% tax for online services from foreign portals starting Dec 1.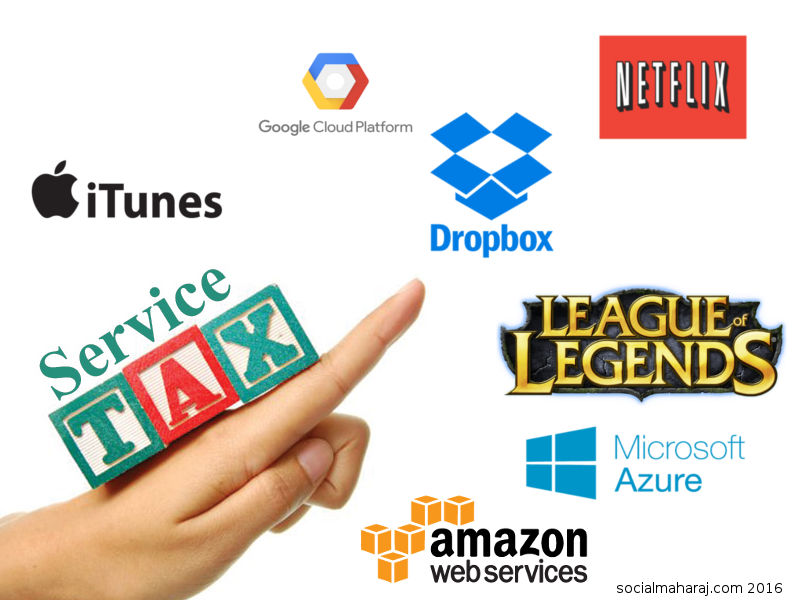 What has changed ?
Before I talk about the change, let me brief about the current scenario. According to the current rules if the service provider is residing in a foreign country and the service recipient is residing in India, there is no tax on the services received. So for example, if you are running out of space and you decide to buy 25GB of online storage from say DropBox, you pay only the amount that Dropbox charges and nothing else.
But with the amendment of the 'Place of Provisions of Services Rules' (PPSR) for 'online information and database access or retrieval services' of the Service Tax act, 1994 by the Central Board of Excise and Customs, you have to pay 15% service tax for all the online service that originate from a 'non-taxable' territory. A detailed inspection of the notification 48/2016-Service Tax dated 09-11-2016 on the CBEC website shows the real picture.
So from the Dropbox example I gave above, you will now need to pay 15% service tax for online services.
Do you need to pay 15% service tax for online services ?
According to the notification present here, it states that any service provider who is in a non-taxable territory and the recipient is in a taxable territory and any of the below two points are valid, the you need to pay 15% service tax for online services: 
the location of address and or the billing address presented by you via internet is in India.
the credit card or debit card or bank account by which you made the payment has been issued in India.
the IP address of the device used by you is in India
the country code of the mobile number and / or the landline used by you is of India
For what services you need pay 15% service tax
As per the notification, following services will now attract a 15% service tax:
advertising on the internet
providing cloud services – storage, servers, web hosting etc.
provision of e-books, movie, music, software etc. via telecommunication networks or internet
providing data or information to any person, in electronic form through a computer network
online supplies of digital content (movies, television shows, music, etc.)
online gaming
Well, this certainly is a big blow for every individual who makes use of these services. From advertising online, to buying e-books, movies, softwares and even playing games online will now attract a service tax of 15%. This is certainly not a good move as such online services will become costly and the Indian providers will surely try to cash in on this. With the infrastructure still not up to the mark and the costs still high in India, I wonder how many will actually opt for Indian service providers. Anyways, I don't support this hike. What about you ? Will you be willing to pay 15% service tax for online services ?