Road Trip is one thing that probably everyone has been doing right. I'm pretty sure that your news-feed would be full of travel status and updates. With a couple of long weekends already done and a lot other in the offing, I'm hoping that you would also be having some plans. Right? Now travelling by road is not everyone's cup of tea. For some it's a nightmare for other it's their life. And I fall in the latter part. I love travelling by road, be it bus, car or motorcycle – I'm game for any sort of road trip.
Of all, I feel the toughest is a road trip on a motorcycle but if the trip is on a Royal Enfield, then it's pure bliss. The one road trip that I'm longing for is a Bullet ride to Ladakh. A journey of few hundred kilometres is just fine, but once this distance crosses 500+ Kms then it's challenging. Travelling on a motorcycle is challenging primarily because of the unexpected changes in weather with such a distinct terrain. You may start with bright sun shine which would soon transform into a thundering storm. Just like the Enfield has come a long way since it's inception, the riding gears have been improved vastly too. So here's a quick guide on How to choose perfect riding jacket.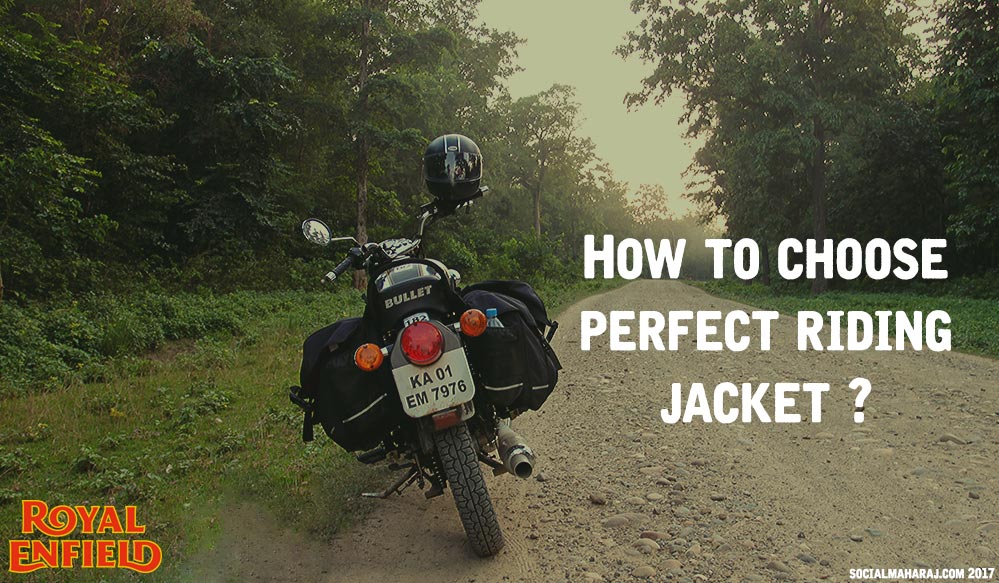 Royal Enfield Urban Gear – the perfect riding gear
Royal Enfield which is well-known for their tough, touring motorcycles have launched their line of riding gear. Enfield has been long known for their durability and ruggedness and their new range of riding gear has the perfect blend of a heritage look along with classic materials with modern cuts and fits. The new range has carefully picked colors from a palette of browns, black and olives along with fabrics like leather and canvas to name a few.
The collection includes a full range of urban protection gear such as pants, jackets with reinforced elbow patches, textile jackets equipped with armoured pockets and shoes. All the riding gear that they offer comes with protection, functionality and comfort. Enfield has kept that in mind and ensured that their range of jackets suit everyone's need. So here's a quick guide to choose perfect riding jacket.
Jacket Buyers' Guide – How to choose perfect riding jacket
Type of Riding Jackets
Currently the Royal Enfield Urban Gear includes a range of jackets based on fabrics, so you have leather jackets, protective and textile jackets. So whether it's an all-terrain /weather ride or an evening party, the new range from Royal Enfield will cover all.
Leather Jackets
These are probably the most loved jackets. The eye-candy I should say!! Not only they add that killer look to your attire, they provide great protection too. These jackets are carefully crafted keeping in mind the bold look of a Royal Enfield motorcycle. Not only for the looks, but leather jackets with some armour protection is helpful. This protection acts as shock absorber for small shocks.
Also another thing to keep in mind before purchasing a leather jacket is the fit. The fit largely depends on the motorcycle you ride, because your posture decides the fit. A leather jacket on a Bullet will have a different fit when compared to a sports bike. So, go for a leather jacket if you are looking to make a style statement. If you are planning to hit the pub, this jacket is perfect for you.
Protective Jackets
If you love touring on your motorcycle, then a protective jacket is a must. Because when you travel for days, the changing weather and terrain isn't something that is easy to tackle. And these protective – all-weather – jackets are the perfect companion. Moreover these jackets have good protection as they come with excellent durability and are made from tough materials.
These jackets have laminated reflective panels for increasing visibility in low visibility conditions. From the weather point of view, these protective jackets are waterproof and come with detachable thermal layer. So if you enjoying riding for days on road, then these protective jackets are vital. Check out some amazing protective jackets from Royal Enfield here.
Textile Jackets
Textile jackets are those that can be worn on your ride to office daily. These low maintenance jackets are perfect for daily use. With the unique colors offered by Royal Enfield Urban Gear, these textile jackets can be paired with anything. From riding to attending a party, textile jackets should be your choice because they offer looks with functionality.
These come in regular fit so that you get the perfect fit and are comfortable. Thus, if you are looking for an everyday jacket that can protect you from the heat and wind, textile jackets is what you should choose.
So this was a quick round-up of jackets that you should choose. No matter whether it's a daily ride or a long trip, one must have a good riding gear in place. Of all the others – gloves, helmet, pants – jackets are probably the most important ones. Considering the changes in weather, visibility conditions, jackets are the first protective gear that will help you keep up with the changing environment. The next time you are planning a road trip to Ladakh or the north-east, make sure to have a good protective jacket ready. That's all in this guide of choosing the perfect jacket for the biker in you. Think I've missed anything or have some suggestions? I'm all ears. Write in the comments below or tweet to me @atulmaharaj