Water and Food in India changes every hundred kilometers. Anyone who has traveled to places in India would agree to it. In the same city in fact you may come across variations. Let's say an Aloo Paratha in Delhi or Punugullu in Hyderabad can have varied taste. Being a Foodie you want to taste it all, but that requires you to travel. Or perhaps simply attend a food festival. MTR Telangana Food Festival – MTR Telugu Ruchulu is a specially curated one of its kind Telugu Food Festival happening in Hyderabad.
Telangana – the land of spice
Telangana as a state is pretty small, but it packs a punch when it comes to food. Though it is a separate state, it has the influence of Andhra cuisine (& vice versa) There are specific regions in the state that have different cuisines. For instance, there's the Rayalaseema region that is known for it's spicy food. I was fortunate to attend the Rayalaseema Food Festival at Rayalaseema Ruchulu some time back. Items like Pappu (dal), Pachadi (chutney), Vepudu(crisp fried vegetables), podi (seasoning) are part of daily meals. With so much variations, it's quite impossible to taste all of them by traveling (unless you have lots of time and money to travel) and that's why the food festival MTR Telugu Ruchulu is perfect for you.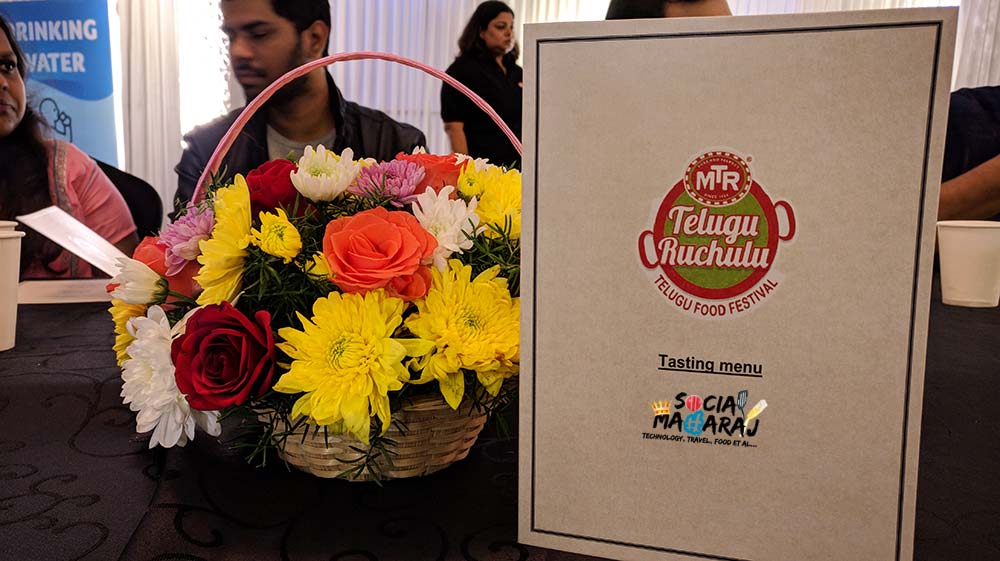 MTR Telugu Ruchulu – MTR Food Festival
MTR has been a part of my meals for quite some time be it the instant Poha, Upma for days I can't cook or the Rasam and Sambhar powder. So when MTR invited me to experience the food festival MTR Telugu Ruchulu I readily agreed to be a part of it.
Home chefs at MTR Telugu Ruchulu
One of the great things that I observed during the MTR Telangana Food Festival was that a lot of home chefs were given opportunity to show their talent. According to Chef Regi Mathews, they had almost 850 dishes from across Telangana to shortlist. And after the herculean task, they were able to get the 80 dishes that are on offer at the MTR Telugu Ruchulu Food festival. The event kicked of with the home chefs cutting the ribbon followed by a cultural performance for the friends from media. So each region had a team of 8 chefs including the home chefs who have provided the recipe.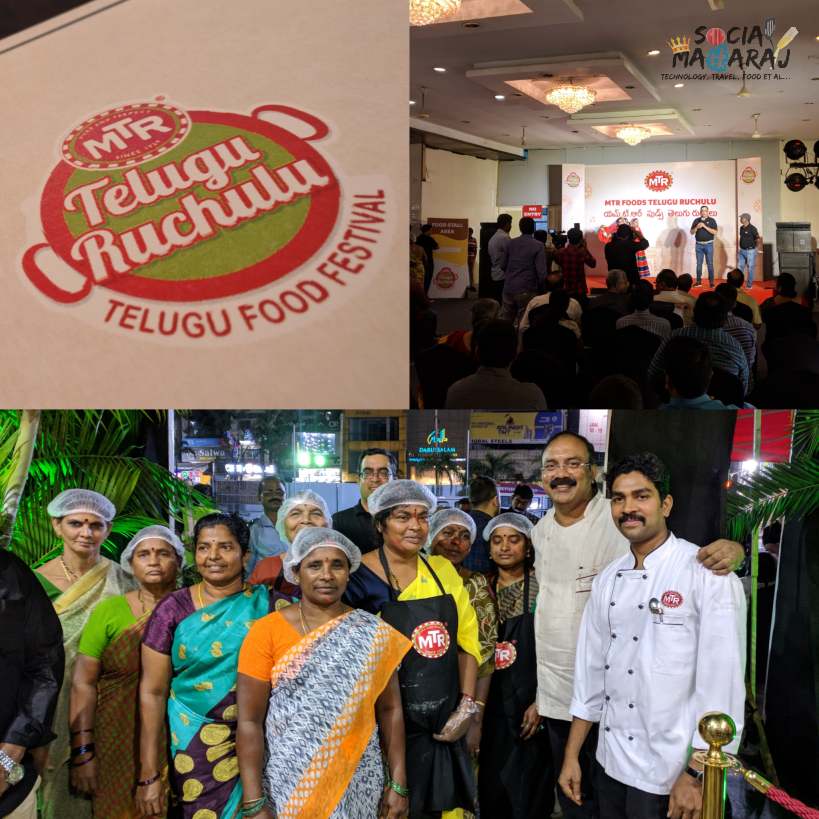 We bloggers had a special tasting session along with Chef Regi Mathews who told us everything about the dishes that we were to be served. The MTR Telugu Ruchulu is serving dishes from 6 regions of Telangana and Andhra namely Karimnagar, Srikakulam, Krishna, Godavari, Kurnool (Rayalaseema) and Prakasam. Each stall has more than three set combos available along with a variety of chutneys. We were served one combo from each of the region along with the desserts.
Vegetarian's paradise at MTR Telugu Ruchulu Food Festival
The best thing about the MTR Telangana Food Festival was that it was a pure vegetarian affair. To start with we tried the Mirchi Bhajji, Alasandalu Vada and Uggani. Alasandalu vada has been my favorite all times and loved this one too. Next we had the Dibbarotti and punugullu along with Allam Pachimirchi pachadi. This has got to be the finest chutney I've eaten. We then tried the Pullatu along with Palli Chutney from Konaseema region. This was followed by Qabooli Biryani along with Baghar-e-Baigan. The Qabooli Biryani was simply delicious and I had it for the first time. Next we tried the Pesarattu with Allam pachadi. Lastly we had steamed rice, Patoli, Inguvacharu and Usirikaya pachadi. (below image in the order of dishes mentioned above)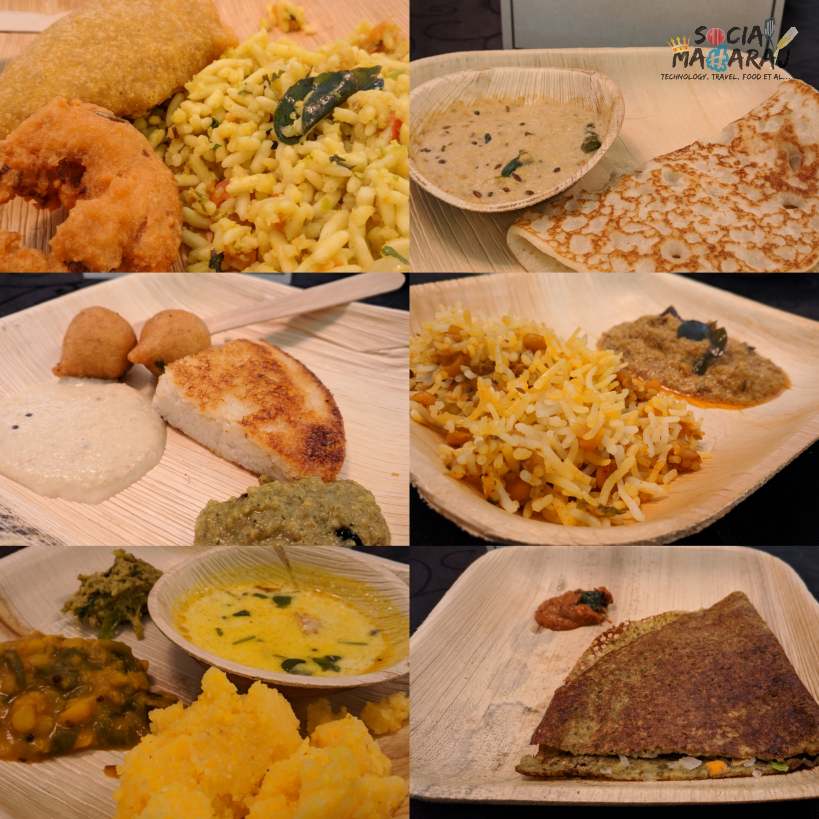 Overall, the mains were pretty delicious. Not the regular spicy stuff that one would expect. Loved all of them, had pretty good taste. Anyone who loved food would appreciate the flavors with the amazing ingredients. The desserts stall was flocked the most as it had quite a lot on offer. From the famous Potherakalu to the loved Bobbatlu and Ariselu and Khaja. There was also Kaddu Kheer which was nicely done too.
MTR Telugu Ruchulu Food festival is a hit
The MTR Telugu Ruchulu Food festival is one of its kind and the first time in Hyderabad. They have done this earlier in Bangalore. I liked the concept of the MTR Telugu Ruchulu and I'm sure you'll like it too. The event is happening at Banjara Function Hall in Banjara Hills on 18th and 19th January, 2020. You can go there for lunch or dinner. The tickets for MTR Telugu Ruchulu are available on BookMyShow and are priced reasonably at Rs 400 for an adult and Rs 250 for kids. Though the entry times are regulated, you can eat whatever you want, how much ever you want. I'm sure the foodie in you want to go here. Go ahead and make your weekend a delicious one. Share your queries, thoughts, feedback in the comment below or tweet to me at @Atulmaharaj or DM on Instagram