The best memory I have of summers is obviously the summer vacations. Spent few vacations attending summer camps learning to code, play harmonium and paint. Other times I was on a train visiting my grand parents in Lucknow and Varansi. However one thing that remained constant were Mangoes. Maharaj loves Aam. Period. In this blog post I'm sharing my instant mango cake recipe. This lockdown I have been spending time cooking. I made Mamidi Tandra sometime back and this week I made Instant Mango Cake !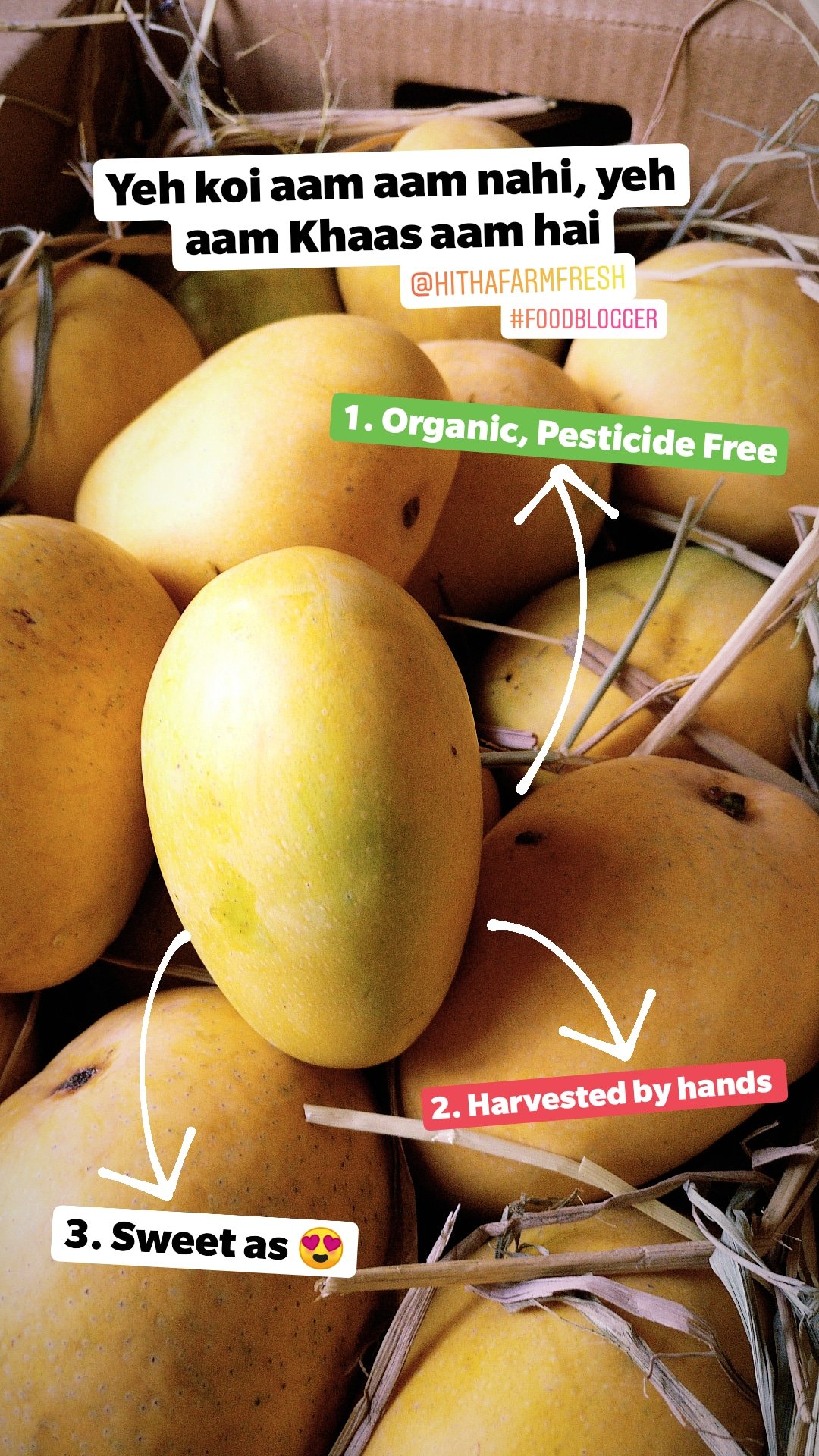 I had some mangoes (a lot of) and had to do something with them. It could have been anything, either Mango Lassi, Mango Rabri, Mango Kheer or Mango Subzi. However, I started with trying Mamidi Tandra or Aam Papad, Amavat as many call it. It's one thing I enjoy a lot. Further, now that I learnt to bake at school, I decided to make Instant Mango cake and posted photos of it on Instagram. Many of my friends requested for the recipe and hence here I am posting my version of Instant Mango Recipe.
Instant Mango Cake Recipe – No Microwave required
Though I have a microwave oven at home, I prefer to not use it. Not any specific reason, but my kadhai was good enough for this Instant Mango Cake recipe. In case you have an instant pot, you can put that to good use as well. If that has preset menus, baking the mango cake won't be tough !
We are using a normal kadhai for making this mango cake. You can either use your microwave or a normal gas tandoor or a pressure cooker. So here are the ingredients for instant mango cake recipe.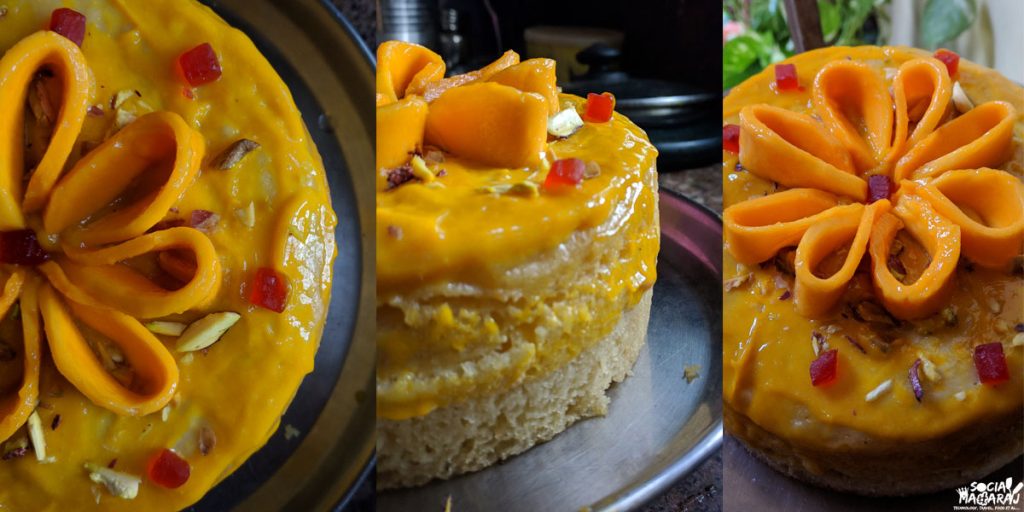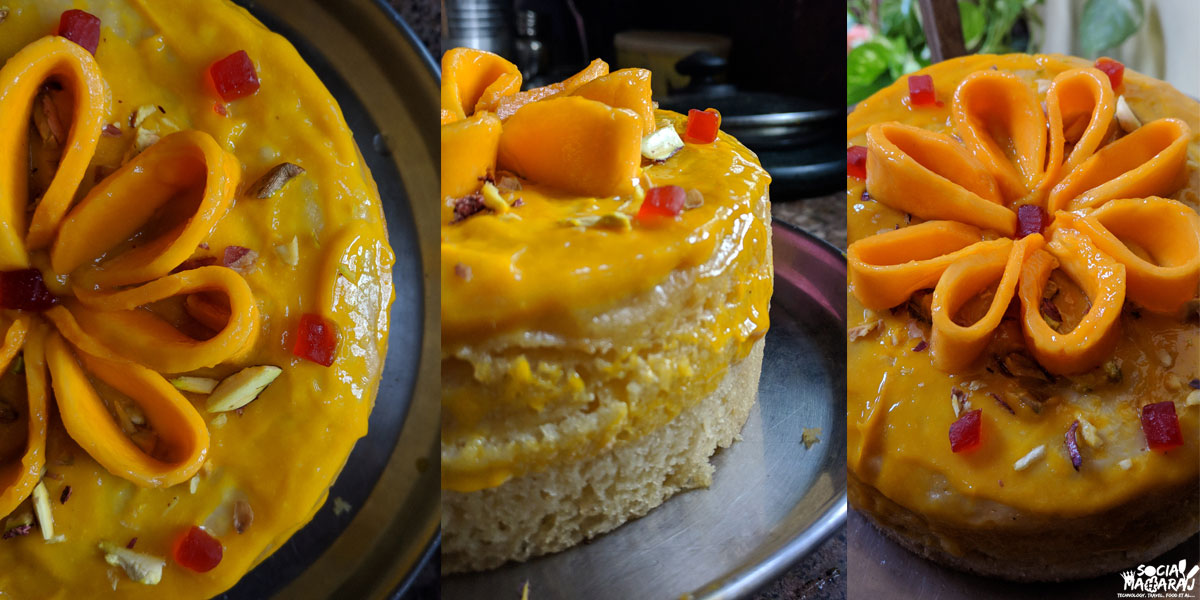 Ingredients
2tsp curd
2tsp oil
1/4 cup powdered sugar
1 Cup Maida
1/2 cup milk
1/4 cup mango purée
1 tsp baking powder
1/4 tsp baking soda
Mango pieces for garnishing
Process
Take a bowl and add curd, oil and powdered sugar. Make a fine paste.
Add Maida to this paste and mix continuously.
Add Milk to this mixture in small quantities and keep mixing. We need to add this in small quantity to ensure there are no lumps in the paste.
To his mixture add baking powder and baking soda.
The last item that goes in this is the main ingredient of our instant mango cake recipe – Mango Puree. Add this and mix well ensure that the consistency of the batter is not too liquidy.
Take a cake mold and grease it with oil and sprinkle some maida in it
Add the instant mango cake batter in this mold.
Keep that mold in the kadhai/cooker for 25 minutes.
Once the duration is reached, use a knife to poke in the cake and ensure no cake sticks to the knife. Once you observed, congratulations your instant mango cake is ready !
Garnishing
There are three aspects to everything we eat – Taste, Aroma and Appearance. And we need to give some good appearance to our instant mango cake.
For the garnishing, we will use the left over mango puree and apply all over the cake.
Garnish with pista and tutty fruity or anything you like.
Layer it with few mango slices and give your instant mango cake amazing appearance.
Try the Instant Mango Cake Recipe
This is one of the easiest instant mango cake recipes that I've probably come across. Also since that I've tried it, I know this works. So for all my friends and followers asking about my instant mango cake recipe, hope this helps 🙂 Do try it out and let me know how it is. Also, if you do make it, tag me on Instagram and I'll feature it here. Over to you, what are your thoughts on this instant mango cake recipe ? Mention in the comments below or tweet to me at @Atulmaharaj or DM me on Instagram.