In a recent blog post, I wrote about the Best Vegetarian Biryani in Hyderabad. And for everyone who thinks Veg Biryani is Pulao, I'm on the Biryani side. Period. I know that Veg Biryani exists and it tastes delicious. Being the only vegetarian Hyderabad Food Blogger, I'm the only one who is writing extensively about vegetarian food in Hyderabad. And continuing the practice, I'm going to share my favorite restaurants serving the Best Vegetarian Thalis in Hyderabad. All these restaurants, have been tried and tested so you can rest assured that these are surely among the best vegetarian thalis in Hyderabad.
What's with vegetarian thalis?
While the world has most a la carte and buffets, India has the third dimension when it comes to eating out and that is the thali. Quintessentially, a thali is a complete meal. Usually, the thalis are as per a culinary theme. So you can have a Gujarati Thali, Rajasthani Thali, South Indian Thali to name a few. The specialty of vegetarian thalis is that you get introduced to so many new items. For instance, I was introduced to kaer sangri – a popular Rajasthani dish – when I ate the thali at Ohri's De Thali in Hyderabad. To put it in simple terms, thali can be considered as a buffet served on the table 🙂
Best Vegetarian Thalis in Hyderabad
I've been staying in Hyderabad for close to 7 years now and have explored quite a few places especially when it comes to food. I've already written about Best Vegetarian Restaurants in Hyderabad, and in this post, I'll talk about the best vegetarian thalis in Hyderabad. Here are some of my picks that serve a lip-smacking vegetarian thali in Hyderabad
Subbayya Gari Hotel – Multiple Outlets
This has got to be the top place in Hyderabad when we talk about the best Vegetarian Thalis in Hyderabad. With 3 branches in Hyderabad, Subbayya Gari Hotel serves the best vegetarian meals. Priced at Rs 250 incl. of taxes, there's nothing that is not on your plate. Served on a traditional Banana leaf, you get to taste the authentic Andhra flavors at Subbayya Gari Hotel. Right from the pachadi(chutney) to curries and dals, they've got the best flavors. Also not to miss the podis!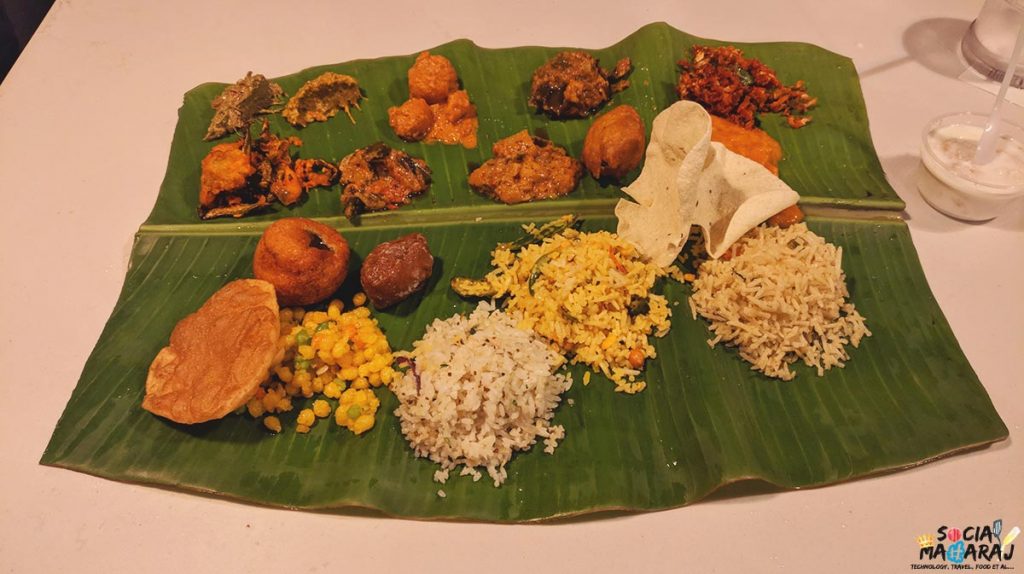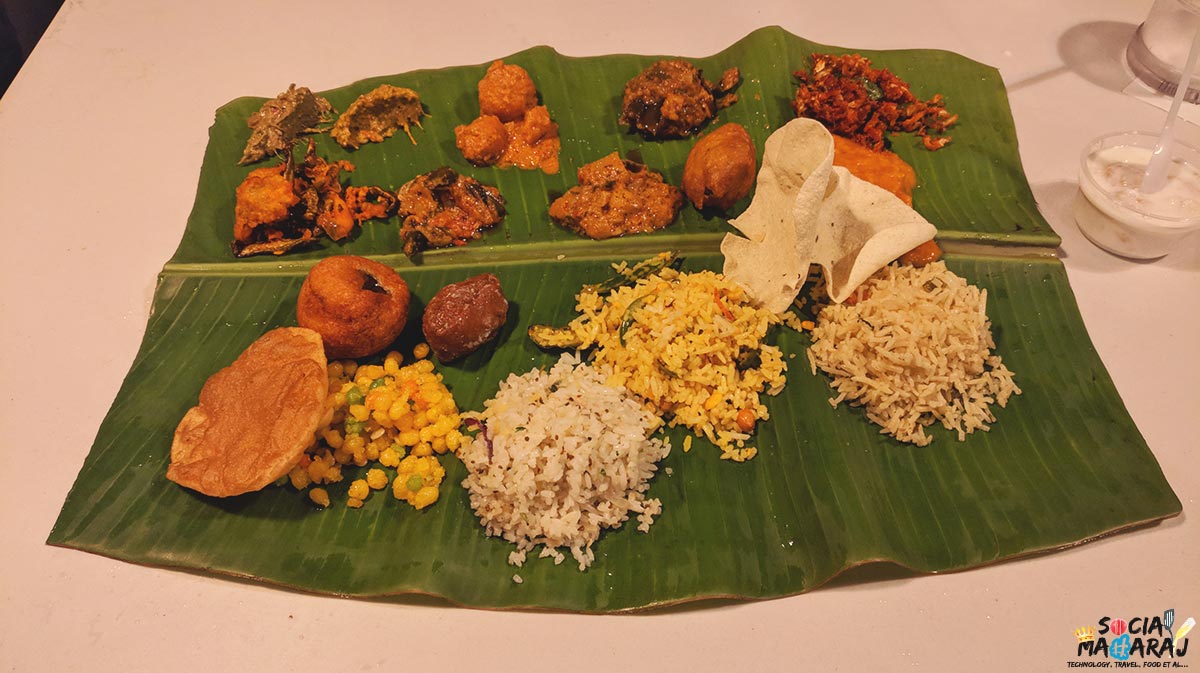 Rayalaseema Ruchulu – Multiple Outlets
While Subbaya Gari Hotel is known for its Andhra flavours, Rayalaseema Ruchulu is known for its Telugu cuisine. I was present at Rayalaseema Ruchulu Telugu Food festival a few years back and the flavours are still embedded in my memory. They have the Telugu speciality dishes like Ragi Sangatti, Guthi Vankaya along with other Telugu dishes that are sure you leave you drooling. While they call it a thali, it's more of a buffet system in my opinion. Sure deserves a spot amongst the Best Vegetarian Thalis in Hyderabad.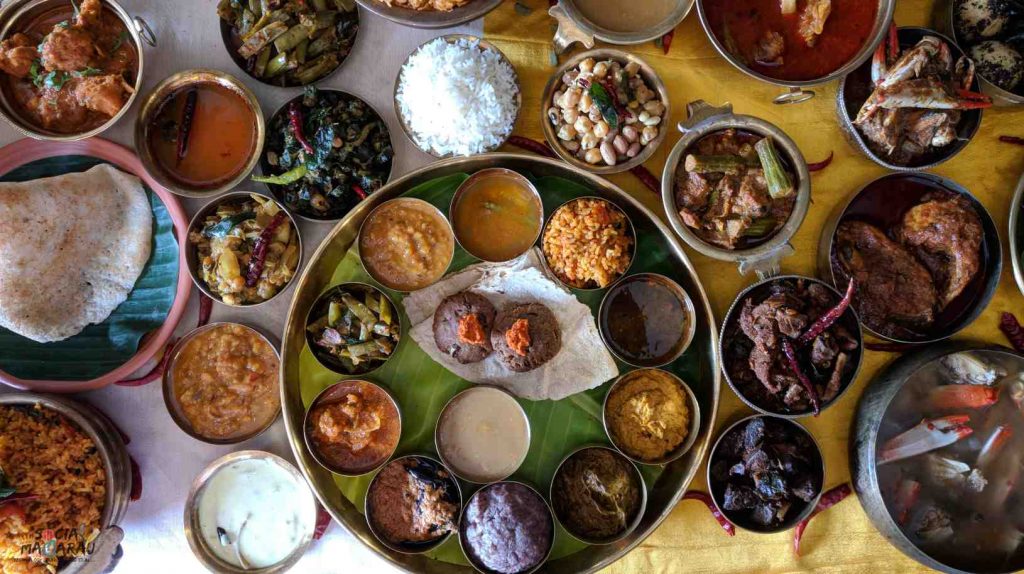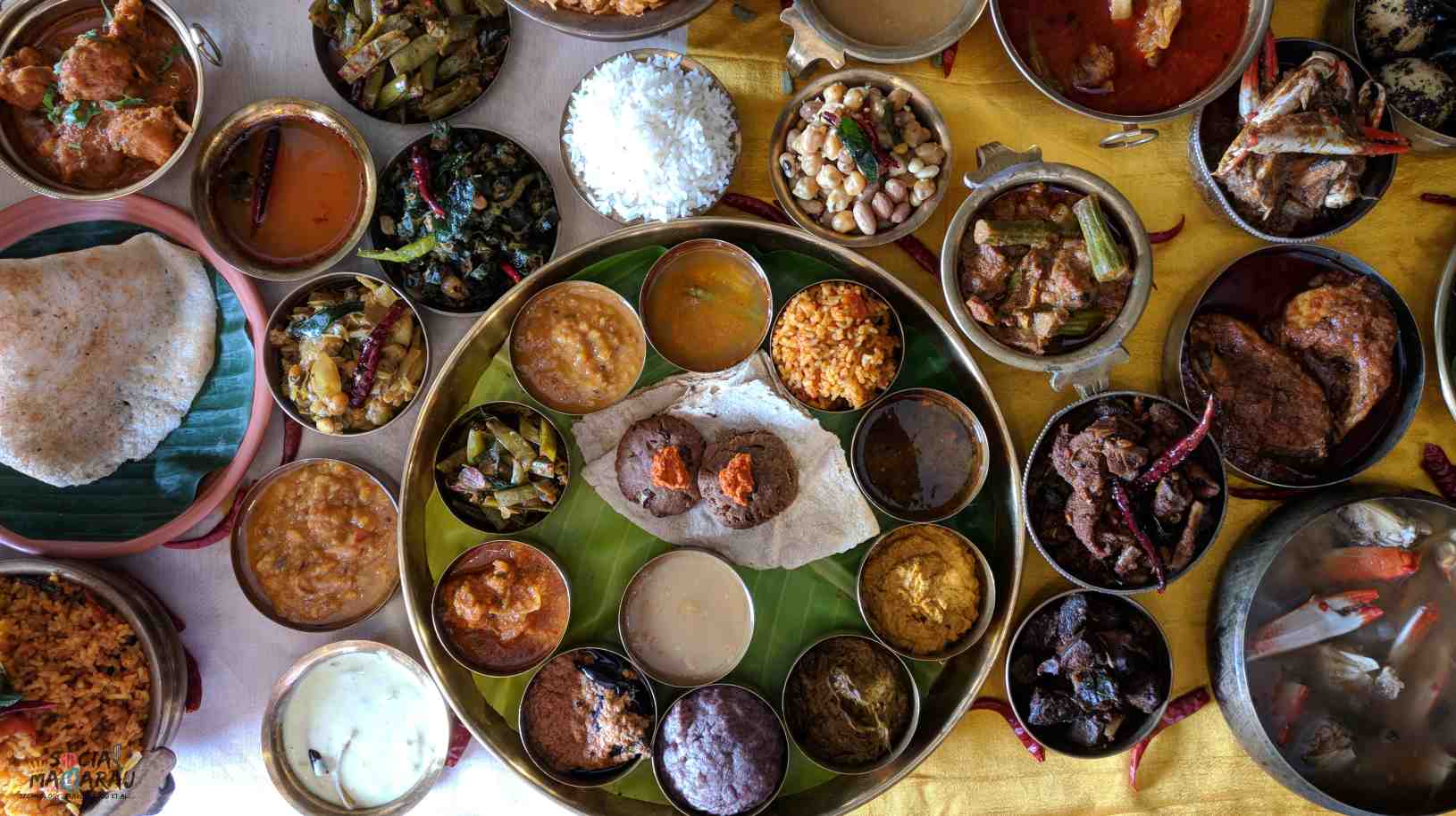 Chutneys – Multiple Outlets
You can not not talk about Chutneys when you are talking about Vegetarian Food in Hyderabad. They are spread across the city with multiple branches each serving the standard taste. While the thali here isn't one of the regional specific thalis, it is good on taste. The vegetarian thali at Chutneys comprises all the South Indian dishes you can think of. The pooris, sambhar, and the curd are to die for. With an unlimited serving of everything, this vegetarian thali in Hyderabad will surely satisfy your hunger and taste buds.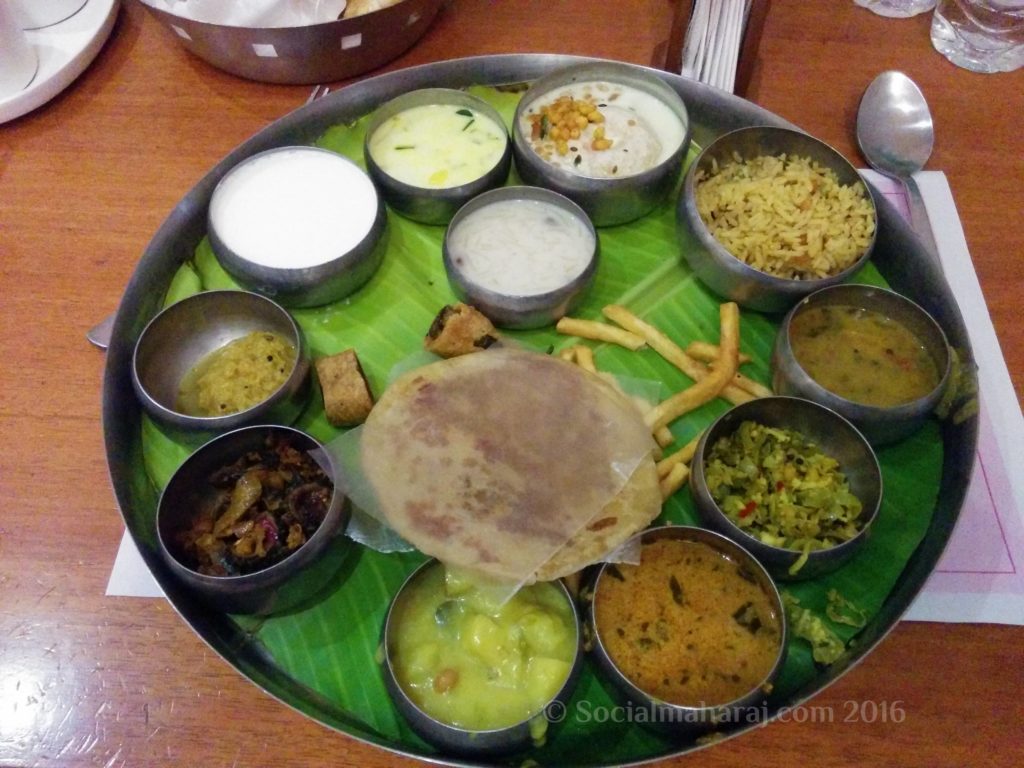 Abhiruchi – Madhapur
The three restaurants I mentioned above are the most well-known places with big outlets. Abhiruchi is a rather modest place but great on taste. Located in Madhapur, getting a seat to eat during lunch hours at Abhiruchi can be a herculean task. The vegetarian thali here has countable items but has a superb taste. The fry is worth a try and so is their Vankaya Curry, Sambhar, and Rasam. They don't serve poori/roti in the thali, it's only rice. If you are looking forward to having a delicious meal without burning a hole in your pocket, Abhiruchi is the place. No wonder it's here in my list of the best vegetarian thalis in Hyderabad.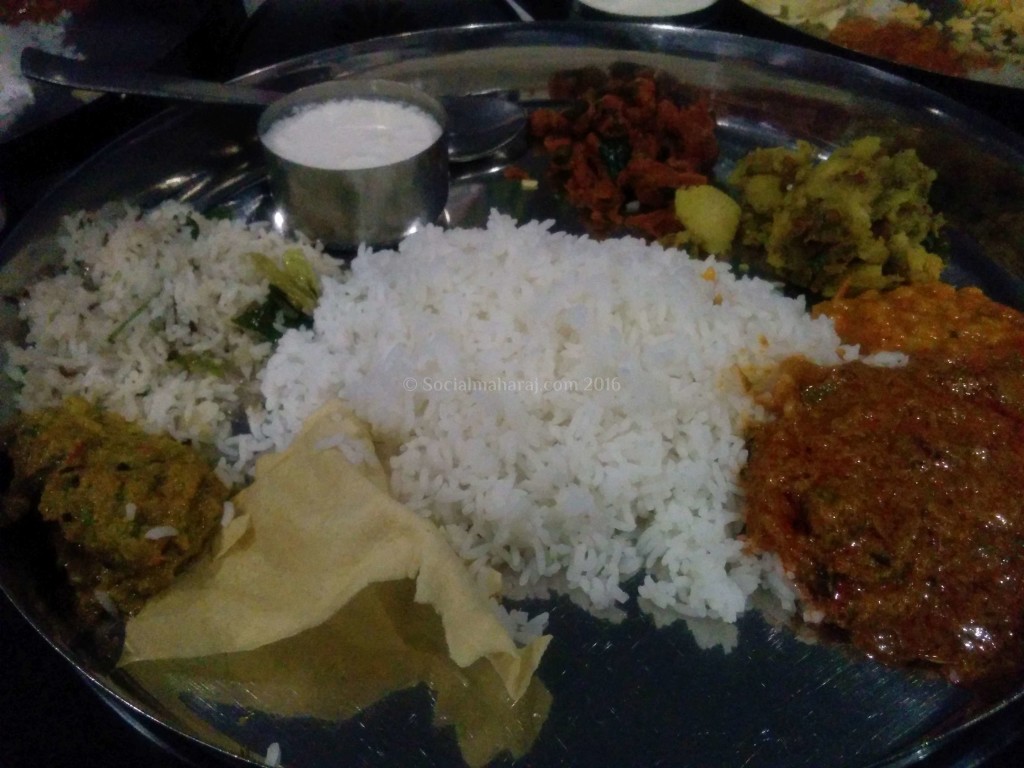 Village Aaharam – Gachibowli
"Don't be a minimum guy" is what Srikanth Tiwari was reminded of by his Boss in the famed web series The Family Man 2. But when it comes to the best vegetarian thalis in Hyderabad, Village Aaharam is the minimal place with organic food. A popular brand from Vijayawada, Village Aaharam serves simple food. With the concept of health and organic food, they serve brown rice instead of white and serve curd that is made in clay pots. Apart from the curries, Sambhar and Rasam, the chutney is not be missed!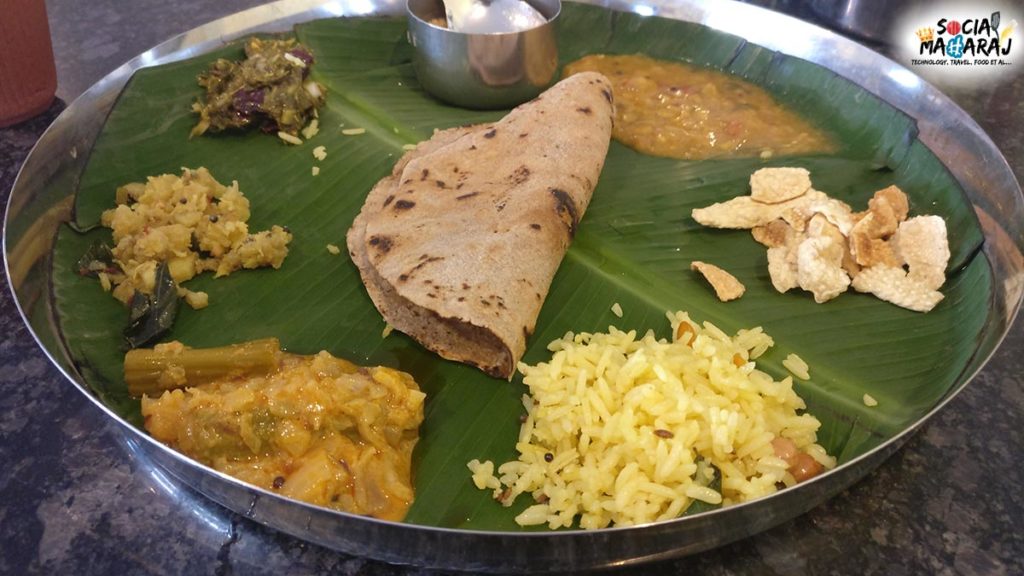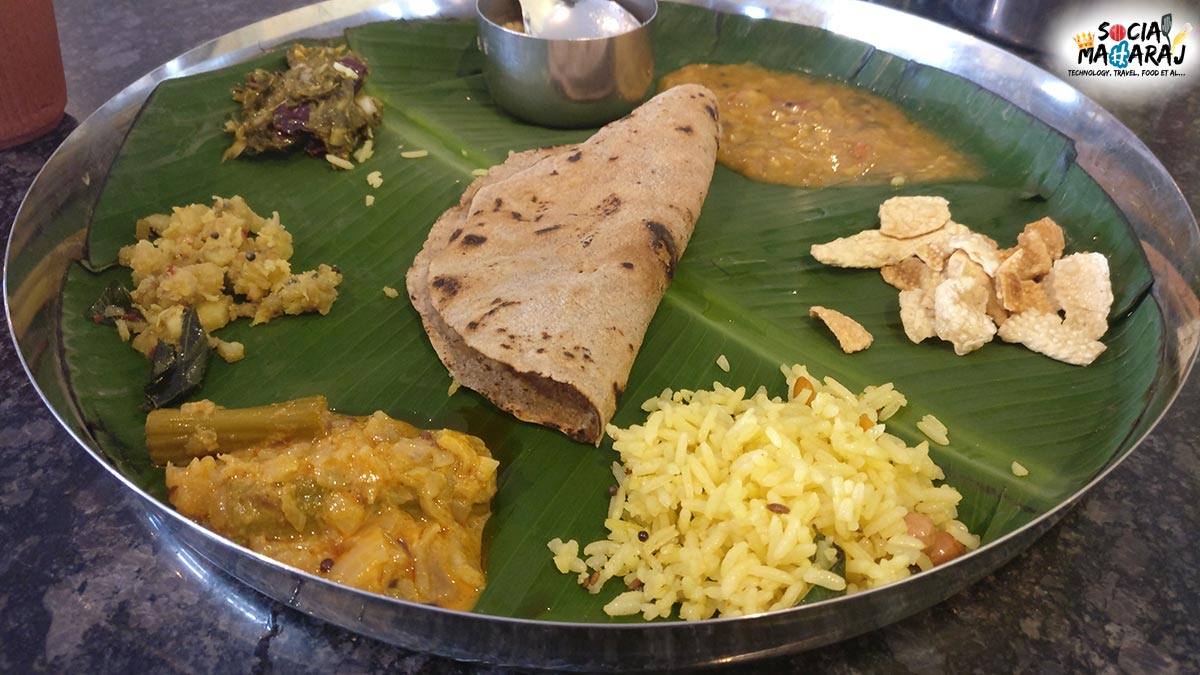 Ohris' Upppu – Banjara Hills
One of the recent entrants into the South Indian thali space is Ohri's, the famous F&B group of Hyderabad. With more than 15 restaurants in the city, they understand the pulse of Hyderabadis like no one else. Ohri's Uppu is one of the best-themed South Indian restaurants in Hyderabad. While they do serve a la carte menu, I had their thali just before lockdown and I was spellbound. The thali is good with a variety of south Indian dishes. Appam with Stew, Paniharam, Rasam is some of the items that constitute the thali. Priced at about Rs 350, this unlimited thali is surely among the top vegetarian thalis in Hyderabad.
I've stayed in a lot of cities across India & that has helped me develop a palate that appreciates different flavours.

Here's a South Indian Thali that I recently had at @ohrisindia Uppu in #Hyderabad

What's the best thali in your city?#Foodie #FoodBlogger #Socialmaharaj pic.twitter.com/jnzX0QeACh

— Atulmaharaj (@Atulmaharaj) February 27, 2021
Where will you go for the best vegetarian thali in Hyderabad?
These were my favorites places that make it to the list of the best Vegetarian thalis in Hyderabad. All of these places have their distinct taste, flavors, and ambiance. Each of the places is unique in its own sense and I'm sure you'll have a good experience at all of these places. There are a few other places like the Spicy Venue which I haven't been to yet and Ohri's De Thali which has shut down. If you are from Hyderabad or visiting Hyderabad, let me know where will you go to have the best vegetarian thalis in Hyderabad? Leave your comments below, tweet to me at @Atulmaharaj, Instagram DM @Atulmaharaj or Get In Touch.