The IITF – Indian International Trade Fair is one of the most awaited and popular trade fairs in the country. People from all walks of life and different parts of the world visit this fair which is held every year in November at Pragati Maidan, New Delhi. Exhibitors-big and small-you'll find all of them here. It had been 3 years since I visited this and always wanted to have a feel of it once before I left Delhi in future (Kya pata Kal Ho Naa Ho.. Who knows if tomorrow exists or not…)
This slideshow requires JavaScript.
Had checked out the Indian International Trade Fair website before I visited, so I had an idea as to how and where the things are. So here's how things unfolded.
This is a ticketed event, meaning you need to buy a ticket in order to visit the trade fair. Ticket prices are nominal, 50Rs for Adults, 30Rs for Children and Free for Senior Citizens. To avoid confusion and late minute hodgepodge I decided to buy the tickets at the Botanical Garden Metro Station, Noida. Tickets for the event are available at all major metro stations at the Customer Care counters.
Arriving at Pragati Maidan, I saw a sea of people… Literally a sea of people !! Cops were deployed at every corner to ensure the smooth functioning. Long queue awaited as we reached the place. but the queue was moving fast so no need to worry.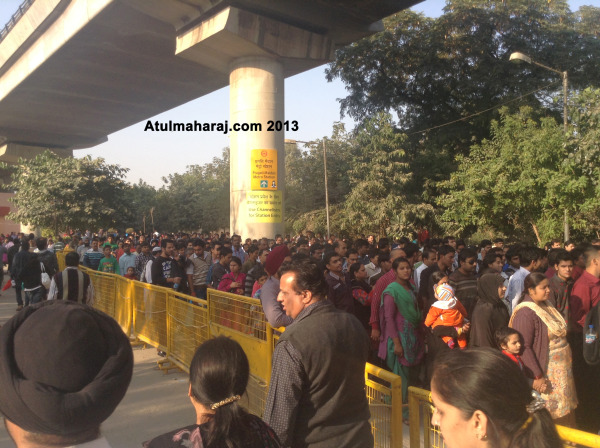 Its a huge event and spread across a huge area, chances are high that you won't be able to see everything in one single day ! So I had fixed my targets 😛 Decided to see the Consumer Goods, House Hold items, Handicrafts, Perfumes, Processed Food and the other shops selling clothes, footwear etc.
Started with the Consumer Goods section and once again a wave of people ! Lots of new, unique products were on display. The Electric Tandoor (see pic below) was a place were lots of people were gathered..you know why… Free Food ! 😛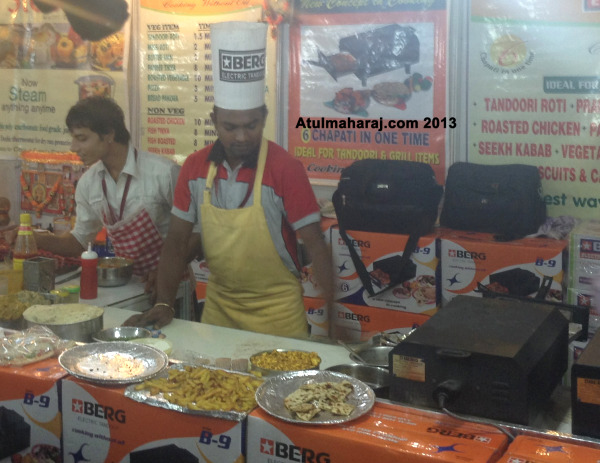 Other exhibitors had the likes of the desi tablet maker Simmtronics displaying their range of XPad tablets and phone. iBall, Bosch, Whirlpool, BSA, Portronics. Amongst the biggies there were the local traders showing off the unique stuff they had to sell. One such item that caught my attention was this Single Tub Washing Maching + Dryer. Made of fiber, compact and does what it says !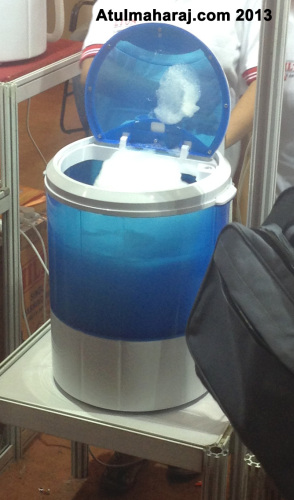 Next decided to see the Processed Food Section. But on the way, the State Houses attracted people, and I was attracted too. Similar to what you see on the Repulic Day, a dedicated place for each state, but this wasn't mobile 😉 So below are a few pics of the state display.
Every edition of the Indian International Trade Fair sees a partner state and this time it is Bihar. So there was a dedicated food court for Bihar. This served the traditional Litti Chokha (was surprised to see Mutton Litti !! :0) There was also the Bihar dairy selling ice creams, pedas, and flavored milk. Also each state had a separated food section for itself. So there was Rajasthani Bhel, Gujarati Farsaan and lots of mouth watering stuff..*drools*
The processed food hall was where I checked in next. And Why ?? Obviously to taste the free samples 😉 😛 When I reached near the hall, the aroma of garlic bread, kebab instantly pulled me in.. *Imagine Jerry the mouse being pulled by the aroma of Cheese 😛 The moment I entered, I was confused like Mr.Bean from the sale episode where he's confused where to start from ! All the biggies you heard of were here, Cornitos, Best (Basmati Rice), MTR, Chings, Sahara, TATA,Rasna and the list goes on. All these counters were heavily crowded due to the fact that they were being offered discounts on the products. 15% off to 5+1 free were the common schemes. There was this guy who was selling Narial Pani, Coconut Water in powder form. Tasted it, not that great though. The Coffee Board of India was also present.
Apart from these there were the standard state stalls selling overpriced clothes, artifacts, pickles etc etc. But must say the collection was good. A good place for the ladies to hang out, they were definitely confused as to what NOT to buy 😛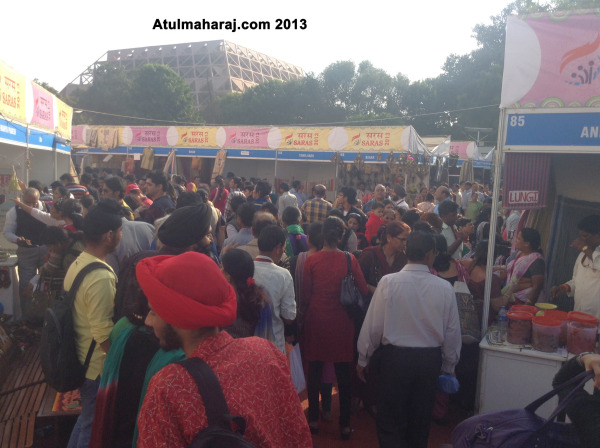 All in all the event was well  organized. Security in place, information systems announcing about lost people every now and then. Hawkers selling sandwich and people sitting in the garden and enjoying the sun, looked more like a picnic spot ! Even out friends from across the border – Pakistan – were present selling some beautiful stone artifacts.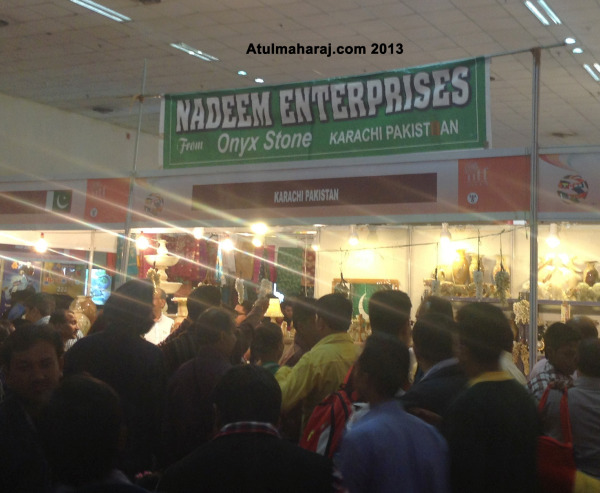 But a great experience overall, lucky that I saw this, but couldn't complete it. Maybe I should plan it for 2 days atleast. 😛 So all of you who haven't seen this, must check this extravaganza atleast once. The place is well connected by Metro and Bus.
Do share your views on this article ! Much Appreciated.