It had been a few tough days for me last week. Things had been on the rough side most of the time and the credit for that would definitely go to my domain and hosting provider: Manashosting: Feel the reality of Hosting. (Truly they made me 'feel' the reality !) This ordeal isn't something that started in the recent past, it dates to the year 2007. This post has been issued in Public Awareness and Interest.
Well, as a part of the Web Designing and Hosting Club – a vocational club – at my school – New Era High School, Panchgani, we were supposed to build a website and host it too. It was a dream come true to have my own website. This was the time Atulmaharaj.com was born and this was purchased from Manashosting. At that time we were kids so were not aware of what all is happening in the backdrop as long as our websites were functioning. Soon, I completed my schooling and moved out of the school. It was time for me to face some highly unethical people for few years from then.
So for all those planning to do *business* with Manashosting, take some time off and go through this:
I'm not a 1-2 year user, but sadly a 7 year  prey  who *had* been tangled in the petty issues of the company. They are a group of unethical and unaware people who will simply keep calling you till you clear the invoices, send text messages asking to clear the invoice within 4 hours and the list goes on and on. When on phone, they aren't that polite to listen to your issue and sound like they are reading rather than talking !
You will be forced to move to a new server *frequently* (coz if you don't the website will be down for ages, so you have no option but to move) which initially is a FREE Migration, but later on you will be charged on a monthly basis without any information. If you don't clear the dues, the control panel access will be locked or the homepage of your website will be modified which would read "Please contact your Hosting Providers on Urgent basis" (do notice the providers, fail English) For more fail English, read their term and conditions.
Downtime is quite on a higher side, which they say isn't but the people accessing the website warn me. (from experience I definitely don't trust Manashosting)
Their Ticket Support center isn't great too. Mail notifications from it landup in your spam box (which you obviously never see) and one fine day your website will be shut-down. I recently got a mail from the ticket center which read "We are continuing to receiving complaints about your domain that it contains malicious content on your domain hosted on our server" they even took trouble of posting a screenshot along with it(tested on a website). I did the same and see what I found ! Possibly another money extortion trick ?? Upon asking the technical department, they seemed unaware of such ticket even being created !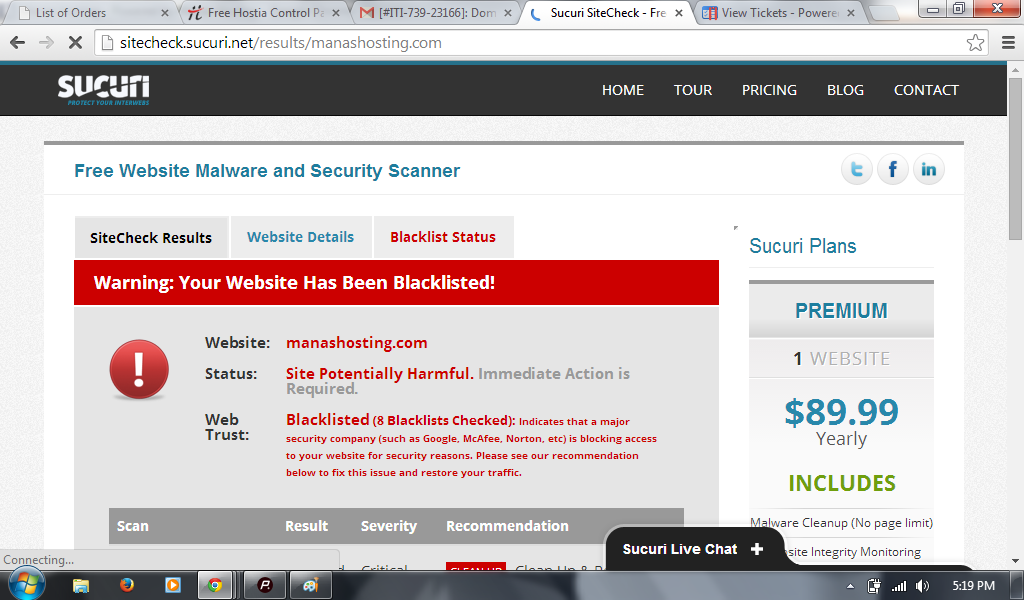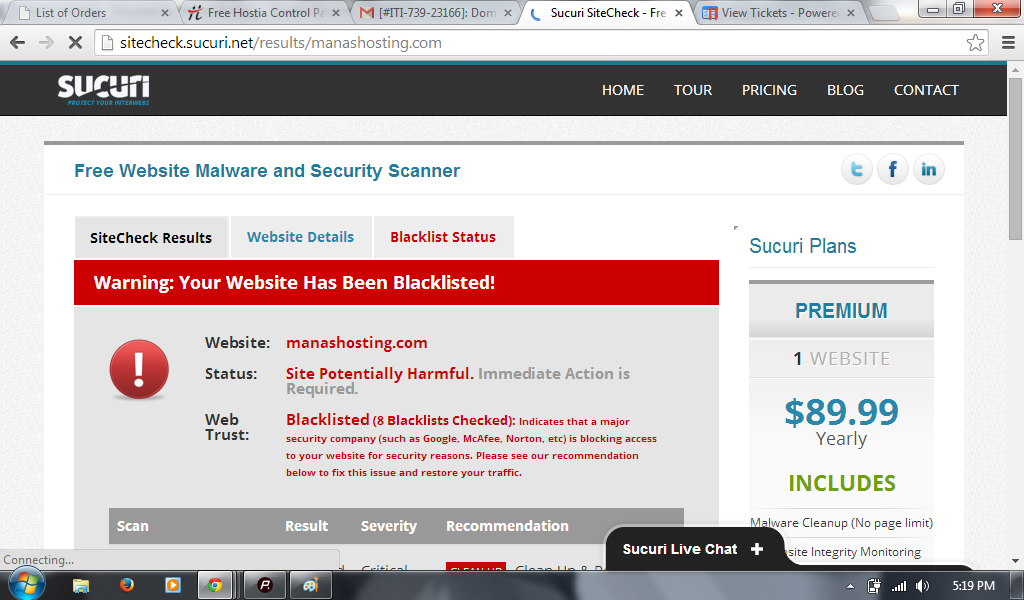 They don't give the domain control panel details to you easily ! They always ask for id proofs and payment proofs.
If you check their name servers, its not even their own !! ns1.microwebsys.com. ns2.microwebsys.com.
The only thing I found them good at is bargaining rather getting bargained. Whatever the invoice be, you tell them you'll pay immediately and see the value reduce to more than 50% of the initial amount ! Its like buying potato and tomatoes !
Plus, they'll have great, lucrative plans like 5K for 5 years and 10K for 15 years and what not. But no guarantee of the uptime !
Their chat system is pathetic, no customer service at all. There have been many instances where I've been connected to the chat for over 30mins and no response had been given and many a times without any response the chat was closed from their end. (See for yourself)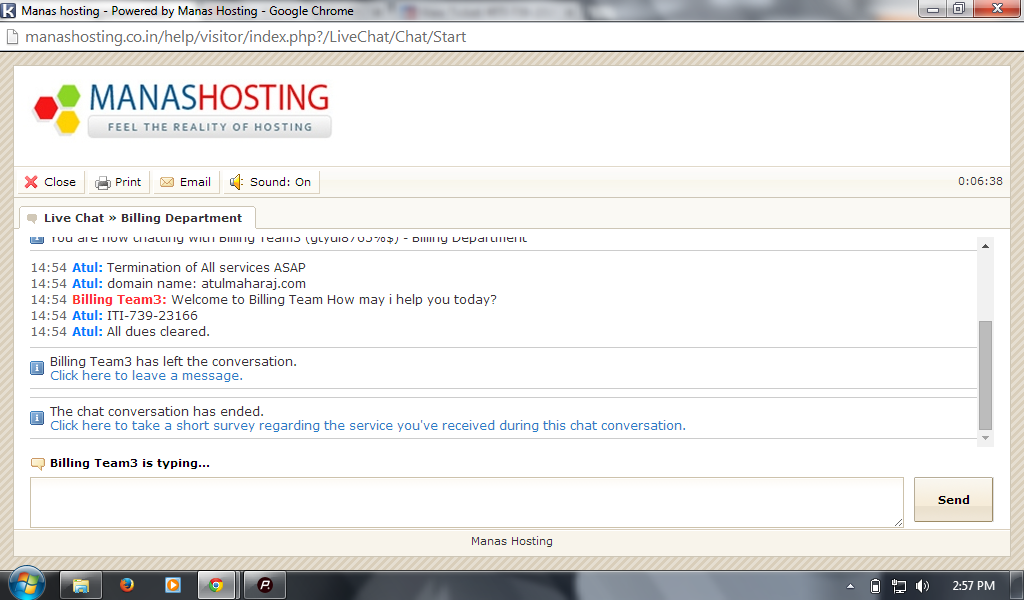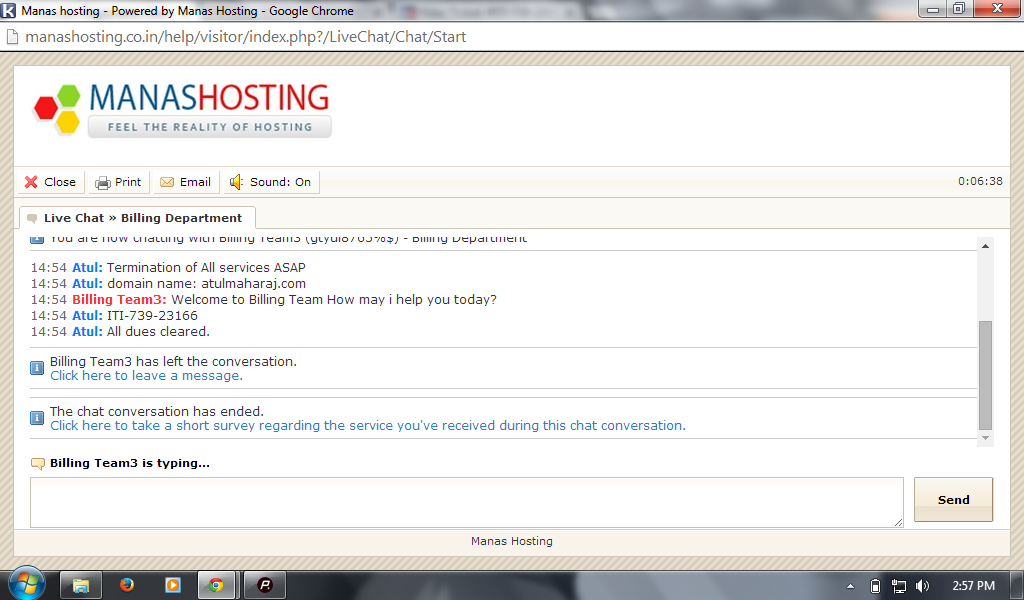 Another issue that I commonly faced was with wordpress. Whenever I updated it to the latest version, some or the other plugin would fail giving a PHP error. Upon raising a ticket with the department, they said you are using shared hosting and cannot do this, get a VPS. – I mean cumon, I used the same plugin for months and suddenly it stopped working ?
Also the domains you purchase from Manashosting are actually registered under Public Domain Registry. While its registrar would be Godaddy or Big Rock  if you used them instead of Manashosting.
After all this ordeal, I finally decided to shift my domain to Big Rock. I guess you don't want to know WHY ? These Manashosting people are not even aware of anything. I inquired how much time it will take (meanwhile the domain had already been transferred) they ask me for payment proof, id proof and EPP code ! I won't miss a chance to praise BigRock for their smooth service and great customer service !!
So, I guess I summed it up pretty short. Please don't fall prey to Manashosting. But If you want to go on a roller coaster ride, then you must definitely try them ! They are no less than a group of unprofessional and unethical group of people. I just got my domain name transferred and had a huge sigh of relief. Was scared if these guys would never release my domain name ! So Now that I'm free from using their services, I decided to let the world know about Manashosting  – feel the reality of hosting.