World's most popular media streaming Netflix arrived in India this 2016 and has had many subscribers from day one. This famous streaming service is extremely popular all over world, however it took time for it to reach the Indian consumers. Netflix not only airs programs from various other production houses but it has also created many original shows for the web and is now available in Ultra HD. Shows like House of Cards and Orange is the new Black are some of the original shows produced by Netflix which are highly popular worldwide. The service rocketed in India as it gathered a lot of eyeball in its initial days with over 200,000 desktop views from Jan 06 to Jan 19. And Netflix is definitely popular amongst the young Indian urban population.
Netflix is a subscription based service and has different plans for the Indian market. For starters they are providing one month of free viewing with any of their base packs. Currently it has 3 subscription packs named: Basic, Standard and Premium.
The Basic plan allows 1 screen viewing along with laptop, TV and phone support. However there is neither HD nor Ultra HD content available. The basic plan costs 500Rs and you get a free month with it. You can cancel the service at anytime.
The Standard plan allows upto 2 screens for simultaneous streaming along with Laptop, TV and Phone support. There is HD content available however Ultra HD is not available with the plan. The plan costs 650Rs and you get a free month with it. Again you can canel the service at anytime.
Their last plan is Platinum plan that allows upto 4 screens for simultaneous streaming along with Laptop, TV and Phone support. There is HD as well as Ultra HD service available. The plan costs 800Rs and you get a free month with it too. Again you can cancel the service any anytime.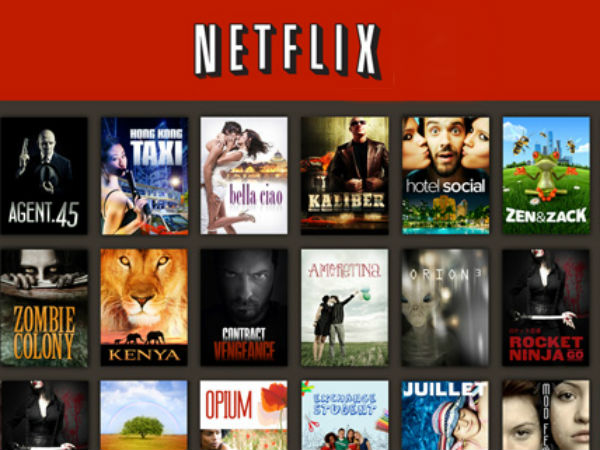 Are the Indian consumers ready to switch from their regular DTH TV service ?
First of all the shows that are aired in the US aren't aired in India at the same time. However there are channels like Star World Premier which do that, I wonder how successful they are. With Netflix, you can watch the latest content at the same when it is aired in the US. So that's an advantage. Further, I had opted for their basic plan to get a feel of it. The shows currently available are limited, I mean even some of their original content is not available as yet. As of movies I few Bollywood films like Piku and Hum Aapke Hain kaun listed in their catalog. So, targeting the Urban youth, there are a lot of subscribers to the service and most consumers are using Netflix along side their normal TV subscriptions, so it has not 'replaced' TV yet.
Features Netflix has to improve to have a greater impact
Local content: There are very few (rather none) local content available. So that is dampening, as a good share of the Indian consumers prefer watching local TV shows. They should work with various production houses to try and get their shows aired on Netflix too, in that way they would increase their user base in India. It would ideal if they follow the Make in India policy 😛
Providing better content than rivals: India has become a great market for YouTube which has a large user-base. They even came up with the 'offline' video feature that allows users to save the video and watch is later considering the slow internet speeds in India. YouTube is already established in India for short and long content. Now Netflix already has exclusive content and has complete season of a particular show for binge watching. Also, YouTube is free while Netflix is a subscription based service, so it should tailor its content to suit the India consumer to take YouTube head on.
Cricket and Cinema: These are the two things that every Indian loves. So if Netflix wants to create a larger impact, it should try to get Cricket and cinema onboard. Because once both of these are provided, it will get a boost of subscriptions. Only a few viewers want to view the Netflix's US content, but for creating a larger impact they have to get these two services online.
Hurdles that are preventing Netflix to create a greater impact
Lack of Infrastructure: The Indian market still lacks proper infrastructure to support smooth streaming services. The bandwidths offered at many places is about 1Mbps so streaming HD content is definitely out of picture. Further due to the Net Neutrality battle going on, accessing Netflix using a mobile data plan would be a costly affair for the consumers.
Cost: India has a high number of consumers who are accessing the service using mobile data. So let's assume that an average user would pay anywhere around 100-120 Rs for a 1 GB 3g Data pack. So this 120 Rs plus the 500Rs subscription pack, I doubt how many users would actually avail this service using mobile data.
Netflix coming to India is a good thing that has happened, it has had a great impact on the Urban youth who is ready to consume the services provided by it. On the contrary there are many who prefer local content for which Netflix has to work a lot. Netflix is definitely there to stay but to have a greater impact and a wider reach, it has to plug in the loop holes. Are you using Netflix, what's your take on it ? Let me know in the comments below. Before I end, need to thank my 'Anonymous' friend for suggesting me this topic ! Thanks mate ! (y)
This blog post is inspired by the blogging marathon hosted on IndiBlogger for the launch of the #Fantastico Zica from Tata Motors. You can apply for a test drive of the hatchback Zica today.