Sunday, 16 December 2012 – the day when I posted my first blog post. A 40 word post to be precise. Back then it was on my free WordPress site (which is private now). A newbie who just learnt about blogging starting out with a few sentences. In that josh, I wrote 23 posts in just 15 days in 2012. Those were merely paragraphs. Just like a newbie would do I'd say. However, after more than 2500 days, it's a proud moment as this I complete 1000 Blog Posts on Socialmaharaj.com. I never expected to be here. The number of posts drastically came down. Nevertheless, it's a proud moment as this I complete 1000 Blog Posts on Socialmaharaj.com. Started out without a goal, having absolutely no idea where I was going with this. 7 years later, I'm proud of what I've done with this. My Brand Socialmaharaj.
The story of this blog
Most of the people who have met me or attended my blogging sessions, are aware of the story behind this blog. For those of you who aren't aware, I'm sharing the story today. Back in college at Amity, I had a communication skills subject. A subject that was neglected by all of us. The young and dynamic faculty back then, decided to do something hatke. Mr. Parveen Sharma, a firm believer of education through social media decided to take matters in his own hands and change the way we saw communication skills.
He asked us to create a blog for the class and I was made the blog admin. We were given assignments of writing blog posts on that blog and were marked on it. That was the moment, I wondered if the class can have a blog, why can't I ? The same afternoon I head to WordPress.com and started my blog atulmaharaj.wordpress.com. And the rest is history as they say.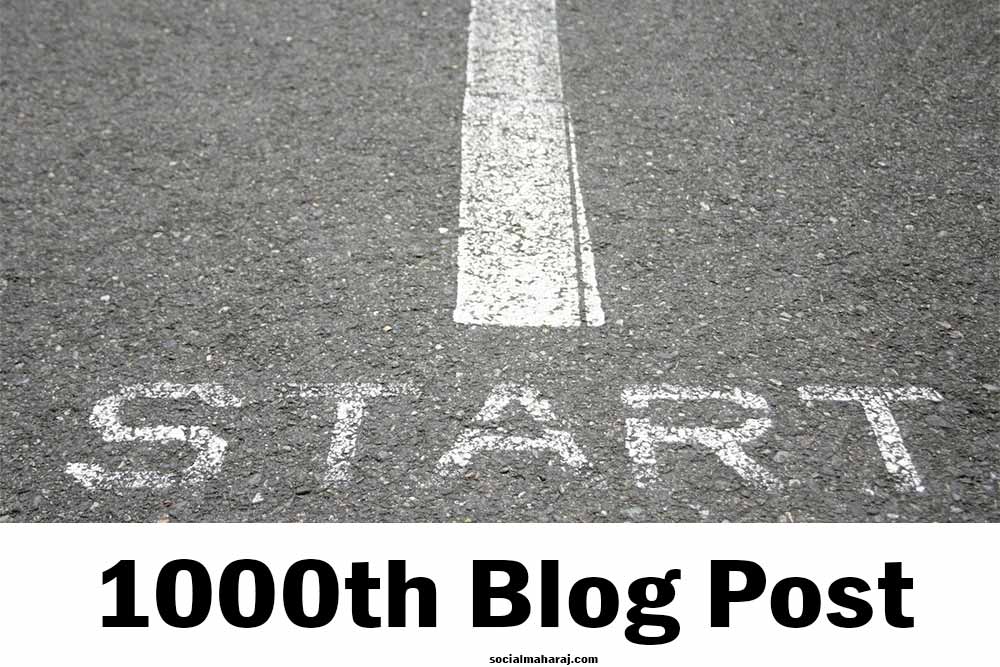 3 Tips to be a successful blogger
Well, I'm no guru to say but I have experienced the highs and lows over the past 7 years. Hence I feel, I am in the position to talk about how to be a successful blogger. 7 years, 1000 blog posts and close to 600,000 words, it wasn't an easy journey at all. It was much easier during college as I had the time however since I got into working full time, I couldn't dedicate much time. Nevertheless, working full time for the past 5 years, I have been able to consistently contribute to the blog. So what is the recipe to be a successful blogger ? How to become a successful blogger ? Here are a few tips based on my experience.
Be Passionate about what you write
One of the foremost tip is to write about something that you are really passionate about. It may be anything from writing poems to sharing fashion tips to talking about food and travel. You shouldn't start a blog just because someone else is doing it. Make sure you identify what you are passionate about and stick to it. After all that is going to fuel your blog whether it is for 1000 blog posts or 2000.
Consistency is the Key
Just like you would share an update on Facebook or Twitter, even your blog needs to be updated often. I often stress on this in my blogging sessions. Especially when you are starting out, you won't get a lot of views. You might be throwing your blog posts at everyone's face to grab their attention. Even then you might not get the numbers. That's fine. Remember the phrase "This time shall also pass" and continue. Most of the budding bloggers I've seen drop out just because they don't get the numbers. My first year of blogging had only 22 visitors on an average every day. However I didn't stop and even you shouldn't.
Never start blogging for Money
Like Ranchodd Das Chanchad said, "Success ke peeche mat bhago. Kabil bano kabil. Kambyabi sali jhak maar ke peeche ayegi." I say to all the bloggers "Paise ke peeche mat bhaago. Bhaagna hai toh content ke peeche bhaago, paise jhak maarke aayega" It's sad to see that most of the people are venturing into blogging/vlogging just for the money. And that's the reason the aren't able to sustain. For me money was never a priority and will never be one. I save up for the operating costs of this blog and that's it. I don't care if I get anything or not, all I want is to post content that my readers would find useful. If your content is good, eventually things will fall in place.
What's next for Socialmaharaj ?
Even as I write this blog post, I'm looking at my next milestone – 2000th blog post. I know that is quite far away. Considering that I wrote about 236 blog posts in 2016 for the Indiblogger contest, I'm barely managing to write about 115-120 blog posts a year currently. At that pace, reaching another 1000 blog posts would take another 10 years ! Blogging is never going to stop and Socialmaharaj is there to stay.
I never thought blogging would become such an integral part of my life. It's my identity now. People address me Atulmaharaj and I feel good about it. After all, there's a lot of effort behind that. There's no team at Socialmaharaj, it's me who is the CEO and the peon.
In the end, I would want to hear from you. What do you think about the blog ? Should there be any changes in here ? Any feedback, any suggestions, do share in the comments below or tweet to me at @Atulmaharaj or DM me on Instagram and I'd be more than happy to respond. Thanks a lot for all your support all this while and looking for the same in the coming years too !