As kids, I'm sure most of us would have got an earful from our parents for eating a lot of chocolates. And why not, most of us would finish a pack of it in no time. Chocolates have always been considered harmful unless taken in limited quantities. However, the benefits of Chocolate are little known. From helping you lower cholesterol and risk of heart diseases, chocolates are loaded with fibre and minerals.
So when the team from BeeTee's Melt Chocolates reached out to me to try their range of artisan chocolates, I couldn't say no. They have got some exquisite chocolates, including vegan chocolates – which I tried for the first time. This is going to be my BeeTee's Melt Chocolate Review blog post.
Story of BeeTee's Melt Chocolates
A homegrown brand conceived by Thamarai, a passionate foodie from the Gateway to South India – Chennai. From making chocolates as a hobby to turning them into a brand like BeeTee's Melt Chocolates speaks volumes. As a woman entrepreneur, she's already an inspiration for many. So as you take a bite of these chocolates, remember that it's special.
The speciality of BeeTee's Melt Chocolates
Not only is the story of BeeTee's Melt Chocolates interesting, but their promise of "We also eat what you eat" is an assurance of the usage of the finest ingredients with good practices. Some of the speciality of BeeTee's Melt Chocolates are:
No Cocoa Powder: They strictly don't use cocoa powder in their chocolates and no cocoa solids as well. The believe in the Bean To Bar concept and hence source high quality cacao beans.
No Refined Sugar: Apart from their Milk Chocolate which is 48% Cocoa, they don't use refined sugar in any of their chocolates.
No Artificial Sweetener: For all the other chocolates, they make use of coconut, palm or brown muscovado to sweeten the chocolate and enhance the flavour profile.
Preservative Free: All the chocolates from BeeTee's Melt are preservative free and contain only natural products. They are Gluten Free and Soy free as well.
Vegetarian and Vegan Chocolates: All their products are vegetarian and even have some vegan chocolates as well.
BeeTee's Melt Chocolates Review
The team sent in 3 variants from their offerings. I got a pack of BeeTee's Melt 72% Dark Chocolate, BeeTee's Melt 54% Coconut Milk Chocolate and their classic BeeTee's Melt 48% Milk Chocolate. Of the three, the Milk Chocolate contains refined sugar while the 72% dark chocolate contains palm sugar and coconut milk chocolate contains coconut sugar.
Good Packaging
The first thing that I would like to talk about is the packaging. The chocolates were neatly packed in individual boxes with some great artwork. These were packed in a larger box with a pouch of anti-freeze substance. This ensured that the chocolates reached me intact. I was pretty impressed with the type of packaging and the care taken to deliver the chocolates.
Great Taste
One distinct thing that I could make out was the flavour. Since they have not used refined sugar, the taste of palm/coconut sugar is something that not everyone would like. I loved the 72% dark chocolate one the most. The bitter-sweet chocolate would surely be relished by chocolate lovers. It used palm sugar and no refined sugar and hence there's an apparent change in the taste as well. The Milk Chocolate was different from the regular ones that I eat. It was creamy, rich but had a different taste.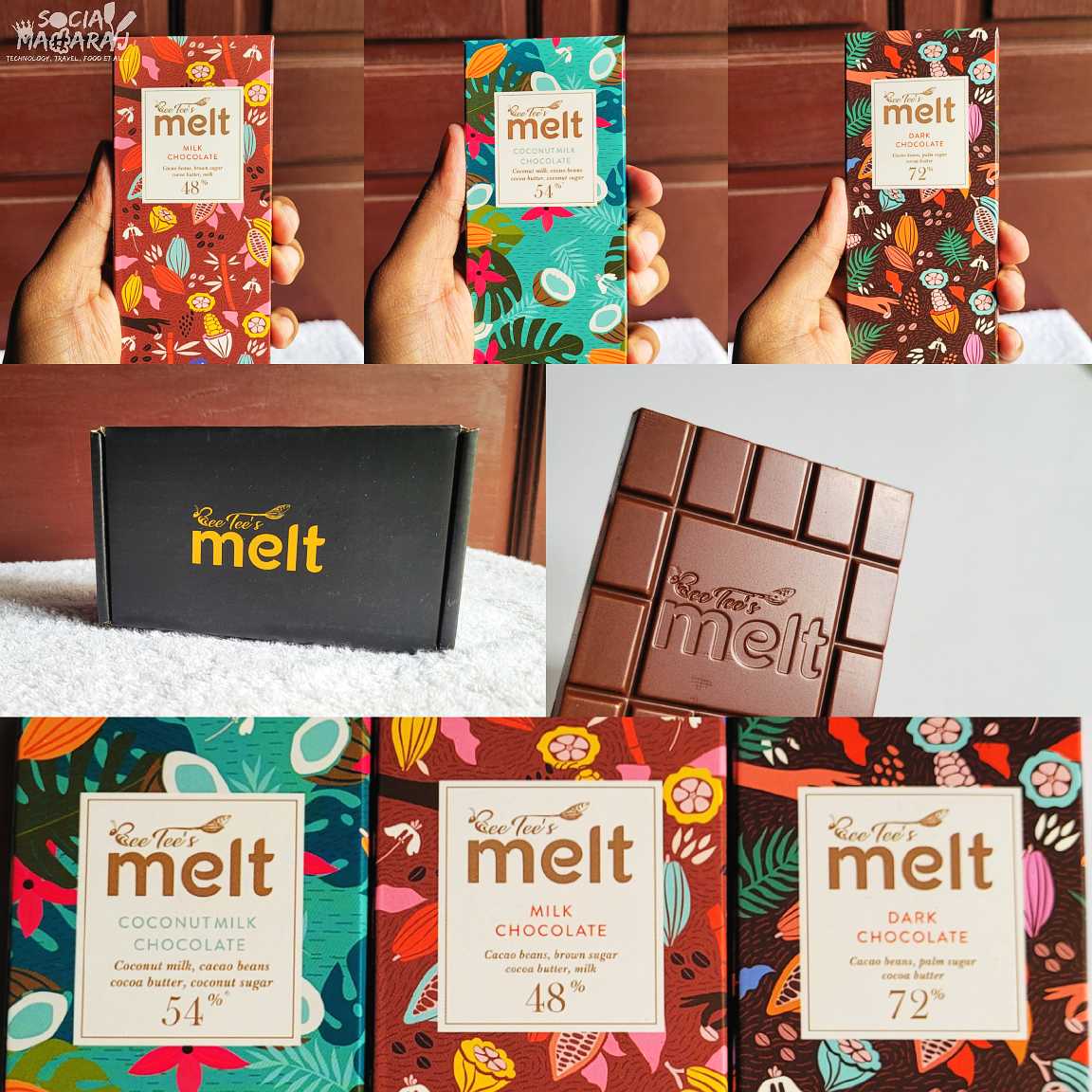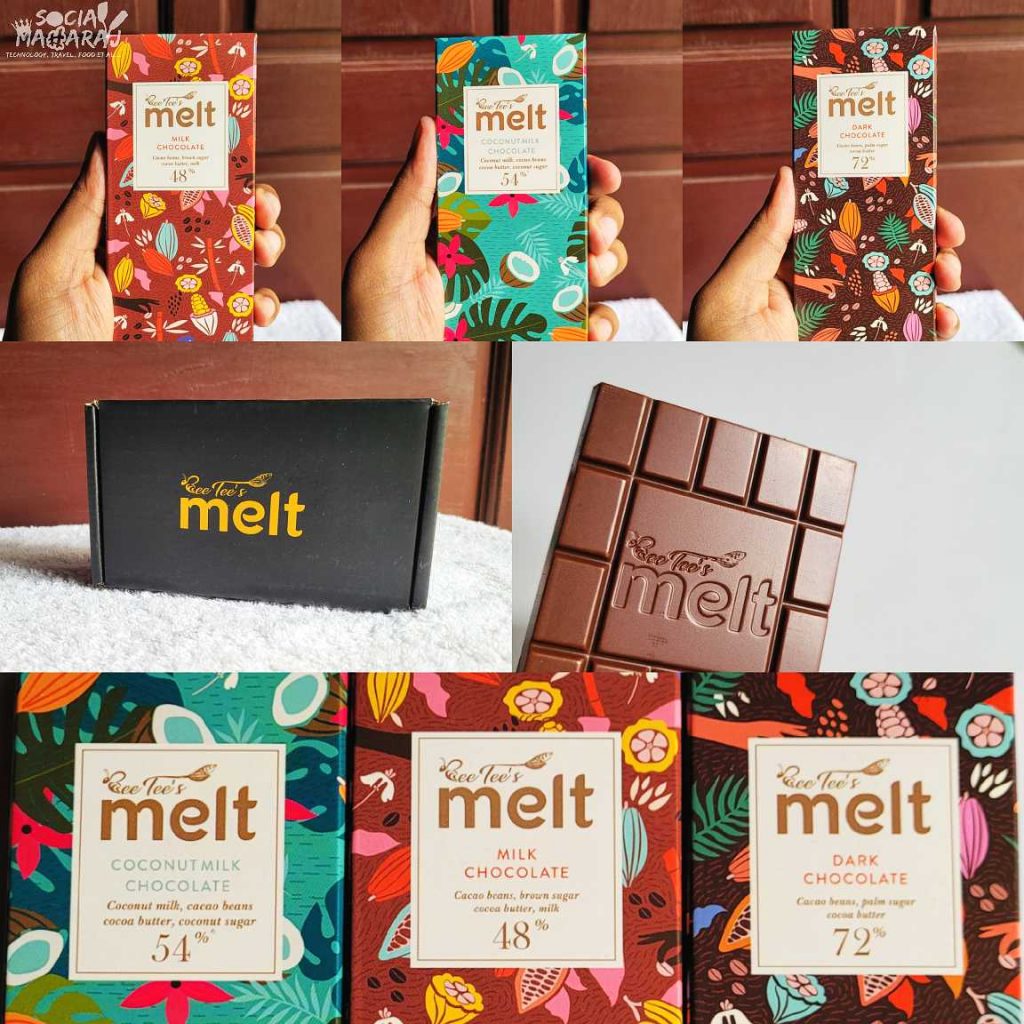 The one that I didn't enjoy the most was the Coconut Milk Chocolate and that's purely because I don't like Coconut based chocolate. The moment you eat this one, you'll get a very faint yet noticeable coconut flavour. Plus the added coconut sugar adds to the overall taste. So if you like Coconut based chocolates, you might like this one too.
Also, the fact that these are gluten-free, soy-free and even preservative-free, I literally indulged in them guilt-free. Lastly, two of the variants are vegan chocolates. While I don't have many vegans in my immediate circle, the adoption of veganism means these chocolates already have buyers.
BeeTee's Melt Chocolates are worth a try
Today many of us eat chocolates due to their health benefits (and also indulge once in a while) BeeTee's Melt Chocolates are having some unique artisans chocolates in their stable. These chocolates are rich and have a good flavour. You can enjoy these guilt-free since they are made from all-natural ingredients.
Further, BeeTee's Melt isn't just about chocolates, they have an array of nut paste offerings as well. So head over to BeeTee's Melt Chocolate website and find your perfect chocolate. If you are a chocolate lover, their chocolates will leave you wanting for more.
What's your preferred chocolate type? Are you a milk chocolate lover or the dark chocolate one? Let me know in the comments below, Tweet to me @Atulmaharaj, DM me on Instagram or Get In Touch.