As afternoons are getting hotter with every passing day, venturing out has reduced. Nonetheless, being the foodie that I am, I don't miss a chance to step out to eat. Recently, I along with my friends visit Zero40 Gachibowli for lunch. (Many of you might suggest visiting it during the evenings, but yeah, we went for lunch) It was a hot sunny afternoon but since we wanted to try out a new place, we visited Zero40 in Gachibowli. And as a true food blogger, here's my review of Zero40 Gachibowli.
Sprawling Campus With Great Ambience
There's a Zero40 in Jubilee Hills as well, right in front of Aura Cafe. It's already quite a popular place. This one in Gachibowli is a new outlet of the same. It's located in Financial District, Gachibowli. To reach here, you need to drive to Gowlidoddy, and take a left immediately after QCity when driving from Wipro circle. Drive for a kilometre and you'll find this place on your right. There's nothing much around, but I hear that it's quite a happening place!
Zero40 Gachibowli is on a sprawling campus with a great ambience. You are greeted with a large entrance with plants and mango trees. There's also a small waterfall that you may miss out on noticing. The first thing you'll notice though is the bar counter on the right along with outdoor seating options on the left. There's also some seating around the bar, at the bar counter and behind the outdoor seating as well.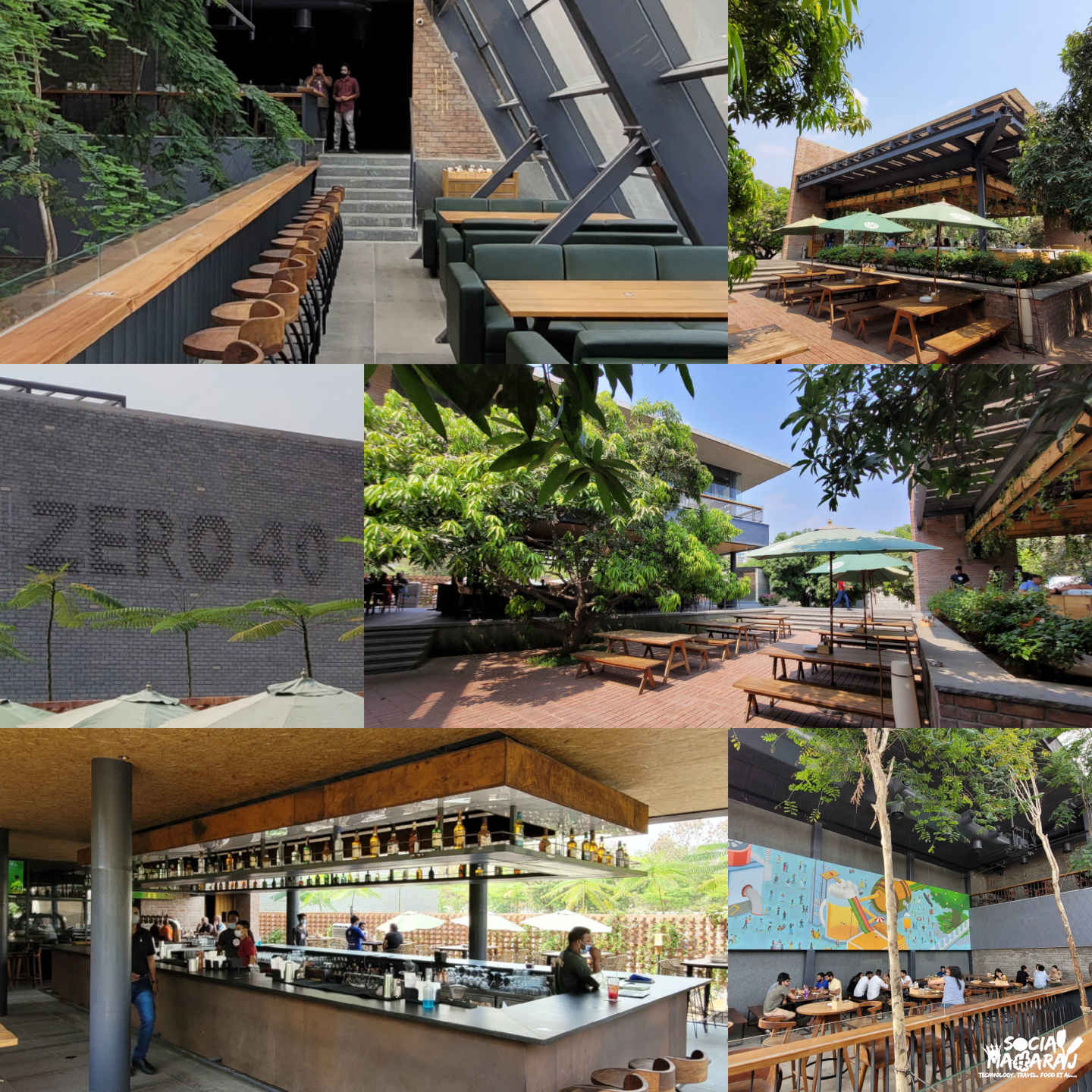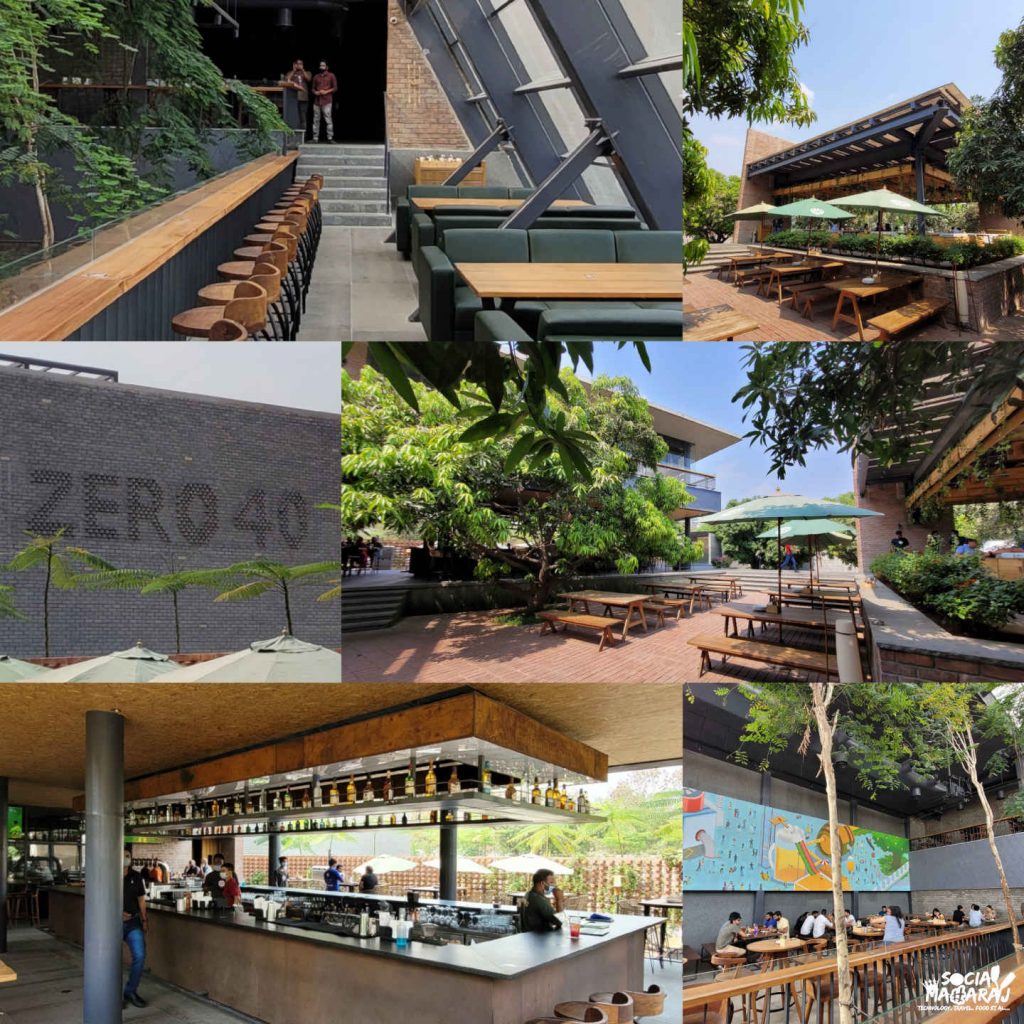 They also have multilevel seating on the inside with nicely one wall. There's also a stage where you have live music performances. This area is air-conditioned and we decided to sit here on a hot sunny afternoon. The AC wasn't that powerful I'd say but much better than seating inside. Overall, loved the ambience of the place, and will surely go back in the evening sometime.
Zero40 Gachibowli Review – Food & Drinks
Delectable Mocktails
We were three of us and decided to start with mocktails – yes three teetotalers walked into a brewery! Ordered a variety of them that included Orange Lemonade, Mango Mojito, Minty Melon, Citrus Fizz, Mango Coconut Smoothie, Blackberry Mojito and the Virgin Mojito. (That's a lot of drinks for 3 people) But since it was hot, we all wanted to drink as much as we can. Minty Melon was something that I liked, the fizz and sweetness were perfect.
Citrus Fizz was made with a mix of citrus juices along with soda. I quite like the preparation. Coconut smoothie was too much coconuty for me. Mango Mojito was surprisingly pretty good. Though they didn't use fresh Mango in this, this was refreshing.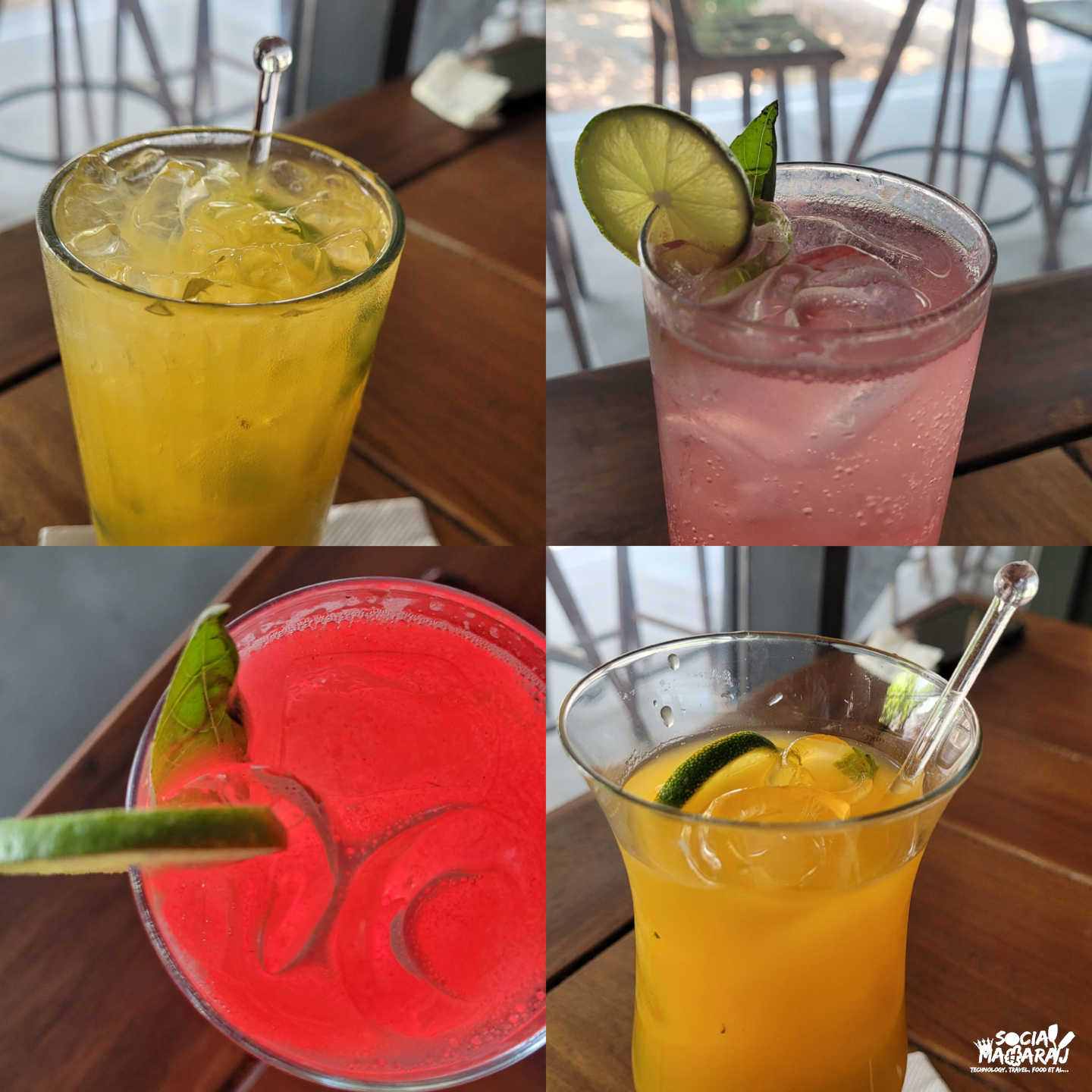 Being a brewery, I was impressed with their mocktail offerings. I'm sure the hard drinks were equally good or even better. For the sunny afternoon that we visited, all of these just made the whole experience pretty good. Since we had so much liquid, we decided to go light on food.
Nicely Done Small Plates
The menu at Zero40 is pretty good and offers quite a few options for both vegetarians and meat eaters. Instead of us choosing what to eat, we asked the server to suggest us something. He suggested to order Paneer Imli Chilli and Paneer Naan Pizza. (Yep that's all we ate apart from a Ghee Roast Chicken with Pita) Paneer Imli Chilli wasn't quite different from the regular Chilly Paneer. It was nicely done though, but the imli certainly didn't make a mark. I expected it to have that tanginess from imli that was missing. For just a chilly Paneer, this was good enough.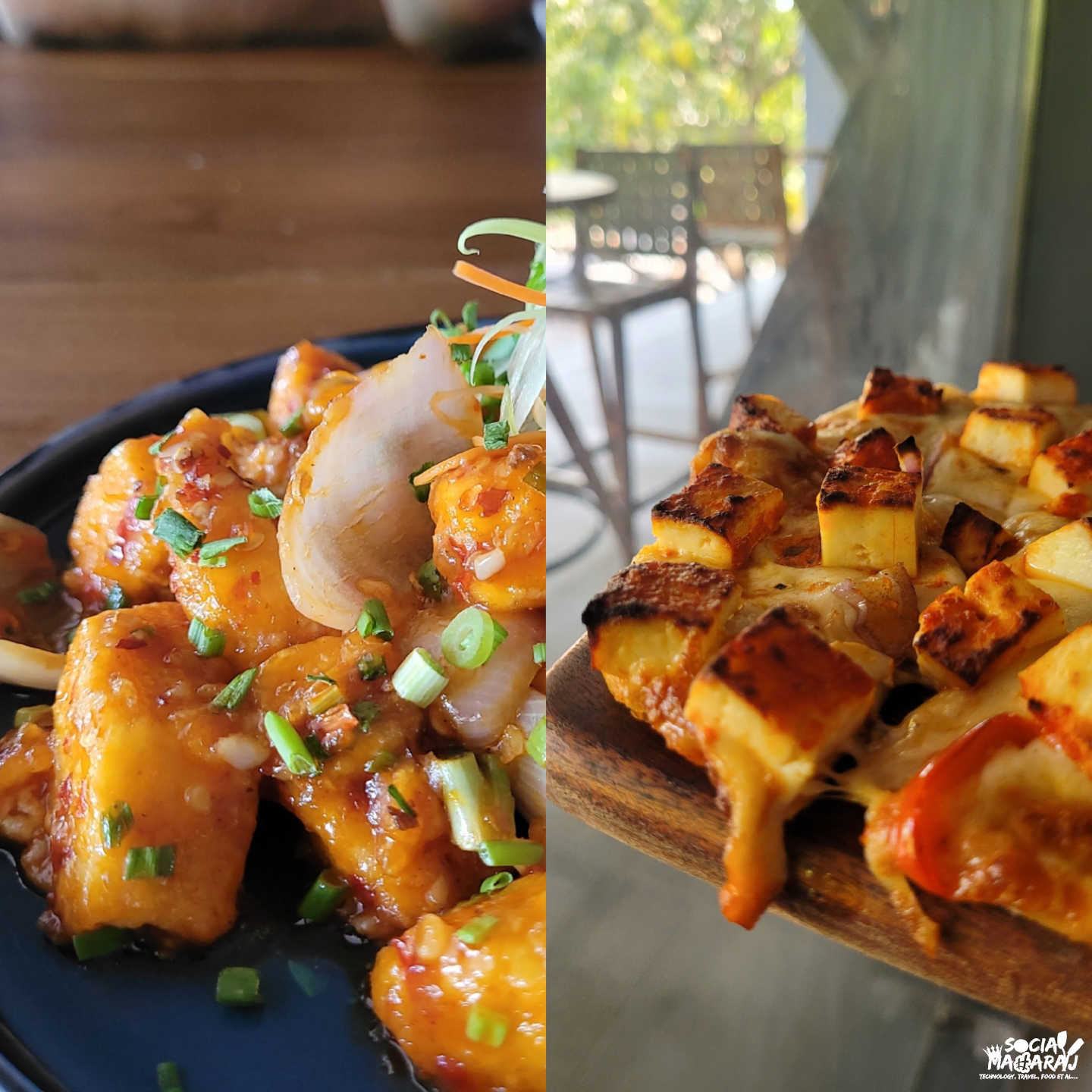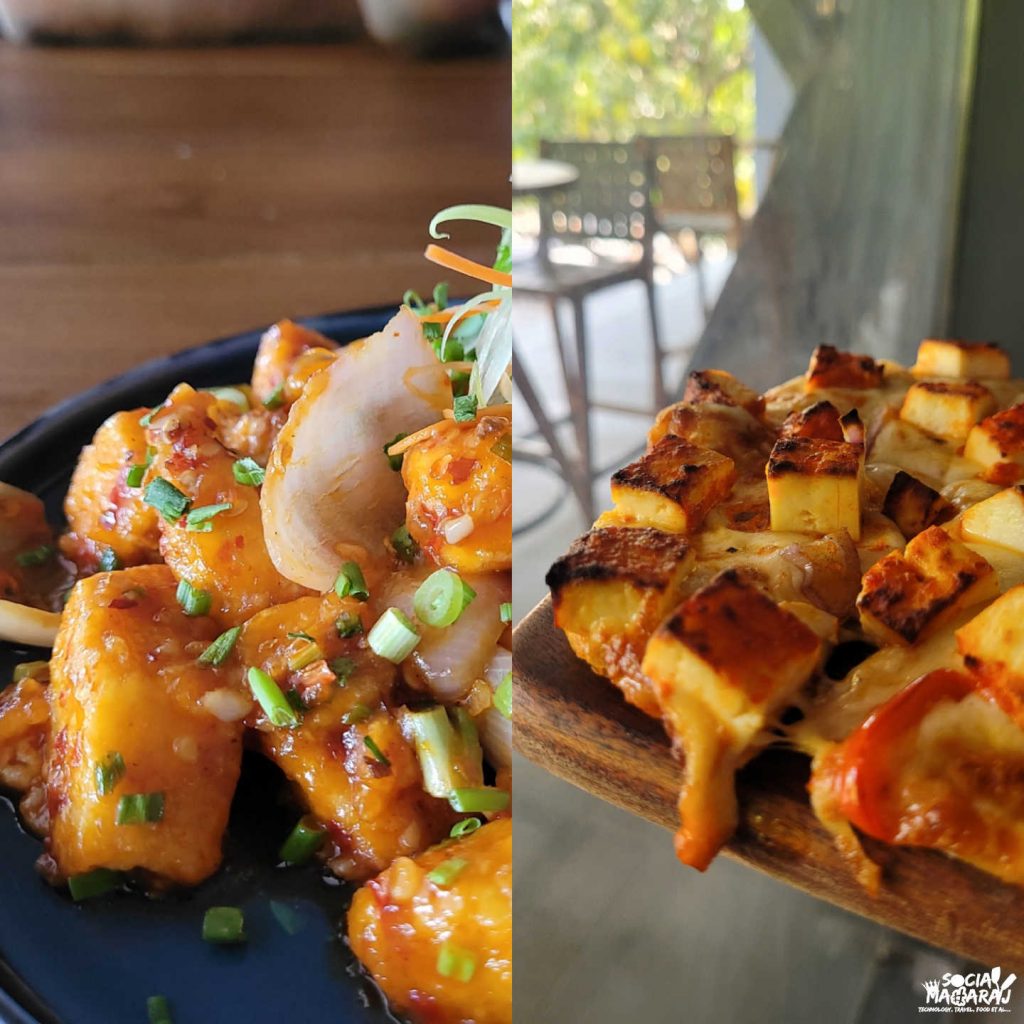 The Paneer Naan Pizza was an innovative dish – at least for me. The last time I had an innovative pizza was at Makau – Puff Base Pizza. (The only thing that is good there) This one had Naan as the base with pizza toppings on it. It did feel like eating naan with Paneer gravy. However, since it was a naan base, it was quite soft and a lot chewy than the regular one. A good desi take on the pizza, I wouldn't mind trying out this again the next time I'm here.
Final Verdict – Perfect Vibes At Zero40 Gachibowli
I haven't been to their Jubilee Hills outlet so don't know how things are there. However, Zero40 Gachibowli didn't disappoint me at any point. The service was good, had a menu based on QR codes so no touch was involved. The only issue here was that every time I ordered a new set of items, I had to give my mobile number and then use the OTP. That's surely an irritating step at Zero40. Maybe they can work with their vendors and figure this out.
Coming to the ambience, you'll love it. It's massive and being away from the city, the evening vibes here are next level. The food too isn't bad and will surely satisfy your tastebuds. The drinks are their speciality and they are good at it. We paid about Rs 3300 for the entire meal for 3. I feel that's good enough considering the place and the food, and drinks.
Overall, a good place to hang out with friends, and a perfect one for after office parties. Let me know what you think about Zero40 Gachibowli. Drop your thoughts in the comments below, tweet to me at @Atulmaharaj, DM on Instagram or Get In Touch.