I've been a history buff ever since 8th grade when I was introduced to world history. From learning about the French revolution to the rise and fall of the mighty Ottoman empire, I was intrigued to learn how the modern-day countries were in the past. The Ottoman empire had quite an impact on the middle eastern region especially modern-day Turkey. The influence is quite evident in the Turkish food which I got to experience recently.
Hyatt Place Hyderabad in collaboration with the Turkish High Commission Hyderabad and the Turkish Airlines has organized Flavours Of Turkiye. A 10-day long Turkish food festival is curated by Chef Eyüp Kemal Sevinç who has flown in from Turkey for this food festival.
Your very own Maharaj was invited to experience Turkish food, and it was my first time. So here's my experience of tasting Turkish food for the very first time!
Origins of Turkish food
As I mentioned earlier, Turkish cuisine is an inheritance of Ottoman cuisine. The cuisine is known as the root of many other middle eastern cuisines. The Ottoman palace kitchens are often mentioned by food historians while decoding the cooking style and ingredients of the modern-day cuisines. Many modern-day dishes like Dolma, Baklava and Pilaf have been a part of the Ottoman palace kitchens and are loved by one and all today.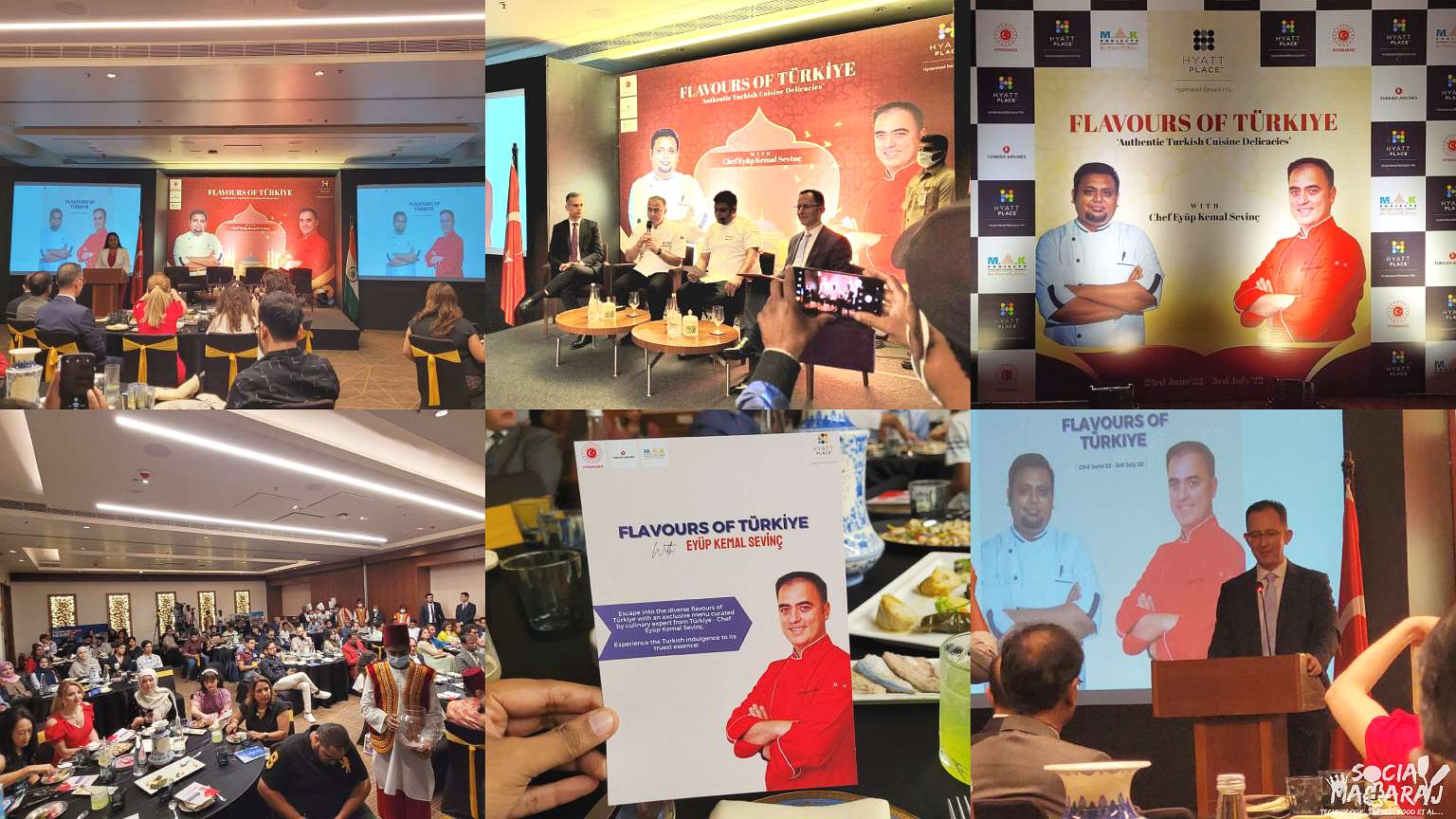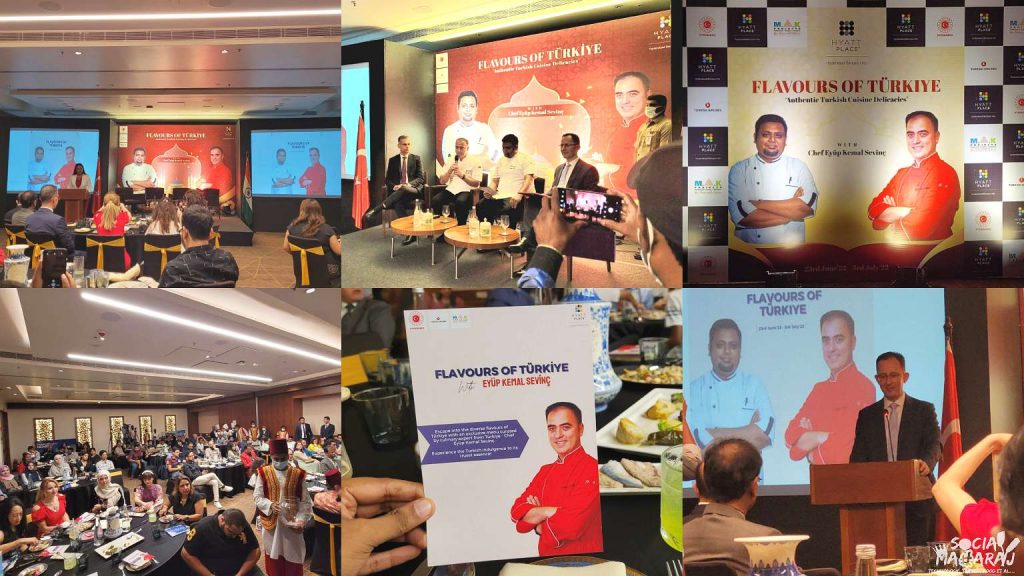 The Turkish food festival by Hyatt Palace and Chef Eyup aims to bring authentic flavours of Turkey to Hyderabad. As Mr Orhan Yalman Okan, Consul General of Turkey from the Turkish High Commission Hyderabad mentioned, "There aren't many Turkish restaurants in the city, and this food festival curated by the celebrity chef will help us taste the flavours of Turkiye" I also learnt that a lot of ingredients have been imported from Turkey for this food festival. So you're guaranteed authentic flavours.
Turkish Food Festival – My First Experience
The food festival is a 10-day event starting on 23rd June and ending on 3rd July. The authentic meal will be available at Gallery cafe for lunch and dinner. The lunch will be a set menu while the dinner would be a buffet spread. While the spread would be Indian & Continental, the Turkish dishes will see a distinct presence.
Being alien to Turkish food, this was my first experience with it. I got to taste a sample menu during the launch party. There was Cacik – a cucumber starter with yoghurt -that was simple but delicious. The coolness of the cucumber along with the generous serving of yoghurt was amazing. Even the bite-sized beetroot kebab was nice – I'm unable to recollect the name. It resembled a lot like our galauti kebabs.
There was also a bread platter served along with traditional Muhammara – a red perry dip made with walnuts, and chickpeas. Ezogelin Corbasi – a coconut lentil soup – was again a very simple, balanced soup. Mukopoglu which was an eggplant-based preparation was quite simple but with muted flavours. The eggplant was nicely cooked and the generous drizzle of Olive oil made it taste better.
Talking about the desserts, we had a Turkish sampler which had Baklava. The Baklava was pretty amazing, crisp, perfectly layered and stuffed. Slightly on the sweeter side, still, I enjoyed it. Then there was also Turkish ice cream – yes with all the drama. I too tried it, and it's fun!
Lastly, there was Turkish coffee on offer. The coffee was brought in from Turkey for this event. The double roast, fine-grind Turkish coffee has a strong aroma. Served as black coffee without sugar, it was intense, stronger than filter coffee. The coffee tasted quite different from what we have here in India.
Overall, I found Turkish food has balance flavours and extremely toned-down spices. The dishes are rich and that dash of pepper or lemon just elevates the flavours. The desserts will make you drool! In terms of variety too, there's a good variety for both vegetarians and non-vegetarians.
Final Verdict: Authentic Flavours Worth Trying
Hyderabad is known for its gastronomical affaire in India. And with food festivals like this one, we're only showcasing our love of various food. The Turkish Food Festival brings authentic flavours from Turkey to mana Hyderabad. Chef Eyüp Kemal Sevinç casts his magic in the kitchen, and the dishes take you to Istanbul.
While the food is different and authentic, Hyderabadis might feel the lack of flavours and the punch. We're used to eating spicy and loaded dishes, these dishes are rather muted. Hence going in for their dinner buffet will prove to be a better experience as you get to experience the best of both worlds. Get in touch with Hyatt Place for bookings at +914067801230.
Lastly, people have told me to visit Turkey for their food and I do hope to visit someday. Have you tasted Turkish cuisine ever? How did you find it? Are any dishes worth trying? Let me know in the comments below, tweet to me at @Atulmaharaj, DM me on Instagram or Get In Touch.