If you've been following the blog (or @Atulmaharaj on Instagram) you probably know that I was in Nanded last weekend. In fact, I did a road trip from Hyderabad to Nanded along with my parents. It wasn't my first time to Nanded. The last time I was there was in 2017, so I was going back after a long time.
Nanded is one of the prominent shrines for Sikhs and sees a huge influx of pilgrims and tourists all around the year. The city has undergone significant development in recent years to accommodate the influx of pilgrims and tourists, with numerous hotels and lodgings being built in and around the area.
However, when it comes to budget-friendly accommodation, Nanded Yatri Niwas, located near the Gurudwara, is one of the most popular and convenient options available. These are available at Rs 500 a night making them extremely affordable.
In this post, I'll share everything you need to know about Nanded Yatri Niwas booking to plan your trip.
What's A Yatri Niwas?
Nanded is an important pilgrimage site for Sikhs as it is the place where the 10th Sikh Guru, Guru Gobind Singh, passed away. Every year, thousands of pilgrims from all over the world visit Nanded to pay their respects at the Sachkhand Sri Hazur Sahib Gurudwara. It is here that he declared that the Guru Granth Sahib will be worshipped/followed & hence it's also one of the 5 takhts in Sikhism.
Yatri Niwas in Nanded are accommodation facilities provided by the Shiromani Gurudwara Prabhandak Committee (SGPC) for the convenience of pilgrims visiting the holy town of Nanded. The SGPC has set up several Yatri Niwas in Nanded to provide comfortable and affordable accommodation for pilgrims and tourists visiting the town. During both my trips to Nanded, I stayed at one in Nanded and I'll share my experience along with the complete details so you can plan your travel.
Location of Yatri Niwas in Nanded
As per the Hazur Sahib website, currently, there are more than 10 Yatri Niwas in Nanded. All these yatri niwas are located within walking distance from Hazur Sahib Gurudwara.
Sachkhand Parisar: located inside Sachkhand complex
NRI Complex: a new building near Langar Sahib
Punjab Bhavan: 500mts from Gurudwara, I stayed here both the times
Guru Angad Dev Ji Yatri Niwas: located next to Punjab Bhavan
Bhai Joga Singh Yatri Niwas: opposite the Gurudwara Gate 1
Bhai Daya Singh Ji: near gate 2 of Gurdwara
Sant Baba Joginder Singh Ji Moni: near gate 5 of Gurudwara
Langar Sahib Yatri Niwas: opposite Langar Sahib
Guru Gobind Singh Ji Yatri Niwas: located next to Punjab Bhavan
Sri Guru Teg Bahadur Niwas: farthest from the Gurudwara
These are a few that I saw while exploring Nanded. There might be many others that I might have missed. If you have any other info, feel free to reach out to me, and I'll have this updated.

Location of Punjab Bhavan and other Yatri Niwas in Nanded.

Amenities At Yatri Niwas
As mentioned earlier these Yatri Niwas are accommodation services provided by Shiromani Gurudwara Prabhandak Committee. These are basic rooms provided at minimal rates to pilgrims. Most of the Yatri Niwas in Nanded provide basic yet needed services. I stayed at Punjab Bhavan and below are the amenities provided:
Clean and well-maintained rooms
24-hour check-in/check-out
Air-conditioned & Non-Air-conditioned rooms
Attached bathrooms with hot and cold water supply
Beds with fresh linens
Elevator facility
24-hour front desk service
Parking facilities
Security services including CCTV surveillance
Apart from these, some Yatri Niwas might provide additional services like WiFi, power backup etc. but I didn't get them at Punjab Bhavan. There was partial power backup in the complex I stayed at.
Yatri Niwas Room Conditions
The rooms at Yatri Niwas are very simple and provide basic amenities. Each room can accommodate up 5 people depending on the place you choose to stay at. Punjab Bhavan has 2 double beds in the room. So there are beds, pillows, multiple blankets, a mirror, an air conditioner and a bathroom with a geyser. The room condition is just ok to spend a day/night. If you compare this to a hotel, you'll be disappointed.
While the complex looks well maintained from the outside, it's a different story from the inside. You'll see poorly finished paint jobs, paint coming off the walls etc. Having said that, the overall complex and maintenance are good. There's cleaning done daily. There's no room service or food available. They have dedicated areas from where you can get RO water.
So if you stay only at hotels, then this might not appeal to you. However, if you're on a tight budget, Yatri Niwas in Nanded is the best option to stay.
Booking Yatri Niwas in Nanded
Most of the Yatri Niwas in Nanded offer online booking options. Yatri Niwas including NRI Complex, Punjab Bhavan, Guru Angad Dev Ji Yatri Niwas, Bhai Joga Singh Yatri Niwas, Bhai Daya Singh Ji & Sant Baba Joginder Singh Ji Moni currently offers online booking.
You can also do offline bookings by visiting the check-in counter. On normal days and non-festive days, you'll get a room easily. But if it's around long weekends or the festive season, I'd suggest you do an online booking of Nande Yatri Niwas.
Online booking of Yatri Niwas can be done through Hazur Sahib's website. The website is fairly simple. You first need to choose which Yatri Niwas you want to stay at and choose the check-in and check-out date. Based on that you'll be presented with the tariff. Most Yatri Niwas in Nanded charge Rs 500 for a 24-hour stay. You can pay this amount online and you'll get a booking email.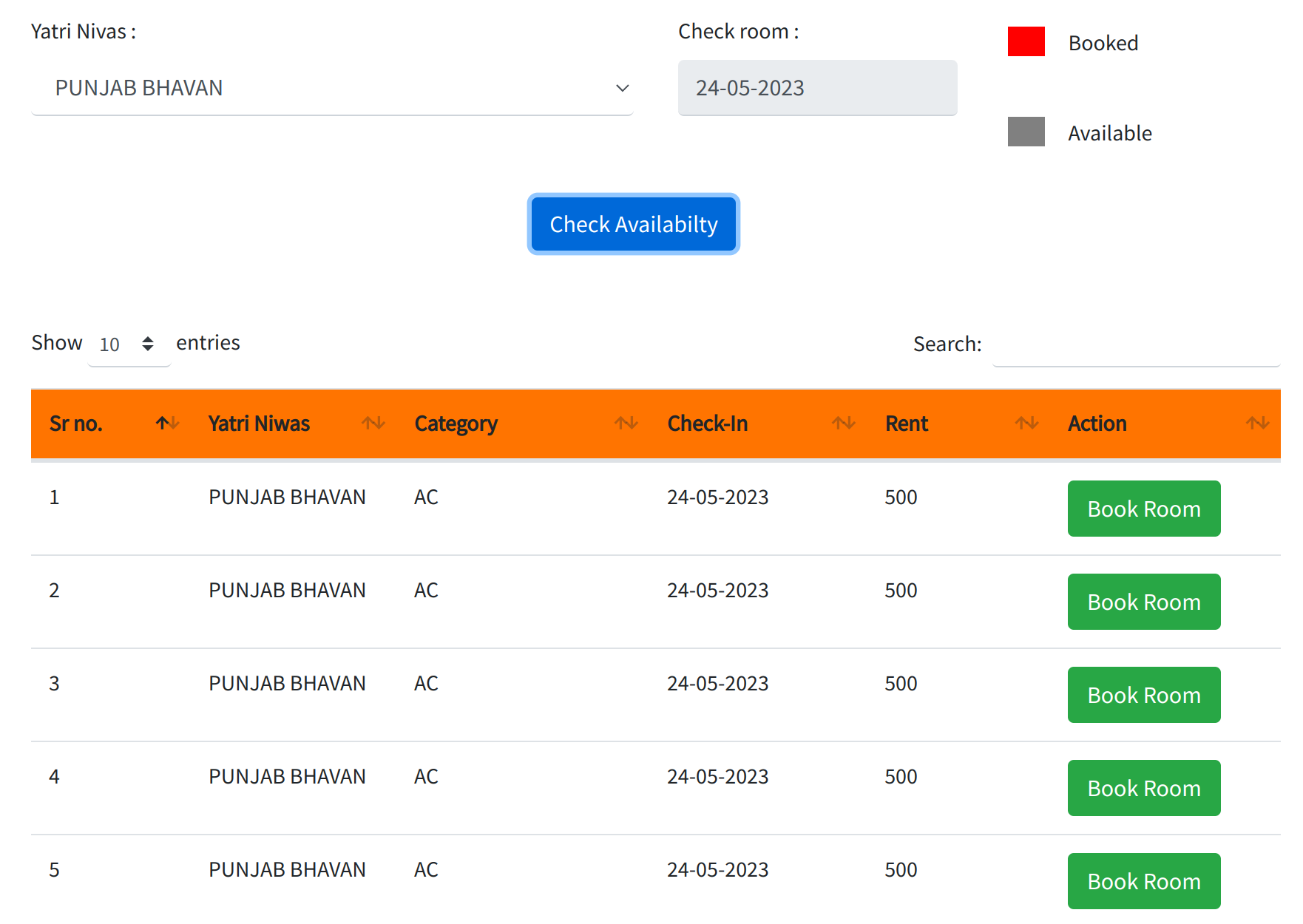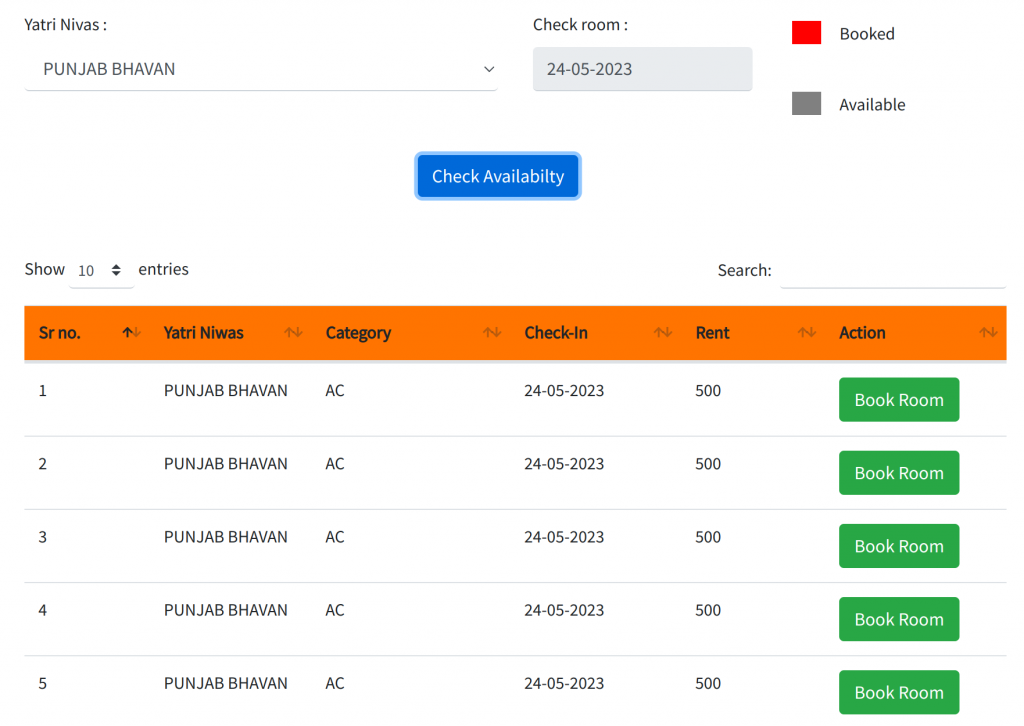 You can reach the place and share the booking code with them. They'll ask for Id proof for everyone who'll be staying in the room. Please note that most of the Yatri Niwas will not allow unmarried couples to stay in one room. They'll give you two separate rooms and you'll have to pay extra for it. They'll also take Rs 1000 as a refundable deposit in cash. At the time of checkout, this amount will be returned.
Please note that online booking starts 3 months before the date and closes 8 days. Hence plan your stay accordingly. If there's no room available in the one chosen by you, you can be allotted a room in a different place according to availability. Lastly, there's no refund in case of cancellation for online bookings.
Why You Should Stay At Yatri Niwas in Nanded?
As I said earlier, Nanded has a lot of options when it comes to staying. There are nice hotels, lodges, guest houses, homestays and much more. So there are multiple stay options in the town. But why should you stay at Yatri Niwas? Having stayed at Yatri Niwas twice, below are the reasons I feel why one should stay at Yatri Niwas in Nanded
Proximity to Gurudwara: These are located within the complex of the Hazur Sahib Gurudwara, or close to the Gurudwara providing convenient and easy access to the holy shrine.
Cost-effective: They are a budget accommodation option, and hence, are cheaper compared to hotels. For those who want to save money on their travel, this is an ideal place to stay. You can enjoy basic amenities at an affordable price, which is perfect for those travelling on a budget.
Availability: As listed above, there are many Yatri Niwas in Nanded which means availability at a point in time shouldn't be a problem. Each of them has many rooms as well.
Spiritual experience: By staying at Yatri Niwas, one can immerse themselves in the spiritual experience of being near the Gurudwara, attending the daily prayer services, and participating in religious activities.
Homely atmosphere: Most of these places have a homely atmosphere with simple and clean rooms that are equipped with basic amenities. The staff is also warm and hospitable, making the stay more comfortable and enjoyable.
Found This Guide Helpful?
Nanded Yatri Niwas offers a budget-friendly accommodation option for pilgrims and tourists visiting the holy city of Nanded. With multiple options to choose from, including proximity to the Hazur Sahib Gurudwara, these Yatri Niwas provide basic amenities and comfortable rooms for a peaceful stay. Perfect for solo or family travel at any time in the year.
They offer a more affordable and simpler alternative to hotels in the area while still being conveniently located near the main attractions. Booking them is easy, and the process is quite streamlined, making it a hassle-free experience for visitors. By staying at a Yatri Niwas, you not only save money but also get to experience the warmth of the community and the spiritual atmosphere of the city.
So, if you're planning a trip to Nanded, do consider staying at one of the many Yatri Niwas available and have a fulfilling and serene experience. Do share this post if you found it helpful. If you have any feedback, comments or suggestions, please drop them in the comments below. Tweet to me at @Atulmaharaj, DM on Instagram or Get In Touch.