As a technology enthusiast, I'm always on the lookout for some new gadget to try and often. More often than not, affordable ones have practical usage. A few months ago I was randomly scrolling through Amazon and came across this BeatO Curv Smartphone Glucometer. At ₹499 this caught my attention. Though we don't have any sugar patients at home, we do have the OneTouch glucose tear to do random tests once in a while.
It's been about a couple of months since I got this and have taken a few tests, I thought it was a good time to share my Beato Smartphone Glucometer Review. Being a Biology student turned Software Engineer turned Developer Advocate, let me help you understand the basics first.
What Is Blood Sugar & How Is It Measured?
Sugar is among the main sources of energy for our body. You would have seen that whenever there's anyone complaining of weakness, or dehydration, immediately something sweet is provided to them. Chemically sugar comprises glucose and fructose. And when you take Sugar, it's broken down into these two molecules in your body out of which glucose is immediately absorbed giving the required energy.
Blood sugar refers to the amount of sugar (glucose) present in the blood. Measuring blood glucose levels is important for people with Diabetes or anyone who is prone to the condition. It is often measured using a device called a glucometer in milligrams/deciliter (mg/dL).
Technically, it's done by pricking a finger and taking a drop of blood and placing it on a test strip which is connected to the sensor. Chemically, when a drop of blood is put on the test strip, it interacts with an enzyme called Glucose Oxidase. During the process, it generates a small electrical current which is picked up by the glucometer, and processed, and a number is shown on the screen.
Having understood the basics of what blood sugar is and how it is measured using a glucometer, let's talk about the Beato Smartphone Glucometer.
Beat Curv Smartphone Glucometer – Review
So the process of measuring the blood glucose levels using a test strip with the enzyme is a common process employed by all glucometers. What BeatO has done is that it has made the device much smaller with the ability to connect to a smartphone that not only powers it but also processes and stores the data.
Most smartphones today either have a micro USB or a toy-C USB port. And the BeatO Curv smartphone glucometer uses that to process & store data on their BeatO app.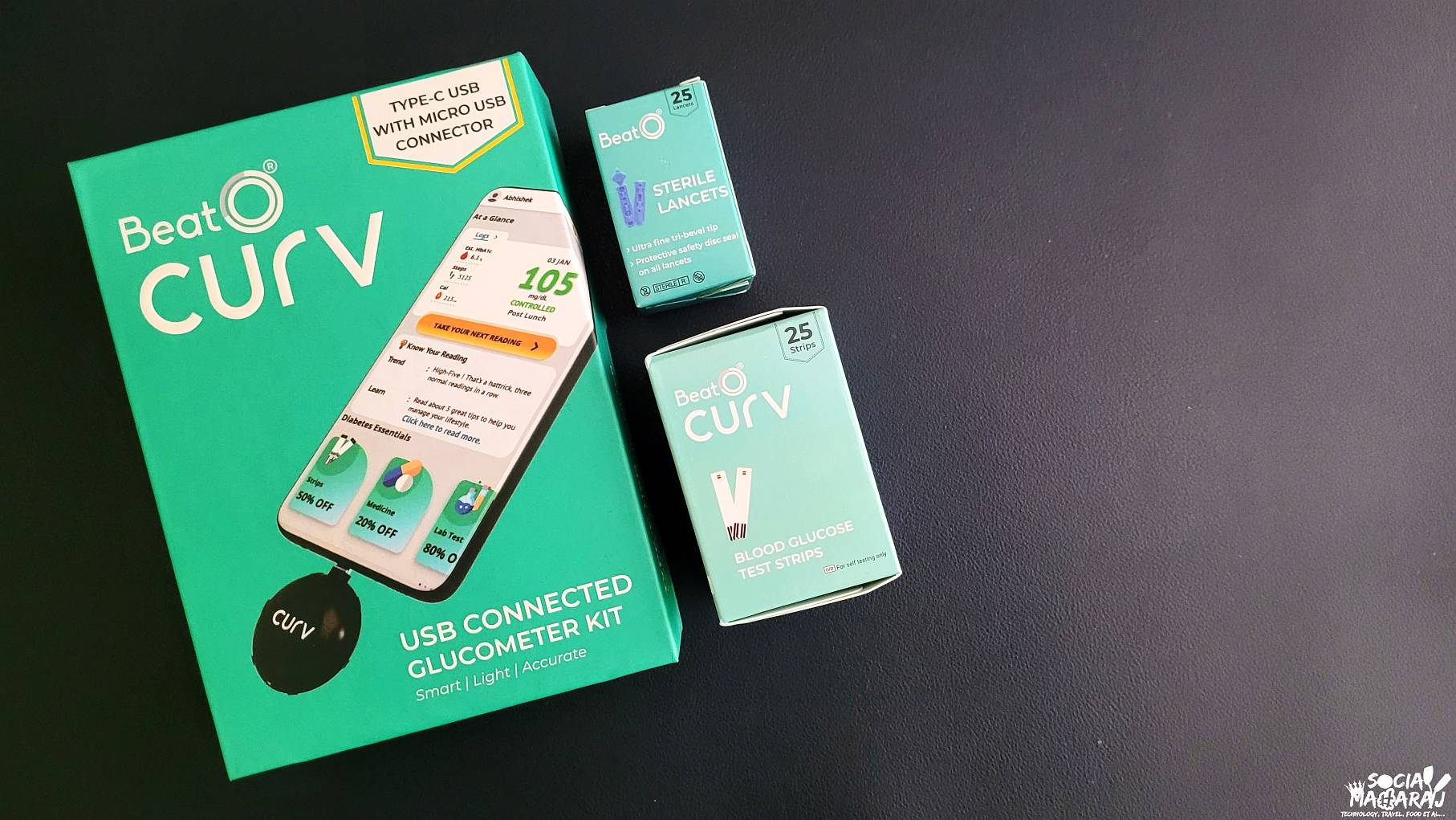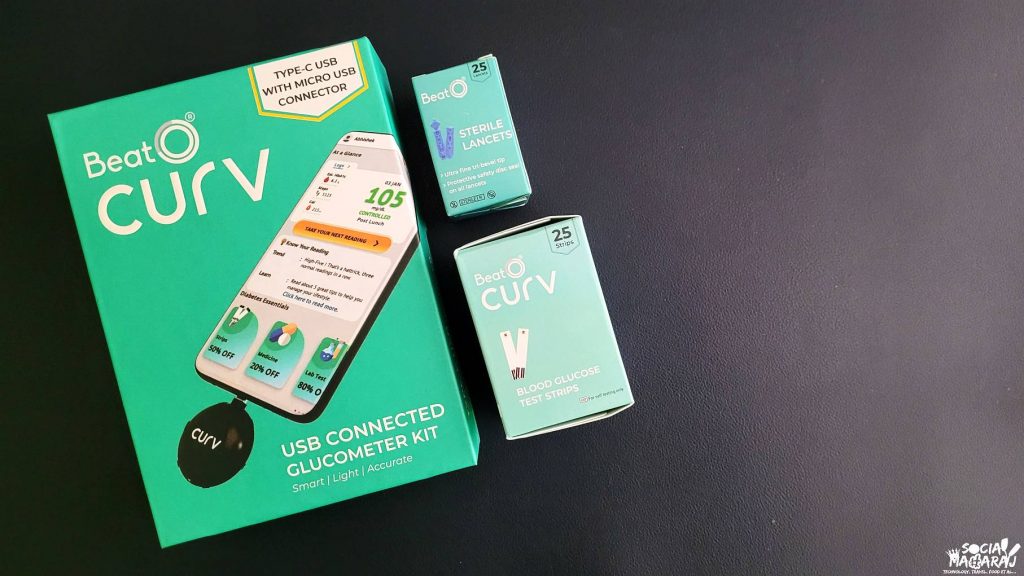 Minimal Packaging
This was delivered within a day of ordering. The entire packaging is quite small and handy with its distinct branding and color. Inside the package, you'll find a lancet, needles, a box of test strips, and the BeatO Curv sensor along with a micro USB to TypeC converter and a carry pouch.
Talking about the build quality, most of these items are made of cheap plastic. In fact, when I saw the sensor and took it in my hand, I wasn't amused with the build quality. Irrespective of what it can do, it looked cheap. So for once, I was like, will this work? Let's see
How To Use BeatO Curv Smartphone Glucometer
Using the BeatO Curv Smartphone Glucometer is pretty straightforward. You first need to download and install their app for Android. Once installed, you need to create an account (I was reluctant to create one as they were asking for the phone number) Anyways, install the app and give it the required permissions.
Insert the Curv sensor into your smartphone and immediately your phone will show a pop-up.
Tap on it and the app will launch. It will show onscreen instructions which you need to follow.
Place the test strip in the slot on the device.
Prick the finger using the lancet and place a drop of blood on the test strip.
Within a few seconds, you'll see the blood glucose level appear on the app.
The app is nicely done with clear instructions. The readings are stored well and a graph is generated over time to keep a check on it. Readings can be taken for different users and stored which is good.
Talking about the accuracy, like I said we did a handful of tests, and for some of them we also validated it against OneTouch. For all such tests, we got the exact same number on both glucometers. Frankly, I didn't expect this cheap device to be giving such accurate results.
Pros and Cons of Beato Smartphone Glucometer
Pros:
Small & easy to carry
Accurate
Super easy to setup and use
Inexpensive
Cons:
Poor build quality
The app has lots of notifications & you feel like they want to sell you something
No iOS App at the time of writing this
Click Above To Buy On Amazon.
Should You Get The BeatO Curv Smartphone Glucometer?
Being a biology student turned Techie, I'm always in awe of gadgets that are able to read biomarkers and do amazing things with the data. The BeatO Curv Smartphone Glucometer is an inexpensive device that I wanted to try and must say, it's doing a pretty good job!
The packaging is neat and tidy and the box contains everything you need to get started. The device is super easy to set up and use. The results I obtained from the BeatO Curv Smartphone Glucometer were the same that my OneTouch gave, so I can assume it's accurate. The app is nice & basic but has too many notifications. Also, the build quality could be better. But I guess, that's the best they can offer at this price point.
At ₹499, the BeatO Smartphone Glucometer is a nice-to-have gadget especially if you have people who need to monitor blood sugar levels. That's about my experience of using the device, Have you used this? Or are you interested to get one?
Let me know your thoughts in the comments below, tweet to me at @Atulmaharaj, DM on Instagram, or Get In Touch.
Frequently Asked Questions
What Is BeatO Curv Smartphone Glucometer?
The BeatO Curv is a glucometer that works with smartphones. Unlike the other ones in the market, this isn't a standalone device and needs to be used with a smartphone and an app.
How To Use BeatO Curv Smartphone Glucometer?
Insert the Curv sensor into your smartphone, and launch the app from the pop-up. Follow the onscreen instructions: insert the test strip, prick your finger, and add a drop of blood. Get your blood glucose level on the app within seconds
Is BeatO Curv Glucometer Accurate?
Yes, I used it along with my OneTouch Glucometer and got the same results on both devices.
Is BeatO Curv Worth Buying?
It's available on Amazon for less than 500 Rs for a box of 25 test strips, at that price point the BeatO Curv is one of the most affordable smartphone glucometers available in India at the moment.