"Four oneza Four, Four twoza Eight, Four threeza Twelve…" does this remind you of something ? 
This was the typical way of teaching in most of the schools and both I and you would have been a part of this at some point of time. Those days, we had teachers coming to class, writing something on the black-board(which turned green) as all of us repeated what she wrote. (I don't know if that ever happens with you but for me a teacher is always a she) Soon the way of teaching and education on a whole changed with the advent of technology. Technology made way not only in our lives but even in our classrooms. I remember getting CDs for the then Educational start-ups which had flash videos on topics ranging from photosynthesis to invasion of India by the British. Soon, these CDs were replaced by projectors and then by smart boards. I was part of a batch that was taught on the Smart-board at New Era High School, Panchgani and today the school has it in almost every classroom. But, with changing times, the ways of teaching have changed and the latest entrant to this is Education through Social Media – Learn how to make learning fun.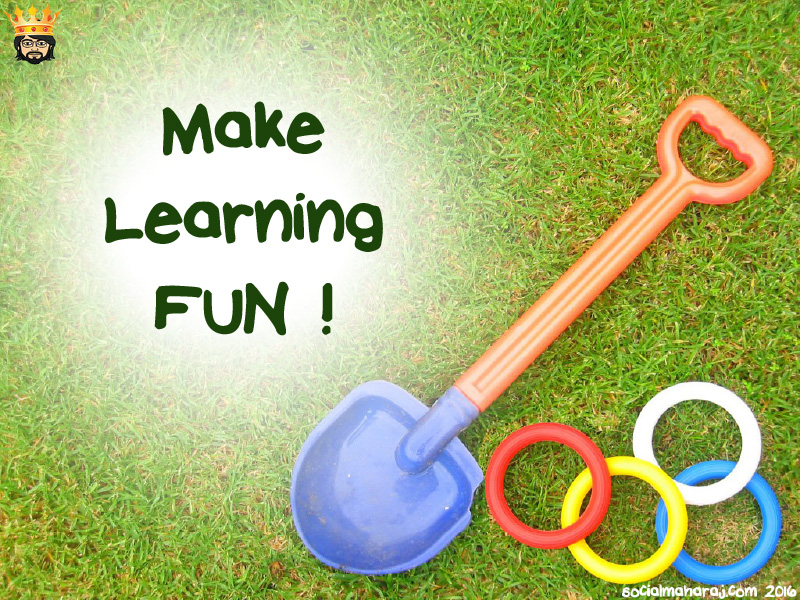 Education through Social Media
I have previously spoken about how social media is changing the way we live. From Marketing to Nation Building, it's everywhere and we should leverage it in education as well. EdTech or Edu Social Media is the way forward. Some of the ways to do so include Computer Based Training which often includes self-paced training which has replaced the traditional CDs. Gamification is a great way to teach young students the basic fundamentals of anything. With or without the use of technology, gamification ensures that students grasp things quickly because everybody loves to play. Teaching through social media is the nouveau way to impart knowledge by engaging students along with making education fun.  Collaborative Social learning is another way that has changed the way we learn. Computer-supported collaborative Social learning employs the use of blogs, social media, wikis, podcasts and discussion groups to name a few. Social Learning is the best way to learn after all the best way to learn something is by teaching others.
During my years in college, I was stumped when my Communication skills professor asked us to create and 'maintain' a blog and said that we would be graded on it! He wanted all of us to write a post on the blog for which we were graded. There were more than 20 EduSoMedia Blogs of different classes at Amity University, Noida. You can have a look at it here: amitycs4.blogspot.in (Social Maharaj Blog too, was started along-side it and this has indeed come a long way since then) In the next semester we were asked to submit YouTube Presentations and were graded on that. We all truly enjoyed the experience of shooting the videos by keeping a piece of paper below the camera because we couldn't afford a teleprompter then: P
EduSoMedia at Wisdom World School, Kurukshetra
Today I see the same teacher going leaps and bounds in promoting the use of Technology and Social Media in Education to make learning fun. He has joined a school now and plans to bring EduSoMedia as a learning tool for them as well. His latest exercise includes a General Knowledge Blog, Podcast for Audio Notes. His school (Wisdom World School Kurukshetra, Haryana) has launched a weekly YouTube series "News Wisdom". Students present the weekly round-up of school activities and achievements. Each episode starts with a small piece of drama as well. When I see the videos, I can imagine the efforts the students would have put in learning not only the subject but also understanding the platform – YouTube. One of the best things of such exercise is that students will become confident over time. The exposure getting on a global platform is certainly going to help them. And you know how important being confident is in today's scenario. You can have a look at Wisdom School's YouTube channel for more videos.
So you see how beneficial is the use of Technology and Social Media in Education for the overall development of the child. I've been benefited a lot by blogging and hence I'm an advocate of blogging, always trying to get more and more people to join the Blogging bandwagon. As you all know learning is a continuous process, it's never too late to try things the will help the society. So get online and make learning fun! Further if you want to get in touch with the man behind all this creativity, head to Mr Parveen Sharma's website or tweet him at @ParvEducator 
I would end this post by this wonderful quote "Technology is not going to replace teachers. It is not going to happen. But, teachers who do not use technology shall be replaced by the teachers who do…."