Continuing from my previous post – Delhi 6 – Part I
The second day I wanted to see the remaining market. So once again I reached Chandni Chowk by metro. This time walking in the opposite direction of the Red Fort.
The road side market is cheap and has lots of variety to offer. Checking out the various items on display, I reached the town Hall. This is another landmark and the place from where the Nai Sarak starts. The road is famous for Books. The lane about 2 kms in length starts with cloth shops, sarees, suits etc etc. As you walk further there are shops that sell fabrics for your DIY needs. From shiffon to net , velvet  – you say it they have it ! Walking down the lane further, the crowd receeds as the Book market starts. Medical, Engineering, MBA, Biotech, Law, Kinder garden etc etc etc all sorts of books can be found here. Whole sellers of stationery items are also housed here and once can buy packs of pens, pencils, note books, files etc at a whole sale price. As I kept on walking, I reached another 'T-junction', I decided to take a left, and just then I saw the world famous Jama Masjid. Walked a bit to witness the place closely, but didnt go in.
Walked back to the main road, and kept walking towards Lahori Gate. The lane parallel to Nai Sarak, sells chappals, shoes, sandals etc etc. Walk down a bit and you'll have the opticians market. Spectacles, from reading glasses to goggles, you'll find everything here. Frames start from as low as 30, 40 Rs ! (clearance sale at some places) else the minimum I could find was 100. The frames are good and you have a wide variety to choose from.
From there kept walking further towards Lahori Gate. From the T junction, took a right and there was the Dry Fruit , Spices bazaar. Walked further and reached Gianis – the Rabri Falooda place. Famous for its falooda, this was my next destination. There is a restaurant that serves only Chole Bhature and Chole Chawal at 50Rs per plate. Alongwith that the yummy falooda goes well. Cost 60 Rs per glass.
the above photo is old, but the same man is still sitting at the counter, only difference is the price – increased by 10 rs 
After lunch, walked through the spice bazaar to reach Sadar – the trader's bazaar. You think it and you'll find it. What ever you want you will find at this place. You can find a toilet cleaner for as low as 20 Rs to as high as 200 Rs ! On the was the wholesale Dairy Bazaar. The Kinari bazaar is famous for jewellery. All zari items, borders, sarees etc can be found here.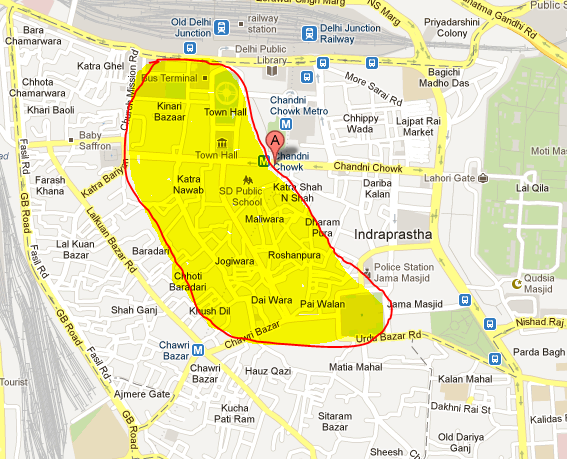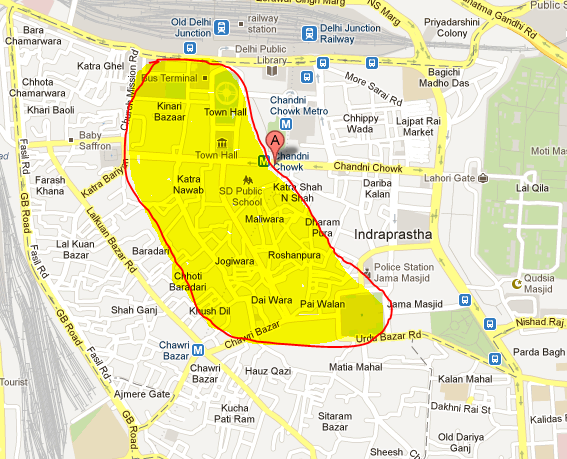 The map shows the areas covered in the second half of the trip. Well, the trip was too too too good !! It was soo good, that I've decided to visit the market once every 2-3 months and buy things from here alongwith some really yummy food ! If you are not willing to walk,  there are cycle rickshaws that charge anywhere between 20-40 Rs to take you anywhere in Chandni Chowk.
A great place to bargain. One can get whole lot of stuff at very cheap prices. The place is extra crowded and people please take care of your valuables like wallets, mobiles etc. Also, the market is closed on Sunday.
If you want to anything else about Chandni Chowk, I guess I know the place well and can help you out ! All in all a great great experience. Dill at its best.