Aye Masakali MasaKali
UD Mataak Kali Mataak Kali
Masakali MasaKali
Ud Mataak Kali Mataak Kali
This was the song that played in my mind as I entered the World Famous Chandni Chowk aka Delhi 6. I always wanted to visit Chandni Chowk before I would leave Delhi and move to another place. (atleast I could tell people that I have seen the market)
The whole trip was planned over two days. (the market is too big, so needed time to checkout the creepy lanes of the city) I opted to visit the market by travelling in metro for the sole reason – the heat. It wouldnt have been a nice idea taking a bus or something in the scorching heat. The metro charged me 18.9 Rs from Botanical Garden to Chandni Chowk (changing trains at Rajiv Chowk)
First day, the target was the cloth market, Lajpat Rai market(electronic & electrical goods) and Bhagirath market(whole-sale allopathic medicines). The Chandni Chowk metro station itself is in a galli. One gets the feel of the market from just outside the metro station. Walking straight from the station is the cloth market. Sarees, Suits, Dress etc etc etc starting from a mere 100 Rs and ranging upto 1200 Rs per pc ! Well I bet one cannot find such wide range anywhere in the country. The drawback ? – One has to make a minimum purchase of 4 pc. (Though if you plead, you might get one pc)
Moving on, the next stop was the Lajpat Rai Market. A place just perfect to make me mad !! Right from small LEDs to the humongous halogens, one can find any anything at this place. You might get everything you want in the initial part of the creepy lanes. But if you can't don't worry, there's a whole lot of stuff in those creepy lanes. But once again, they don't sell single piece. I wanted to buy some sensors for my Arduino and after walking a lot in these lanes, I found a shop which had all electronic items. (Me being an amateur in electronics, had no clue what to purchase, because the shopkeeper knew stuff only with the IC no. while I had no clue about the ICs !!)
 Coming out of the electronic market, I walked uptil the 'T-junction' infront of the mighty Red Fort. the place is amazing ! The sun was over head and I was de-energized, but kept walking because – at the end of every tunnel is light – in the same way I was heading towards Parathewali Gali – the world famous Parathe waali gali ! I didnt even need to ask anyone as to where it was, the aroma itself carried me to the kadhai were the Parathas were made !!!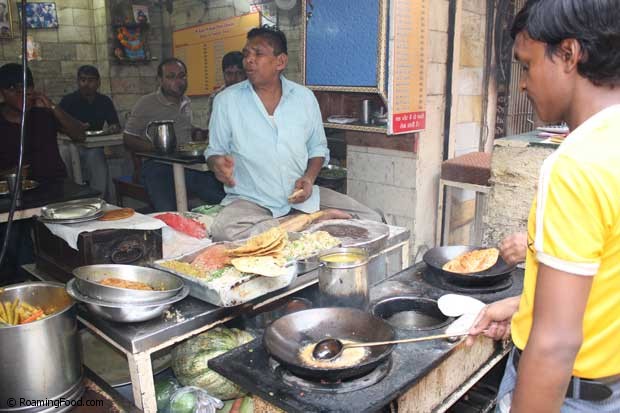 What then ? Ordered a Paneer Paratha, Papad Paratha, Dry Fruit Paratha, Mix Veg Paratha and..ya thats all.. all this for just above 200 Rs !! Enjoyed the parathas looking at the photos of Ranbir Kapoor, Imtiaz Ali, Cyrus, Lola, Sheila dixit who had visited the same restaurant earlier.
This brings to the end of Day 1. It was high time that I returned to Noida else the metro would become extra crowded and would have become difficult to reach home. So the map below shows, the places covered in the first trip :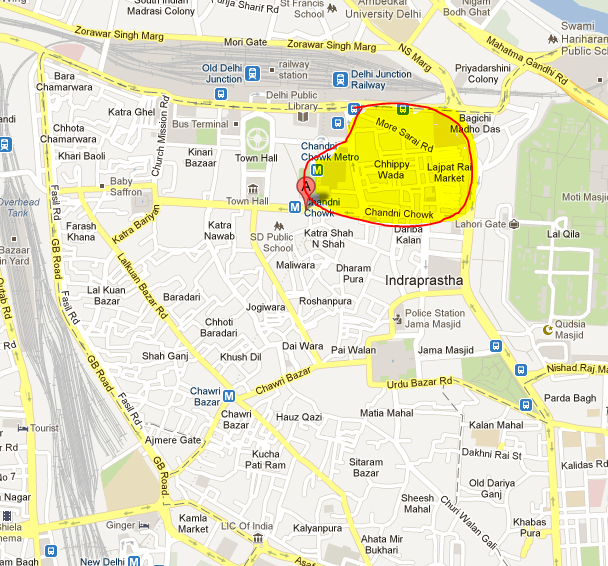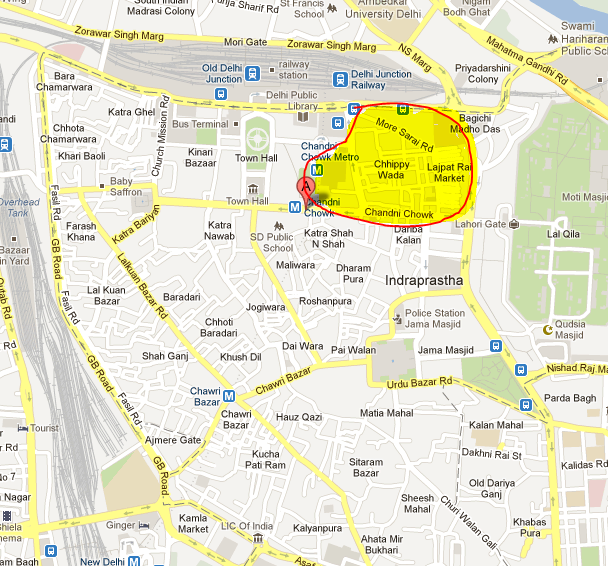 Read Part II of the trip – Delhi 6 – Part II.