After the glitzy and glamorous Indian Premier League, it's time for some serious Cricket. The ICC CHAMPIONS TROPHY is all set to start today with INDIA taking on SOUTH AFRICA in the opening match. The tournament will see the best cricketing sides lock horns with best batsmen taking on finest bowlers in cricket. All the teams are up for the challenge. Here's my take on the two teams.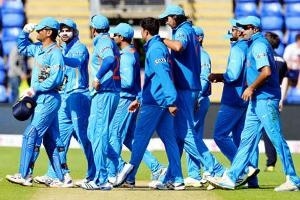 India: The Indians can be dubbed as favourites for the tournament. Coming out from two magnificent wins in the warm up games that they played against Sri Lanka and Australia, he Indians are high on morale. India has always had some or the other problem either with bowlers or the batsmen, and this time too the problem persists – the top order. The opening pair woes still continues for the team with Dhawan and Vijay failing to make a mark in the warm up matches. But the bowling seems to be getting on track with speedsters Bhuvneshwar Kumar, Umesh Yadav and Vinay Kumar doing justice to their selection in the squad. Well we need to see how the team carries the form along the tournament.This is certainly a litmus test for the Young Indian side.
South Africa: South Africa are one of the few sides in world cricket who have the perfect combination of Batsmen and bowlers. With the likes of the dependable Amla and de villiers to the speedy pair of Morkel and Steyn, Proteas stand a strong chance to reach the finals of the tournament. Having lost to Pakistan in their warm up match, even their top / middle order needs to perform today.
But with Dale Steyn probably missing out on today's game, will it be advantage India ?? Or will the Proteas Batsmen take advantage of the inexperienced Indian bowling attack ??
Watch the live action unfold on Star cricket at 15 hrs.
As usual, I pick my playing XI, and for those who follow my blog will know that my team is most likely to be the playing XI !!
Dhoni, Raina, Kohli,Ashwin, Yadav, Sir JADEJA :P, Bhuvneshwar Kumar, Vinay Kumar, Dhawan,Vijay and Karthik.