I mentioned in my previous post that National Mobile Number Portability was implement on July 3rd, 2015 by all the Telecom operators. I had been waiting for this one and glad this is in place. Well in this post I thought to let you know "the procedure to port your number from any circle to any other circle and from any operator to any other operator and from prepaid to post paid too". In my case it was Airtel Prepaid number from Delhi Circle which was is being ported to Airtel PostPaid number in Andhra Pradesh. (because Telangana is still not a circle) along with it I shall also share the problems faced I'm facing to get my number working.
The steps are pretty simple and are followed in the following order.
The customer first generates the UPC or Unique Port Code. This is done by sending a SMS "PORT <your mobile nubmer>" to 1901.  Soon you will receive a SMS back with the UPC which is valid for a period of 15 days. And hence needs to be used within the time given time frame.

The UPC received.

After you get the UPC, you simply fill a Porting form along with a Customer Application Form or CAF and hand it over to your new operator to which you are porting to. You will be given a new SIM Card.
Post this, you will receive a call from your old operator confirming that you have raised a request to port out. They will definitely ask for reasons why are your porting out etc. Also make sure you don't have any outstanding balance, because if you have your request will be rejected.
After successful verification you will receive a SMS mentioning the time when your number will be ported (your old SIM will stop working). Once you receive the SMS simply remove the old SIM and insert the new SIM and wait for it to connect to the network. Once it does, you can call a predefined number (varies from operator to operator) to activate the SIM and continue using your old number.
Well the steps seem very simple and easy, they indeed are, but in real life things turn out to be different ! First you get numerous calls from your current operator asking why are your porting out ? At times it felt like Deewar, old operator saying "Main tumhe achche SMS pack deta hoon, 4g deta hoon, yeh naya operator tumhe kya dega ??" But you HAVE TO DEAL with it. I contacted Airtel on their Twitter handle, but things didn't work, in then end I received a total of 5 calls from Airtel Delhi before my request was approved.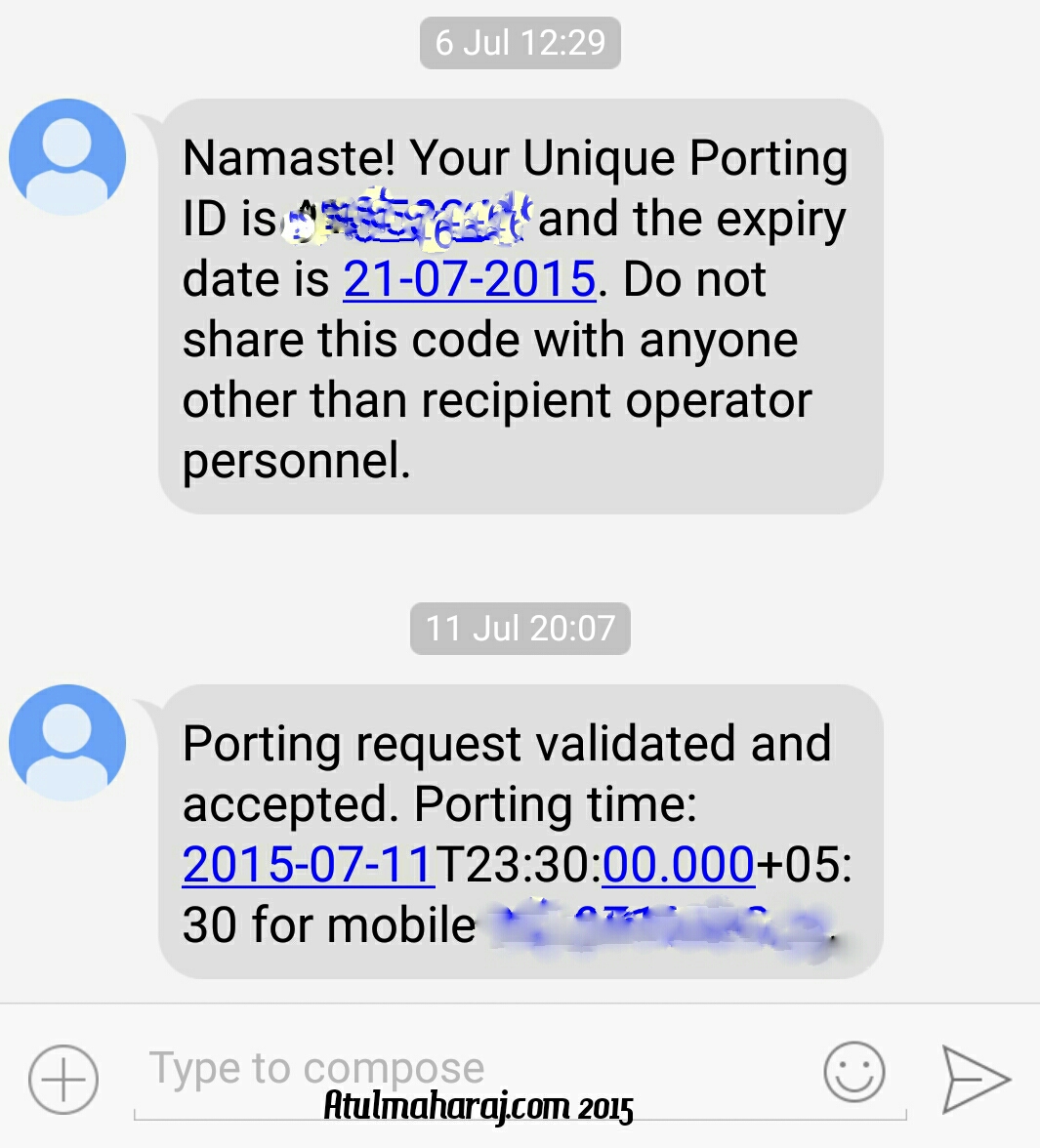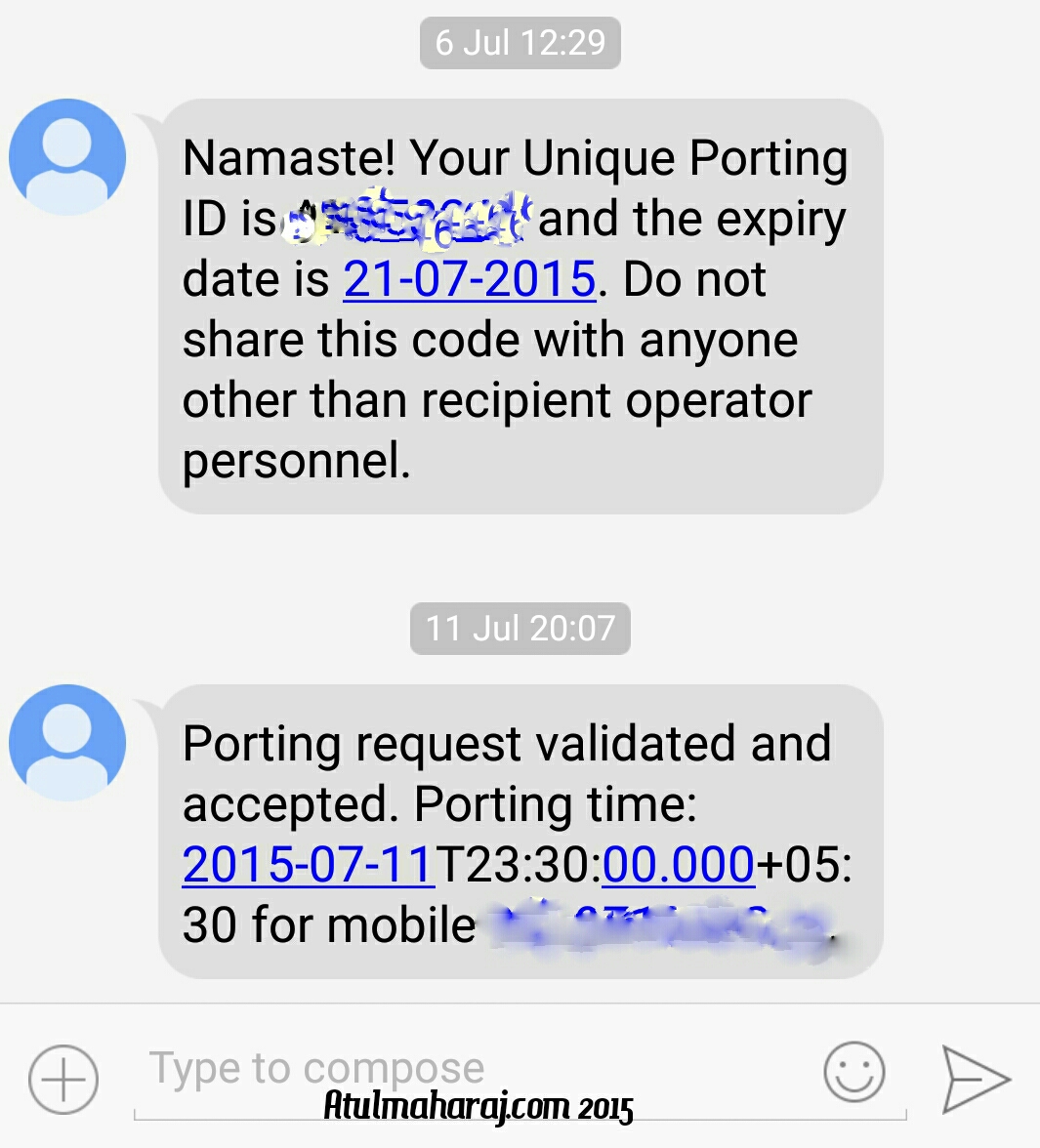 Last night (exactly after 5 working days) I got a SMS saying your number will be ported tonight between 23:30 hrs. I was amazed and relieved that finally I could do away with roaming packs ! But again, in real life things don't work like you wish ! After replacing the new SIM, got a SMS on my alternate number that the number(the one that was ported) was active. Morning I get up to see that there is no network, hmm…reinserted the SIM and voila full network. Dialed their activation number and duh-uh "The number you have dialed is invalid, please check the number…" Now how do I activate the SIM ? Again turned back to Twitter, but again the same old response.
@Atulmaharaj Hi! Please DM an alternate contact number & allow us to look into this, we'll connect with you to share an update… cont1

— Bharti Airtel India (@Airtel_Presence) July 12, 2015
Finally after restarting the phone a couple of times did the trick, I finally connected to the activation number. Verified all the details etc and done ! But again, in real life things don't work like you wish ! I realized I was able to make calls, but was not able to send SMS or receive SMS/Calls !! So no incoming calls or SMS after National MNP. Now that's the real problem ! You port to keep your number so that you don't have to update many and that they could call you and BANG ! They can't even call you  now because all they can hear is "The number you have dialed is Invalid, Please check the number…"
Called up the Customer Care and was told that this is a MASS ISSUE that was being faced by everyone from every other circle who was porting In/ Out and were not able to either receive / make calls/sms !! Is it that the National MNP has hit rough weather ? Weren't the infrastructure tested before opening the service to millions of people ? Well, only time will say. As of now I can only wait and watch. Further If any of my friends/colleagues reading this, please note that you might not be able to connect with me due to this issue.
Are you also facing the same problem while porting you number ? Do comment below and let us together sort out things !