Everyone reading this would agree with me that school times were the best times of your life. Right from kindergarten to Class 12, those were glorious years. Some of you might have studied in the same school right from nursery to 12 while others (like me) would have hopped schools every year or two. No matter where you studied, what you studied and how you studied, there were some "peppy" characters (and by characters I mean namoona) in the classroom. I'll be recollecting the memories from my school days along with describing the peppy characters I had in the class.
The Teacher's Pet / Over-enthusiastic: These are the over enthusiastic people in the class. Often come to class prepared with more that what is supposed to be taught. These people have answers to all the questions shot at them. They are always 'peppy' and are raging to speak up. They enjoy the most when the entire class is standing for not answering while they are the only one who have answered. If on a day you are feeling low, or probably scored low marks in the test, it's best of avoid these guys. If you are anytime near them, they are sure to get under your skins.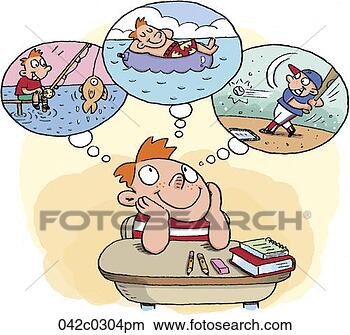 Next is line are the Day Dreamers: These people often chose to sit near the windows. They type of students are not at all aware as to what is going on in the class. These guys are in their own 'peppy' dream world where they would be enacting the scene from Main Hoon Naa with the teacher they have crush on 😉 And the moment the teacher asks a question they have no idea what is going on and often come up with stupid answers.
Another type of character in the class are the clown or mastikhors as we call them. They are the funniest one in the class rooms and always have some jokes ready for any situation. I've had a great experience with these guys, whenever I wasn't interested in the class, I would go and sit with these guys and have some fun. They are often the winner of the people's choice award in the class and are loved by all. Their jokes are most of the time enjoyed by the teachers too, but if not…
Mr. Sleepy. Image Courtesy: toonvectors.com
Lastly we have that one person in the class who is sleepy, ALWAYS. No matter what time of the day it is, these people are always sleepy. They are God gifted in a way that they can get into such positions and sleep that the teacher would not notice them. I wish I could do it.. rather I was the one behind whom these guys would sleep, at least I would shield them from the teachers radar 😛
So, these were the most common 'peppy' characters you see in a classroom. You love being around with some while you definitely want to get away from others. No classroom is complete without these 4 characters, so hats off to them !
Which of the characters were you when you were in school ? Let everyone know and share your experience 🙂
This blog post is inspired by the blogging marathon hosted on IndiBlogger for the launch of the #Fantastico Zica from Tata Motors. You can apply for a test drive of the hatchback Zica today.