Finally I'm retired — goodbye tension, hello pension ! That's probably the mantra that everyone follows today. First work hard for 20-30 years saving up for house, kid's education/marriage and for retirement. Often dubbed as the most relaxing part of ones life, many don't enjoy it because of the fact that their jobs required them to interact with people. And now having retired, they barely have someone to speak to. Many of such retired people take up small job or pursue their hobby to keep themselves busy. However there is this one person who spends his entire day helping the community by controlling and easing traffic during his retirement in one of Bengaluru's residential areas – Mico Layout, Arekere.
If you stay there or pass through that small junction near the Ganesha Temple in Arekere, you know whom I'm talking about. Dressed in a plain T-shirt and shorts, wearing spectacles and a whistle he is Mr. Ramprasad BM, 64, who is at his 'self-created' job every morning and evenings to manage the traffic when it's at the peak. I used to see him everyday when I traveled to school. A fully dedicated person who loves his job. Ramprasad Rao is a retired financial adviser from Bosch, who stations himself at the 5th cross of Arekere Mico Layout and enjoys his work. Initially when I saw him, I wondered why is this old guy so interested in doing all this ? The answer was simple, Someone has to do it. If not the authorities.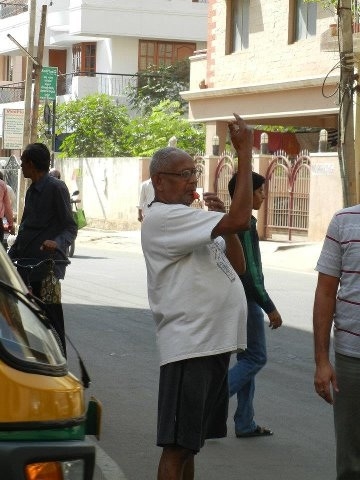 Ramprasad had been doing this for close to 5 years now even though I got to see him only for a couple for years during my schooling days. When traffic was at its peak, Ramprasad armed with his whistle would jump in the middle and in no time clear the traffic. One of the nicest things that happened was that he was finally recognized for his efforts. He was given a radium jacket similar to what the traffic police guys wear and a couple of LED sticks that would help him work in the evenings without any trouble. To tackle the vehicular pollution he was even given masks that would help him doing so. Suffering from diabetes and ageing legs, there's no stopping this 64-year-old 'young man' from contributing to make Arekere, Mico Layout a traffic free zone.
It's very rare to see someone spending a good part of their daily routine in doing good for the community, and Ramprasad would top the list if there were any for such cause. Keeping their personal lives at bay and standing up to help the community is a great deed. Such selfless service in today's scenario is simply unheard-of. Whether or not people care for what he does, Ramprasad feel it's his duty to help make the community a better place for everyone. I salute Ramprasad and hope many others chose to help the community not only in their retirement but during the normal course of life too ! So take sometime off from your busy schedules and do anything that can make a difference in the way we live.
 This post is a part of 'Switch For Change' a campaign by Havells and Youth Ki Awaaz. It's time to proudly acknowledge the #WindsofChange !