If you look around yourself you would realize that most of it would have been purchased online. Be it your TV or the computer / smart phone you are reading this post on, everything is purchased online. E-Commerce site have made our lives simpler and shopping was never so easy. Great UI coupled with swift payments, and even faster shipping and huge discounts [Read – Why you should use Plastic Money] it has become the most preferred way to shop. But everything is not about the website or the products, there are a lot of things and people involved in getting the product delivered to you. And one of the key position in that supply chain is the delivery boy that actually delivers the item to you. But this Women's day Amazon has a surprise for you – an all women delivery team !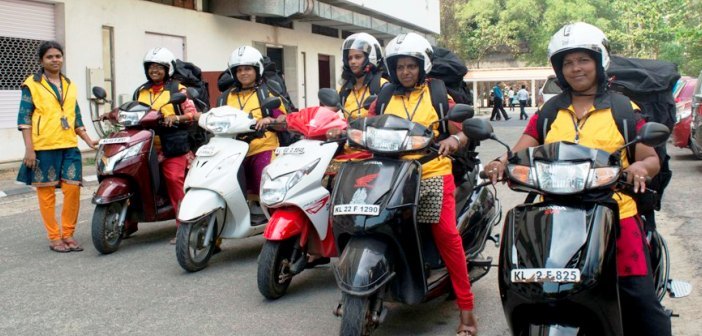 This all women delivery team are the new delivery executives who will turn up to deliver your orders at your doorstep. Yes, no more delivery Boys, it's time for Amazon Angels ! The company which is currently piloting the 'women-only' delivery team in Chennai and Kerala aims to create more jobs in the delivery segment which is largely male dominated. These women are delivering packages within the range of 2-3 kms from the delivery offices. Due to the rising safety concerns, this team will work only from 7 am to 7 pm and will have a dedicated help line for support. What more, these ladies are paid just like men who earn about 12,000 per month on an average. Since the timings are well suited for women, it would allow them to take care of their 'grihasti' along with delivering smiles to millions.
Get 20% off on all Styling products
This project is surely going to have a great impact on the society with women getting a chance to do something and become independent. Would love to see this expand to more and more cities and other companies to start something like this too. Also, there's one more tweak I would want in the all women delivery program – these ladies should deliver orders addressed to ladies only. It will then be more justified as it will make things comfortable not only for the ladies delivering the product but also for the one who's receiving it. That's one way in which more and more women would be willing to take up the job
[adrotate banner="13″]
Armed with a large bag, riding on their Activa these women are there to create their own space in the order-delivery ecosystem. I have always said and will continue to say that women are far better than men in any field of work and this is a great way to break the shackles. So the next time you order something and are about to receive it, don't be surprised to see an angel to deliver your order !