Virtual Reality has taken everybody by storm and I must say that it is there to stay ! The age of Virtual Reality is back with a plethora of devices available in the market. Be it the Oculus Rift, HTC Vive, Microsoft Holo Lens or our very own Google Cardboard, there's everything right from the very basic and minimalistic model to the advanced high-end devices. But today I'll be focusing more about the Google Cardboard. The Carboard project was launched way back in 2014 and didn't get much popularity back then. However with changing times, Virtual Reality headsets or VR Headsets are back in business. You google for it and you'll find yourself in the middle of a sea of VR Headsets with many small companies coming up with their own modified version of the Google Cardboard. And one such minimalistic VR Headset that I'll talk about today is the Domo nHance VRC1 Google Cardboard VR Headset.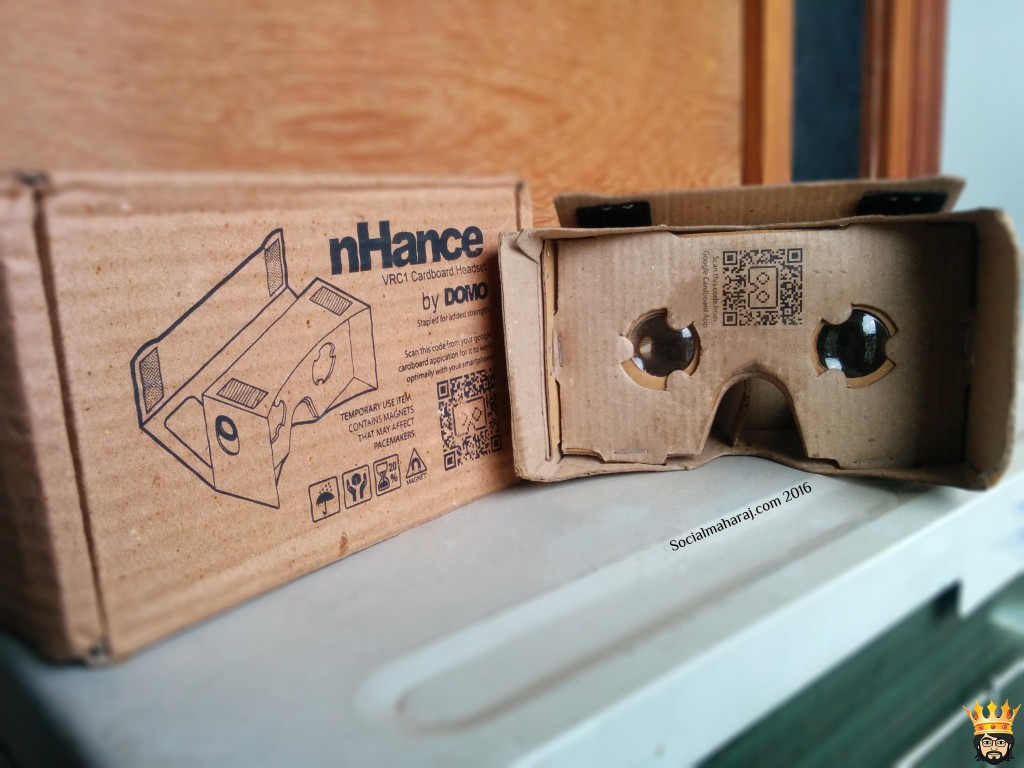 I bought this device from eBay (my most preferred shopping destination) for a mere 290 Rs (about 5$) – that's cheap for someone who wants to get a first hand experience of Virtual Reality. The device was shipped quickly, thanks to the guys at FedEx. Moving on to the product itself, the Domo nHance VRC1.
Build Quality of Domo nHance VRC1
Since this is 'just another' Google Cardboard product, it's nothing special. Made of a thicker variety of Cardboard coupled with 2 convex lenses to get that '3D' effect along side a magnet and a 'switch' that will help you control your phone when in VR mode. And by control I mean not 100%. Few apps like google Street want you to tap on the arrow to get to a destination, so this switch does that only. Pull down the switch to tap on-screen. The Domo nHance VRC1 model that I bought was provided with a headstrap – which was of literally no use for someone with a big head like me ! It just kept coming off ! The VR Headset is perfect for a 5″ inch phone, it may fit a 6″ if used without a case. My Nexus 5 fit in perfectly, but the cardboard divider couldn't help balance it.
Installation and Setup
The Domo nHance VRC1 is a very easy to set up as it comes assembled out of the box. So all you need to do is glue the velcro straps to the headset and you are good to go. But before you begin, you need to 'pair' your VR headset with the phone (Yes just like pairing a Bluetooth device) You need to pair it only the first time. Before you do, get the Google Cardboard app from the playstore and install it. The first time you run it point the camera to the QR code on the headset, once it scans the QR code, it will notify the same. Once paired you are good to go ! Just launch any VR enabled application and put the phone in the front, seal it with the velcro strap and immerse yourself in the world of Virtual Reality.
[adrotate banner="14″]
Apps and Games for Domo nHance VRC1
Virtual Reality is booming and it was pretty evident from the various VR and AR(augmented Reality) products launched during the CES 2016 last month. However there aren't many apps and games available as yet, but that doesn't mean you don't have anything ! Here are a list of few games & apps that I've tried on the Domo nHance VRC1:
Google Cardboard – a must have for starters for quick demos.
Cardboard Camera – this will assist you take some amazing photos in VR.
Sites in VR – an app that will take you on a world tour.
Titans of Space – an immersive game that will take you on a tour of space.
Vrse – it's time for story telling in Virtual Reality !
YouTube – you might already have this but do look out for 360 videos !
Crossy Road – yes your favorite game is in VR too, but doesn't work well without a controller !
Lamper VR – this is a stunning game in VR.
InMind VR – by far the best VR app I've used, great immersive effect !
Should you buy the Domo nHance VRC1 ?
Before I answer that question, here are a few pros and cons of the Domo nHance VCR1
Pros:
Affordable
Hassle-free Setup
Most 4″ to 5″ phones can be used
Compatible with Android and iOS phones
Has a magnetic switch to control the apps
Cons:
Made of cardboard so life is very poor (someone sits on it, it's dead !)
No lens adjustment – that can play a spoil sport for many
No cushion, so can't use it for long
Not easy to use if you wear glasses
Well the Domo nHance VRC1 is a great entry-level Google Cardboard based VR headset. It's affordable and ready to use and gives a perfect experience of Virtual reality. So if you are someone who doesn't want to spend a fortune on expensive VR headsets like the Oculus Rift, HTC vive or Samsung Gear just to get an experience of virtual reality, then this device is perfectly for you. However if you are planning to get a life-like, actual 'virtual reality' experience then I'm afraid this isn't for you. Further, if you are planning to get a VR headset soon, my suggestion is go for a plastic / fiber based models as they will be durable and also do get a controller, it will help a LOT ! I got this device a less than 24 hours ago and I'm totally satisfied with it. Moreover I might buy a good VR headset in future ! 
Any questions, queries regarding Domo nHance VRC1, post them below and I shall be more than happy to help !