Picking up from where I left my last post on the shocking result of the India vs New Zealand match. Everyone was hopeful that India could pull off a win in their opening game but guess destiny had some other plans. New Zealand thrashed India by 74 runs and took a lead of 5 – 0 (head to head in T20s). On the other hand our arch rivals (in cricket and friends otherwise), Pakistan have had the perfect start. Amidst all the security issues, then Afridi praising Indian fans, Pakistan managed to start the tour with a win. It was a great way for Pakistan to take 'revenge' of their loss against the hand of Bangladesh in the recently concluded Asia Cup T20. India vs Pakistan matches are always high voltage clash with pressure on players, match officials and even the fans. (You can see that on Twitter, just check the hashtag #IndvPak) India has a great track record against Pakistan when it comes to ICC tournaments – India has never lost a match against Pakistan in an ICC event. So can India continue with this ? Or will Pakistan continue their winning streak ? Let's find out what to expect in the high voltage India vs Pakistan clash on Saturday.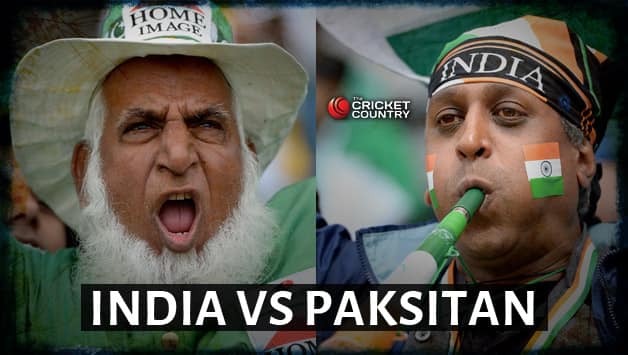 Starting with the home team, Indians have their backs up against the wall after their loss against the Kiwis. Indians could well have restricted the Kiwis below 100 (80-90) had Ashwin bowled much better on a track that was assisting the spinners. Yes ! If Jadeja and Raina can turn the ball square then definitely its a spin wicket. Also the poor shot selections were a big let down. When you know that the wicket is turning, you should choose the right shot. The way Rohit, Raina, Kohli, Jadeja gave away their wickets was disheartening. If that was not enough, we left everything on Dhoni(as always) and expected him to take India home, but with wickets going down at the other end, there was hardly anything that he could do.
Moving on, the Pakistan team is red-hot and brimming with confidence after their magnificent match against Bangladesh. They gave a perfect demo of how to exactly take a revenge for a previous loss. Moreover the thing to cheer about is that their captain – Shahid Afridi – was going boom boom and doing what he is known for. He had been going through a rough patch for the past few games and had critics all over him, but his last innings was a perfect way reply. Their bowling is formidable – the best bowling side in the tournament. With Amir, Sami, Irrfan and Riaz the bowling looks rock solid. These guys are fast and accurate something that all other bowlers dream of. With a win in their kitty, Pakistan would be going in the India vs Pakistan match with a high confidence.
Battle within a Battle – India vs Pakistan
India vs Pakistan match is always an intense encounter. The match is a battle for supremacy with a lot of battles within the match itself. Here are a few battles to watch out for.
Virat Kohli vs Mohammad Amir: Both these players had praised each other a lot during the recent Asia Cup. Amir on one hand troubled all the Indian batsmen and took wickets at crucial intervals while Kohli was successful in defending his wicket and scoring runs. Kohli got away with Amir's speedy yorkers that time but will what will happen when Kohli and Amir face each other ? Need to wait till Saturday for an answer.
Shahid Afridi vs Ravichandran Ashwin: Afridi aka Lala is in a great touch and we saw that in the last match against Bangladesh where he showed what he is capable of. Ashwin on the other had hasn't had a great start as he would have like. Being hit for a six on the first ball of the tournament is definitely uncalled for. And how can we forget Afridi going behind Ashwin in the earlier edition of Asia Cup which Pakistan eventually won. So it would be exciting to see these guys in action.
Yuvraj Singh vs Wahab Riaz: Yuvi has had a problem with Riaz ever since the 2011 ICC world Cup match where he was bowled for a duck, courtesy – a perfect yorker. Yuvi who is not in great form now will definitely be looking to turn the tables in the upcoming match. Will Wahab Riaz continue troubling Yuvi or will Yuvi break the shackles and let the 6-sixes man in him free ? Time will tell that.
So, we have a depleted Indian side at one end who were clueless to the Kiwi spinners. While the Pakistan team on the other had is high on confidence firstly because of their highly successful bowling and secondly Afridi getting back his form. It's a match between the best batting side and the best bowling side. Who will win and who will lose the match can't be said now but India hungry for win and with bowling in great shape, I would go with India. Meanwhile we all can Keep Calm and watch India vs Pakistan on Saturday.