Reaching out to the potential buyers is what most companies focus on now a days. From running twitter campaigns to influence marketing to TV advertisements. These firms leave no stone un-turned to ensure that they reach the majority of people. Amidst all these ad campaigns there are times when a company makes false claims about its services or products. One such ad campaign that most of you might be aware of is the Flipkart's #BilkulPakka ads which is currently running on almost every single TV channel you can think of. The series of advertisements focus on the company's Easy Return policy along side the 100% Original Product guarantee. The firm managed to rope in the veteran actor Amol Palekar for some of its adverts.
What I can vouch for is Flipkart's easy Returns Policy – hassle free and easy indeed. But their 100% Original Product claim is what I don't agree with at all. And that's why I decided to take up the matter with the Advertisement Standards Council of India – ASCI, an organization that works to ensure fair practices and standards are followed. But things didn't turn out as expected and before anything could happen, I decided to withdraw my complaint. So here's Why I withdrew my complaint against Flipkart.
Flashback
The matter started with one of my previous orders where I bought a desktop RAM module from the seller's website. The product that was displayed was Kingston 4GB DDR3 Desktop RAM. Since it was cheap – ~2K as compared to ~2.5 elsewhere, I decided to order the product and paid the amount of 2089. The product arrived and I was in doubt after I saw the RAM module post unboxing the pack. The RAM module was packed inside a Kingston box, but I still had doubts. First doubt, the memory chips on the RAM module carried the label of Hynix and not Transcend which is how it's NOT supposed to be. Second, I put the module on my desktop, the system console showed 8GB total RAM (4GB was already present), then I opened CPU-Z and shocked to see that manufacturer was Micron Technologies and not Transcend.
@flipkartsupport origina one on the left & so called 'Original' on the right. Lets play spot the difference ! pic.twitter.com/XXxzWlY7Tm

— Atulmaharaj (@Atulmaharaj) April 27, 2015
Then I decided to replace the product. Tweeted Flipkart and they assured they would replace the product (Easy Returns policy comes in !) I received the replacement product and this time it was the same product, same packaging but with a broken seal. I knew this one was fake too, but still thought to check with CPUZ. I put the modules on the motherboard, power on the desktop and all I hear is a long beeping sound – a normal symptom that indicates a faulty RAM. Once again I took to twitter and asked for replacement. Their executive called and "suggested" me to take refund as the seller might again send a "fake" product. (I wish I had the call recording) So they refunded me the entire amount. (Easy Return policy you see)

@Flipkart even replacement RAM is fake, doesn't boot up my PC and a Broken seal. Enough playing, refund !!!! pic.twitter.com/D4V74DZSTY

— Atulmaharaj (@Atulmaharaj) May 2, 2015
Now, after seeing these 100% Original products advertisement between the overs during the ongoing IPL, I decided to take up this matter. I went to the website of the Broadcasting council (the BCCC disclaimer you see during the TV programs) from there I was guided to the ASCI. There I logged a complaint about the same. The next day itself I got a mail from the council asking me to furnish proofs of the same. I provided all the proofs – invoice screenshots, product screenshots etc. The next day I receive a call from them and they wanted my permission to disclose my identity to Flipkart in order to take the complaint forward.(by sharing the screenshots itself they would know my details based on the order details) I thought for a while, changed my mind and told the lady that I wouldn't want to do so.She assured me that it would be the council who would take up the matter with Flipkart and I wouldn't have to do anything and that with the proofs provided, my "case" was strong.
But I wasn't convinced. Considering the fact that taking on a $1 Billion company wasn't a great idea after all – something I should have thought before raising the complaint. The lady on the phone also suggested that if something goes wrong, you can always approach the Consumer Court. I promptly replied "Madam, yahi toh problem hain, Consumer court online nahi hain" (Madam that's the issue, consumer court is not online) So getting leaves from work and attending the hearing in Bangalore wasn't possible at all.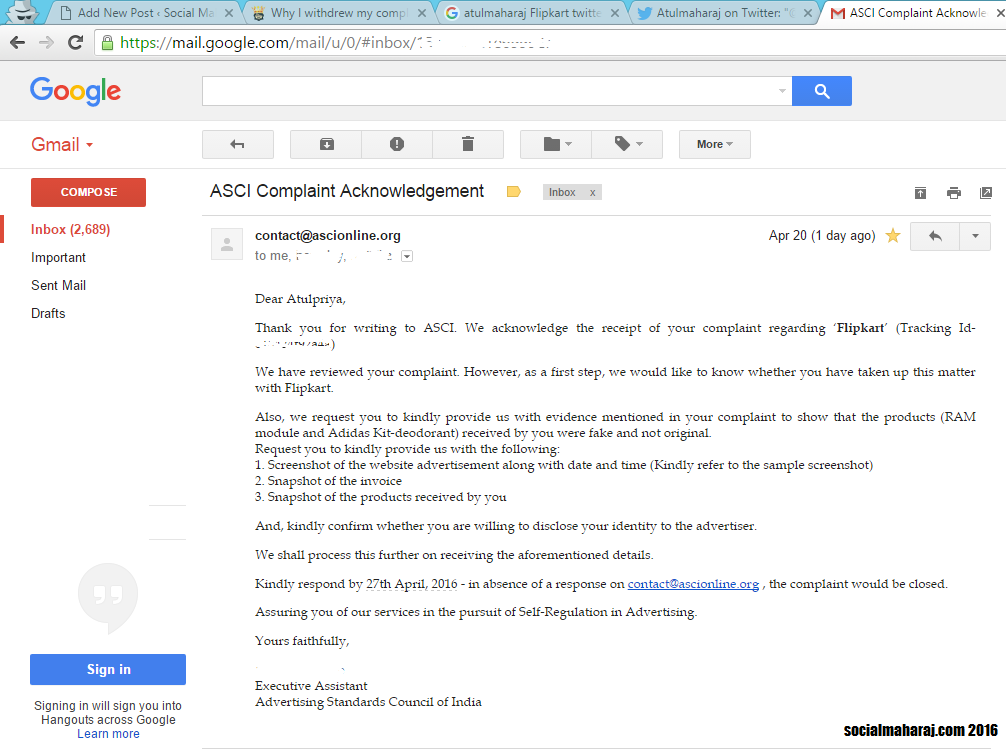 There were many things that bothered me – from the tsunami of calls from FK to consumer court nightmares – and thus I politely declined and took back the complaint. The whole motive behind the complaint was Flipkart's claim of 100% Original Products. I know there are many people who would have received counterfeit products but thanks to the Easy Return policy, customers are willing to take that extra risk. So in the end taking a step forward, made me take a couple of steps backward which I think was a right decision. On a different note, of the hundreds of orders I have placed on Flipkart, it was just a couple of incidences that happened with me. But coming up with an advert that said 100% original products is what bothered me. On date, I'm still a Flipkart customer having a couple of orders on the way !
Have you ever received a product which was different from what was shown on the website ? Do share your experiences, would like to know how things unfolded for you.