The only thing I that had been busy doing in Hyderabad since the time I arrived here was hunting for the perfect Vegetarian Biryani (Yes ! Vegetarian, I know many of you must be laughing at this) or hopping restaurants to try out that delicious Andhra meals. Hyderabad has given a roller coaster ride to my taste buds, spicy, tangy, sweet and almost every possible taste. Finding a pure vegetarian restaurant in the City of Nizams isn't a cake walk but thanks to one of the Facebook groups – Foodies In Hyderbaad. The group is a 'very' active group and people constantly share their reviews about various restaurants along side posting their own cooked food. Out of the thousands of daily posts in the group, there is one particular post that is common. And that is about Tawa Burger at Shalimar Tiffins. Drooling over the photos for weeks, I finally decided to head to the food joint to try the famous Tawa Burger.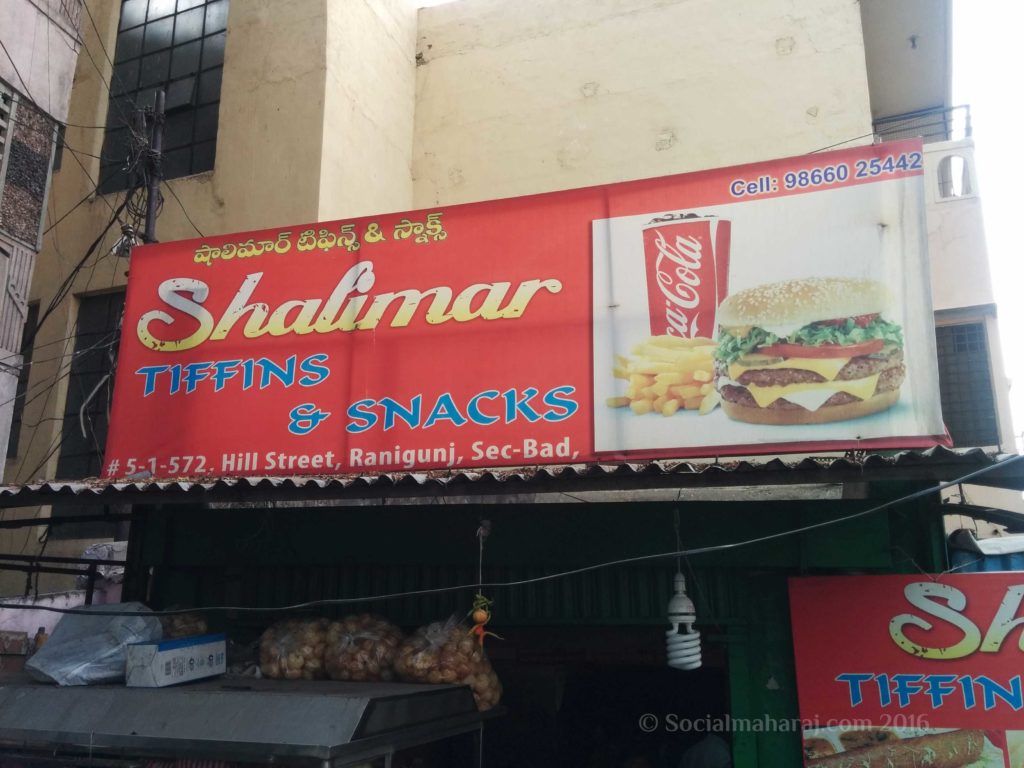 Like many said earlier, the place isn't very easy to find and one can easily overlook it. A small establishment beside a temple off the main road. Shalimar Tiffins and Snacks is a pure vegetarian food joint with a limited but lip-smacking menu. The restaurant offers variety of chat items like Cutlet, Samosa, Pani Puri alongside the special Pizza Dosa. But foodies are on the lookout for only one thing and that is the Tawa Burger and Tawa Burger Premium. On the beverages menu, the food joint has got cold drinks (cool drinks as it is known here) and buttermilk. Shalimar Tiffins, even though small,  is very well maintained, clean and hygienic. Since the food joint is off the main road, parking your vehicles can be an uphill task at times.
Thanks to Google maps I reached this place and straight away ordered a Tawa Burger to which the chef replied "Sure ?" that quickly made me change my decision to Tawa Burger Premium. One of the best parts about this burger is that it is freshly made and doesn't have the usual patty you would find at many places. I was fortunate to have seen the burger being made. Starting from a pile of grated cheese, he added some vegetables including Paneer.
Topped it up with some chilly and masala and a dollop of butter. So it's cheese + butter + veggies + masala which ultimately becomes the humongous Tawa Burger. This curry-type-preparation was stuffed between very soft burger buns. And the remaining masala was greased all over it. Just then one of the person's asked the chef to cut the burger and he was quick to respond "Main Burger ko cut nako karta, kya bacha Logan jaise baṭan karta…"
The Tawa Burger was heavenly !! A perfect blend of spices, fresh veggies and cheese. Neither too spicy nor bland, the burger tasted perfect. Though the premium burger could get a bit salty thanks to the pile of cheese and butter but overall it's a complete meal.  After this, ordered a butter milk and he asked packed or home-made, and I was like whoa ! Home made buttermilk, nothing can get better than this. He quickly prepared butter milk with all the spices and served a chilled glass. So for 120 Rupees the Tawa Burger and Butter milk are a must here.
One great thing about the place is the man who is behind these yummy burgers. Mr. Dilip. A very interactive and fun loving person who'll talk you through the entire burger recipe so you don't get bored ! Can converse very well in Telugu, Hindi and English, he ensures all his guests are given the best treatment. I was truly moved by his simplicity and the magical hands with which he made the burgers. Simply the best !
So after all the Biryani, Meals and Dosa places, having the Tawa Burger at Shalimar Tiffins was a different experience. I would highly recommend this place to anyone whose going to Secunderabad / rani gunj area. And if you would love me to join you, drop me a mail wouldn't mind having a burger with you 😉