With the entire country reeling with high temperatures, some parts of Telangana and Andhra Pradesh were badly affected than others. Areas surrounding Hyderabad like Karimnagar, Vikarabad, Nizamabad etc. were bearing the brunt due to the rising temperatures. I'm sure most of you would have come across the video of a lady preparing omelette in her backyard under the sun that went viral a few weeks ago. But thanks to the rain gods, for answering the plea of the people. Hyderabad has been receiving a decent amount of rainfall in the past few week that has brought down the temperatures considerably.
Everyday evening one would witness dark clouds gathering in the sky and just when most of us were about to leave the office, it would start pouring down. The rain wasn't much of an issue but the traffic definitely was. For all of you working in Gachibowli might be ware of the traffic jams near Kothaguda, Hi-Tech city, Mindspace etc. But yesterday was somewhat different, bright sunny sky, not much issue with traffic. Most of us thought that the rainy spell was over, but guess the rain gods had something else planned. 
4am and its scary in #Hyderabad #Thunderstorm #NoSleep #Weather Hope everyone is safe !! pic.twitter.com/i6MfswXZRk

— Atulmaharaj (@Atulmaharaj) May 5, 2016
Everything was fine till about 12am, I completed my work and slept off. The next thing I remember is there was a power cut and I heard a huge thunder. And what followed was a severe downpour with serious lightening and thunder. It was almost a cyclone. The video above was shot at 4am. Trees coming apart, asbestos sheets falling over it was a total mayhem for about 2 hours till 5 am.
This city was literally submerged in the morning. There was water everywhere. Areas like Mindspace junction, Erragada were cordoned off by the GHMC due to heavy water logging. Buses were stuck, people walking in waist-deep water to safer areas. Trees were uprooted in many areas near Infosys, ISB – they had a broken wall. Severe water logging in front of Microsoft.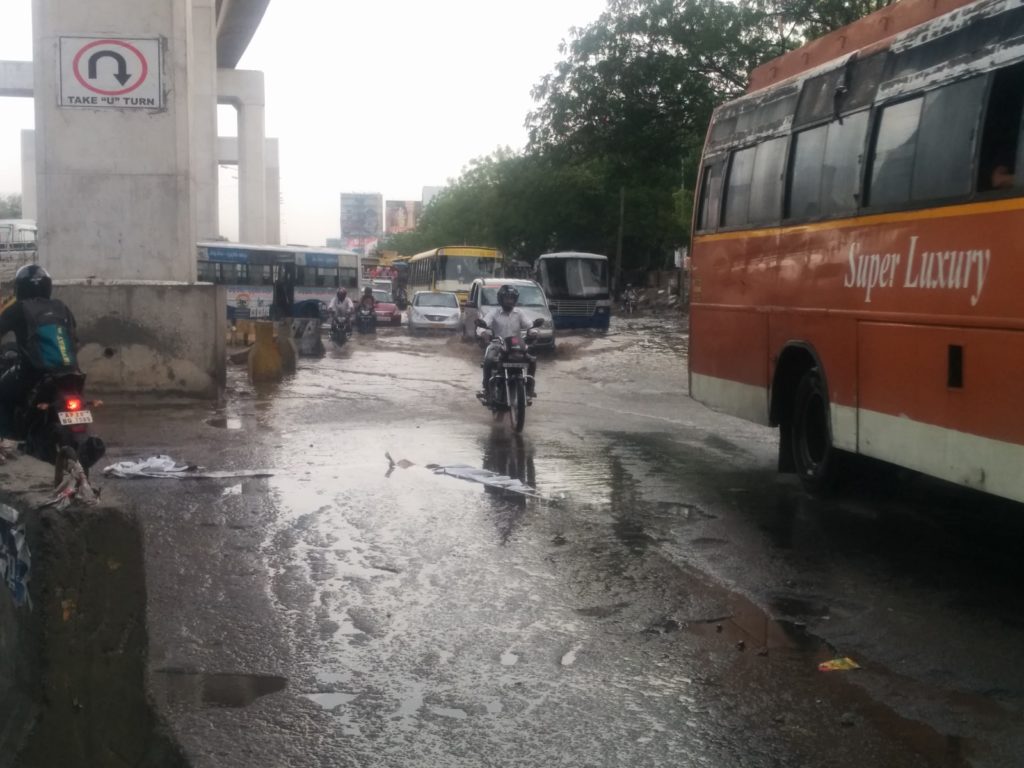 The sudden downpour had definitely bought the city to its knees with crawling traffic everywhere and a good amount of damage to property. The Met. Department says there will be rains over the weekend, but i just hope that it isn't the same like last night.