One of the major concerns during our leisure trips are hotels. Finding a good hotel within your budget can be a daunting task at times. And that's one of the reasons why holiday packages are gaining popularity as nobody wants to bear the mess around booking travel tickets, making holiday reservations etc. And thanks to startups like Oyo Rooms that have ensured that hotel reservations are swift. So this time around on my trip to Bangalore, I decided to stay at the Eco Haya Serviced Apartments which is located in Vijaya Bank layout, behind IIM-B, off Bannerghatta road. This place is very close to the Ayyappa temple in Vijaya bank layout.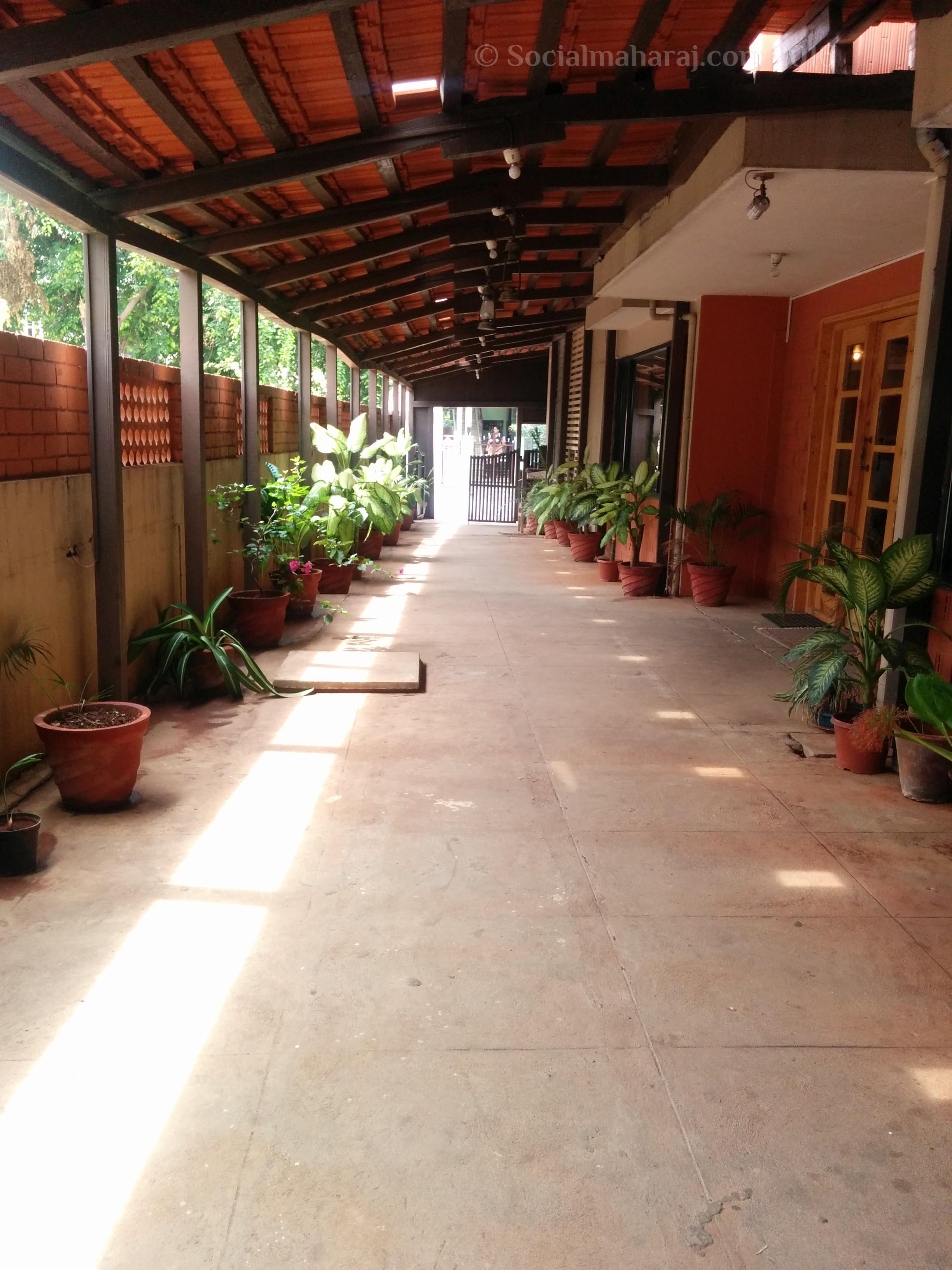 The one thing that you want during a leisure trip is peace, you want to be away from the city and this is what Eco Haya serviced Apartments give even though they are right in the city. Since this is located in a residential colony, it's very peaceful. No city traffic woes or anything else to disturb you. And as green as Bangalore is, there are a couple of parks around the hotel. So if you are fitness freak, this is the perfect place to have your morning doze of exercise. Eco Haya Serviced Apartments as the name suggests, has a very contemporary interiors, the reception, the seating area and the courtyard.
[Also Read: Are you Traveling Right ?]
Being a serviced apartment,  there are a flats with 2-3 rooms with a common hall and a kitchen area. The hall is big enough, but that's not where you would spend most of your time. The rooms are spacious, at least if you are on a solo trip or even a couple, you will find the rooms to be spacious. Facilities in the room include a TV, AC, wardrobes, and other standard furniture. The AC however I felt didn't do it's job well, it was slow even in the turbo mode. I don't know if that is the case for every room. There's a TV with Airtel DTH and most of the channels are present. Another downside is the WiFi, there's no signal in the room. So you need to be either in the hall or the corridor for your WiFi to work. But I managed to get a decent working WiFi on my iPad during the early hours of the day. (before 6am)
The staff was courteous and the entire experience was a good one. I would definitely recommend Eco Haya serviced Apartments if you are planning to stay around Bannerghatta Road, IIMB. Away from the city noise, this is a perfect place to spend your leisure / business trip. The place 'feels' walk-able from Bannerghatta road but in reality it's a bit more. Especially if the weather is hot, walking to the main road isn't a good idea, but thanks to easy access to auto/cabs this isn't a major area of concern.
So, if you have already stayed there, do share your experience and help other fellow travelers 🙂