Since the time I moved to Hyderabad, I've always been on the lookout for pure vegetarian restaurants. I know it's  a non-vegetarian's world, so finding a pure vegetarian restaurant is difficult but not impossible. After having tried out a few of them, I wanted to try some Gujarati food this time. So it was last week that I had the urge to relish Ras-poori and for that I straightway headed to Rajdhani Thali Restaurant here in Hyderabad. Rajdhani is a well-known "vegetarian" restaurant not only in Hyderabad but in most parts of India. They are known for their unlimited and scrumptious Gujarati and Rajasthani Thali. So here's my take on Rajdhani Thali Restaurant.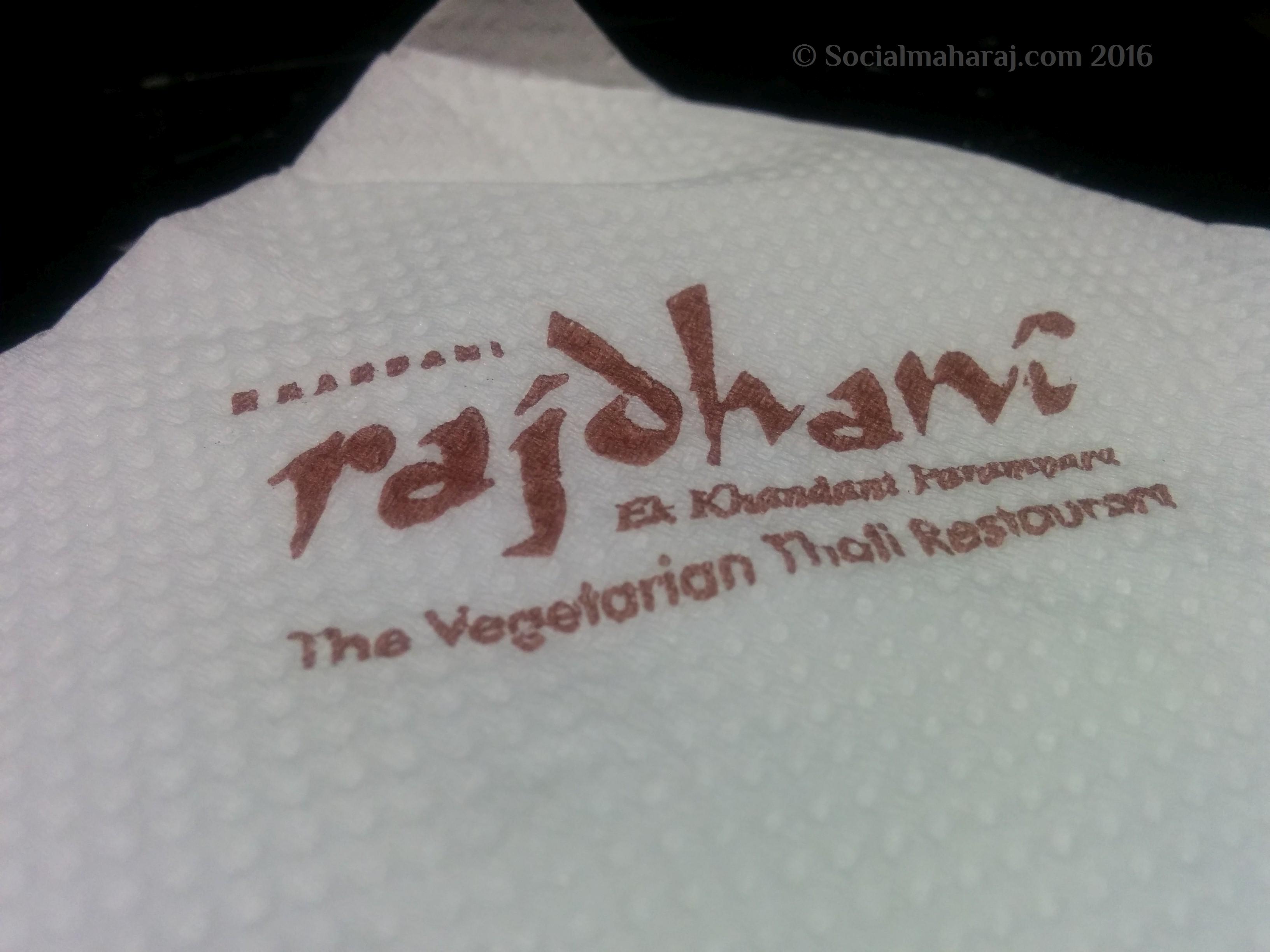 In Hyderabad, Rajdhani Thali Restaurant has a couple of outlets, one in Sujana Forum Mall, Kukatpally and the other in Banjara Hills (opposite to TV9 office). Both these restaurants aren't very spacious I should say. Especially having eaten at Ohri's Jiva Imperia, any place feels small and cramped. Nonetheless, we reached by 7:30pm and luckily got the tables of our choice. People queue up usually around 8-8:30. We had the manger walking up to us and signals his troops to start bombarding our plates with some great food. I was all set to have some good Gujarati Food after a long long time…
They first started with Dal-Batti Churma – and that's when I realized that the thali is a combination of Gujarati and Rajasthani cuisine. The Dal-Baati was spot on, and I would regard it as one of the best items on the plate. Then there was Bhakarvadi, Khaman, Dhokla, Muthia and Papdi Chat to go with. Dhokla was good, especially with the red-hot garlic chutney that was served. Muthia was on the spicier side but just loved it. Other things were quite average. We also ordered the Mango Lassi, but if you know the definition of Lassi, then this is no where close to it.
After the starters and the entrées , it was time for the main course to be served. This by far was a let down in terms of the curries served. Any Gujarati would hope to see Undhiyu or Sev-Tameta nu Shaak, but none of these items were present. Instead we had a Aloo matar subzi, a dahi papad curry – this was good – a dahi chana preparation, this was good too.
On the dals side, there was Kadhi Pakoda and the sweet dal. I was totally relishing hot rotis with sweet dal and kadhi, and these were the items I took numerous filings. Also on the plate was my favorite Aam Ras that I was spoke about at the beginning of the post. The Aam Ras wasn't what a Gujarati would prepare, it was average. In fact, it was good, considering the fact that you are in Hyderabad, I would give that Aam Ras 4/5 marks. So finally my Ras-Poori dream was fulfilled. [Looking for some lip-smacking Burger ? Visit Shalimar Tiffins]
In the desserts we had Rabri, which was a let down, all you could feel was condensed milk with lots of sugar. There was Apple jalebi, which was average, then there was some sort of burfis to go. So in short the only good item in desserts was the Aam Ras.
So my experience at Rajdhani Thali restaurant was a mixed one, the authentic Daal Baati, Muthia, Aam Ras, Dal and Kadhi were the show stoppers while the other items were pretty average. Even in the feedback form that was offered, I mentioned to have more authentic curries. For 425 Rs per plate (weekend dinner), the meal is filling but average, but definitely a visit if you haven't been here anytime.
As my culinary trail to find the best vegetarian food in Hyderabad continues, do share your views about Rajdhani Thali Restaurant in comments. Would love to hear what you have to say.
Aaujo !