Remember that guy in your class who often held the post of the Class Monitor or Class Representative ? You knew you shouldn't mess with him just for the fact that he would write your name on the board and 'complaint' about you misbehaving or even for petty reasons like messing around with him. But do you realize that why only he was chosen ? Well some might say that it was the marks that made them the monitor while few others like me would say that it was their capability to take the initiative and ability to take charge and take up the responsibility. In doing so, one of the most important things is the selection of a leader, because I certainly feel that not everyone can be leader. Leadership doesn't come with the designation or experience alone. So here I share Why everyone cannot be a Leader ?
Class Monitor vs Manager
I had been the class monitor for a major part of my school days till I was inducted in the school's student council (prefect board as some would call it) and eventually going on to be the Head Boy. Being a Class Monitor and being a Manager at work are poles apart for a reason. Handling students who would listen to you and sit quietly to dealing with people from various walks of life, cultures and work experience. Dealing with people at work requires skills and you cannot simply treat them as students. I've been a Heady Boy of a school that had close to a 1000 students and have also been under a School Captain and under a seasoned Manager, so I can say that I have seen the best and worst of both worlds. Keeping that in mind, I would like to jot down few traits that I feel a Leader must posses.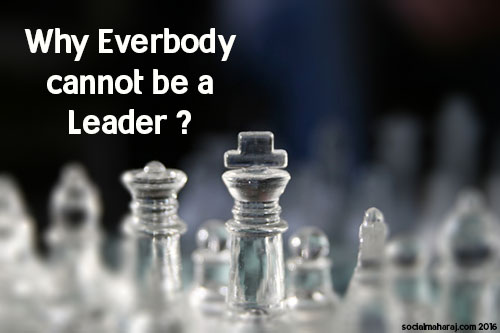 Responsibility
As they say "With power comes responsibility" One of the key traits and probably the most important aspect of being a Leader the sense of responsibility and ownership. As a Leader you are expected to face the music if your team / group doesn't perform well and not shy away and start playing the blame game. I strongly feel that a leader should set an example for the team, not only in terms of work but also with their personality traits. We have a good number of living examples of great leaders around us. Starting from our Captain Cool MS Dhoni who always stepped back and praised the team when they won and stepped forward to accept the defeats.
Taking Initiative
Leaders should have the ability to guide the team in the right direction going step by step with the perfect mix of aggression and caution. From taking initiative in implementing a task at work to taking an initiative to speak up during a meeting or even taking a step forward while playing a game, are few things that are relevant to a leader. After all a Leader should grow with the team and have a vision for all the members of a team. The team should always feel that they are in the boat that has the best captain at the help.
The Motivator
Another important aspect from my point of view that a leader should posses is the motivational capability. There will be times when your team wouldn't have performed well, and that's the time when these leaders should take the charge. Everyone knows that the target hasn't been met and there would be genuine reasons for it. So instead of have a hot head on the shoulder and going ballistic at the team, it's ideal for the leader to highlight the good things that happened and appreciate the team. This was the team will always be motivated and you shall get the desired results.
Respecting Others
Being a monitor in class is easy because everyone present is of the same age and intellect as you. However things are very different when it comes to workplace. Your team might have a fresher who just joined the team yesterday on one hand and an Industry veteran with over 20 years of experience. The leader cannot deal in the same way with both these people. The leader needs to respect each and every member in the team. Arrogance and Ego should be kept at home when you come to work. If this is in place, your team will surely love working with you.
Accepting Failure
If you are a Leader and your team isn't performing well, you need to accept the failure and take the responsibility. Complaining about the members of team is not a way out. A Leader should accept defeat and go back to the drawing board and look for the answers as to what when wrong. Everyone's view should be taken into consideration and acted upon.
Leaders are born, not made
In my opinion, one doesn't become a leader by reading books and life quotes of successful people. Leaders are born. No book or training in the world can transform someone to become a leader. If you read about all the leaders and CXOs of a company, you will see a trend that these people always took the initiative in some way or the other. And if that initiative headed south, they readily accepted their defeat. The Bansals, Premjis, Ambanis, Sikkas and a whole lot of other people are leaders with a vision and are the perfect example of good leaders.
With this, I would like to conclude my views on Why everybody cannot be a Leader.  Have something to add ? Feel that I've missed out on anything ? Go ahead and mention in the comments and let me know where I've gone wrong.
I am taking my alexa rank to the next level with Blogchatter