Chocolates and Ice Creams are probably the two most loved items in the World. These are relished by people belonging to various age groups. Some use it to celebrate joy while there are others like Monica from FRIENDS who ate it to keep stress at bay. With increasing awareness about healthy living and a healthy diet, people often stay away from these. Unaware of the benefits of chocolate many keep it off the limits. What if there was a way to relish chocolates that too without doing much damage to your health ? Well, here's Jagger – Chocolates prepared using Jaggery with No Added Sugar. Before continuing I would like to thank them for sending in the lovely chocolates that I can't get my hands off. So here's a quick review of Jagger Chocolates.
Jagger with Goodness of Jaggery
Chocolates are bitter and there are some people who like them this way. But there are many who have a sweet tooth. Most of the chocolates you are surrounded today with contain a generous dose of sugar. And this is not what you want if you are keeping a check on your calorie intake. Do You ? The highlight about these chocolates from Jagger is that they have No Added Sugar. These artisan handcrafted dark chocolates are made with organic farm jaggery. Low on calories and richly loaded with anti-oxidants, these are perfect binging food during those choco craving times. It is also one of its kind brand of delicious and healthy jaggery chocolates in India.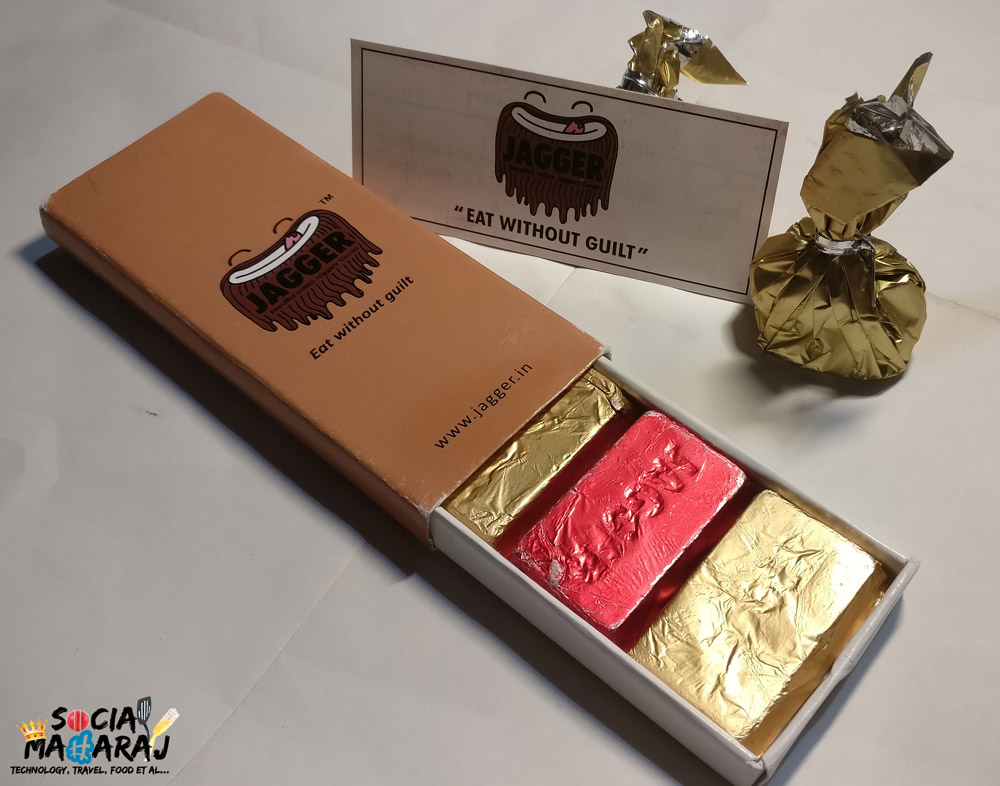 Does Jagger Taste good ?
I was provided with two variants – one was Jagger Dates and other was Jagger Sleek Box. I liked the overall concept of Jagger Dates. These are chocolate coated dates that have great texture. Even for someone like me who doesn't enjoy Dates a lot, this was a good experience. It did take a while to realize that it was dates. These were sprinkled with Jaggery which enhanced the overall taste.
Moving on the Jagger Sleek Box, I loved the packaging. And the name 'Sleek' truly justifies it. The pack contained 5 bite-sized neatly wrapped individual chocolates. The chocolates does contain jaggery and its evident from the bits of jaggery in them. The taste was different from the regular chocolates. I don't know if everyone will like this because if you don't like the taste of jaggery, you might not relish this much.
Overall, Jagger has done justice to their claim – Chocolates with Jaggery. For all the health conscious people, this is a great substitute for your normal high-calorie chocolates. Since I often supplement jaggery in some of my meals, I like that taste. And hence liked these healthy chocolates from Jagger too. Think you might like it too ? Give it a try here and let me know your taste on it.