Being a Foodie one of the things that I always focus on is the value for money for anything that I eat. Moreover if anything costs less but fills my stomach tops my list. So if given an option between a Rs 100 Burger and Biryani, I'll choose Biryani any day as it fills my stomach (an my friend;s too) But that doesn't mean, I don't appreciate good food. The Stick Kebab at Oh Bead Der, Banjara Hills is one thing that is still on my mind. Nevertheless, it was a Tuesday and my friend pings me early in the morning asking for my lunch plans. Well, nothing was planned, so she suggested we tried this new restaurant that she had dined earlier. So it was time to try the Organic Thali at Village Aaharam.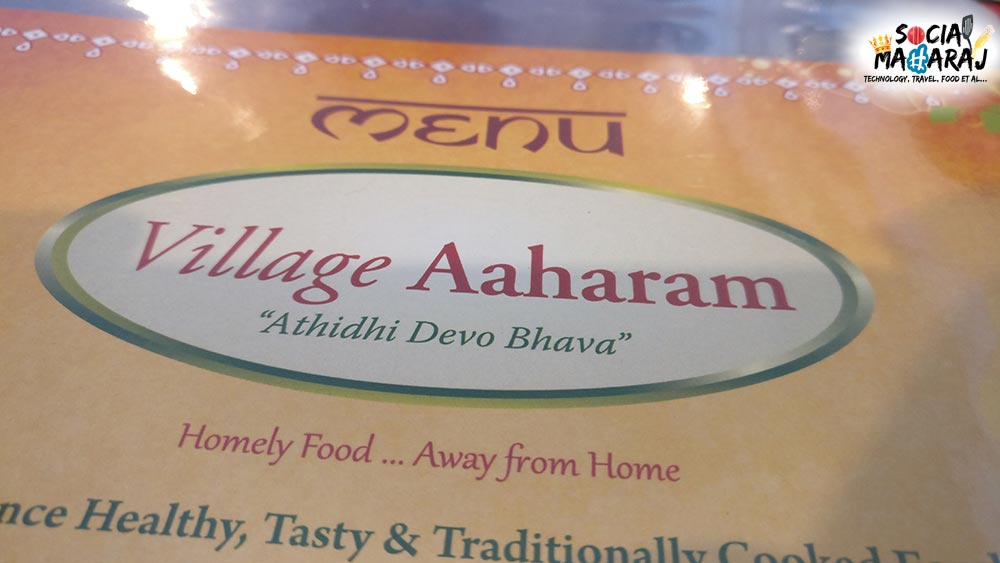 Village Aaharam Nanakramguda, Ambiance
The restaurant has a typical road side dhaba feel to it. I was expecting a 'themed' restaurant after reading the name, but it turned out to be like any other restaurant. It seemed that the restaurant was opened recently as the ACs were powerful and the walls were spotless. One thing to note is that the restaurant doesn't accept card / digital payment as yet. So please carry cash when you plan to visit. The overall place was clean and tidy. However would have been better if the handwash area was separated from the eating area.
Food at Village Aaharam
Boasting of its organic preparations, Village Aahram has limited menu unlike other restaurants. Most of the items in the menu are prepared from organic ingredients grown in their farms. Vegetarian items are less for main course and Veg. Biryani doesn't exist on the menu. Since it was lunch time, we decided to go with the Organic Vegetarian Thali. The service was quick and prompt as we were served within no time. The platter as you see below, had one chapati, one dry subzi, one curry, gongura chutney, lemon rice, dal (pappu as they call it here) and fries.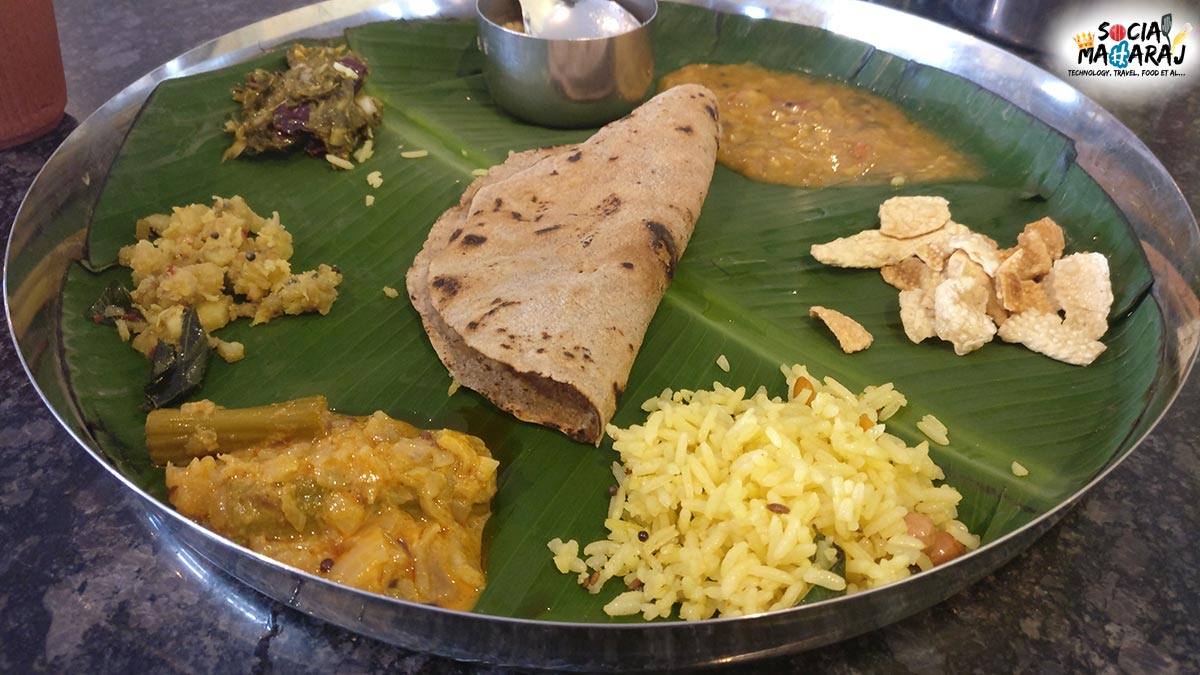 Rice is unlimited in the thali like any other typical South Indian thali. But the difference here is, they serve brown rice – healthy and kind of tasty. Apart from this, Sambhar and Rasam is served along with curd if you ask. Taste wise the thali was pretty good. My pick was the pappu and chutney. Sambhar was bland, wish they added more flavor to it. Surprisingly the thali doesn't serve curd rice as one item but you can have, curd and rice separately. We also ordered butter milk separately and that was great on taste. Overall a tummy-filling meal.
Final Verdict – Organic Thali must try at Village Aaharam
Priced at a modest Rs 155 per thali, the Organic Thali at Village Aaharam deserves your attention. Considering that everything is prepared from organic ingredients, the price you pay is definitely worth. However if you are looking from the variety point of view, you might be a tad dissappointed. Thali at Abhiruchi which costs Rs 120 is a lot better than this. Nonetheless, one of the perks of Village Aaharam is that, it's close to offices like Infosys, Microsoft, Wipro, and the likes. So it won't take much time to grab a quick meal and return to your desk ! All in all a good place, Thanks to my friend for suggesting this place. Think I missed something ? Any feedback ? I'm all ears. Comment below or Tweet to me @atulmaharaj