During my 3 day trip to Nanded last weekend, I had explored a good part of the town. Be it the important Shri Hazur Sahib Gurudwara, or the Laser Show or the Kandhar Fort, I had seen almost all the important places in the city. But what apart from these ? Well we did walk a bit in the city, so came across the Shivaji Maharaj Chowk and the Mahatma Gandhi statue. Now since there is Langar served 24×7 at Langar Sahib, the thought of dining out was out of question. Also, with Zomato not being available in the city, it was tough to scout for good restaurants. Nonetheless, out of the 3 days, we decided to eat the Langar a couple of days for lunch while decided to check out the food the city has to offer. So below are the places to eat in Nanded where I dined. The list includes the list of Restaurants in Nanded and Street Food stalls.
Places to Eat in Nanded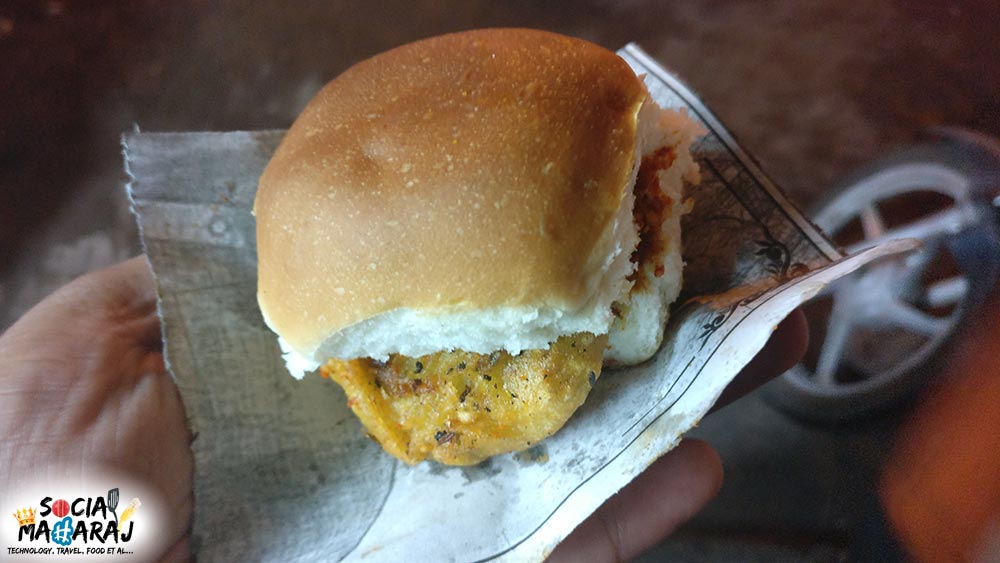 Gyan Vada Pav – Gyan Chat Center Nanded
Coming to Maharashtra and not eating Vada Pav is a crime. So we were scouting for a Vada Pav stall. to my surprise there aren't many Vada Pav stalls in the city. As per the suggestions of the locals, we visited Gyan Vada Pav in Nanded. The stall is present on the right at the junction that is in the on the way to Shri Langar Sahib. Gyan Chat Center serves up some chat items also apart from Vada Pav. We tasted the Vada Pav and it was good. The masala was tasty enough and for 8 Rs, you can't ask for anything more. Surely one of the places to eat in Nanded.
Dabeli and Pav Bhaji across Gyan Vada Pav
There are a couple of food stalls diagonally opposite to Gyan Vada Pav which make up some good places to eat in Nanded. To be more precise these are in front of Panchwati Fast Food center. The stall serves Dabeli an Pav Bhaji. Priced at Rs 15 for Butter Dabeli and Rs 20 for Cheese Dabeli, the dabelis were good on taste. Won't say they were great, but considering the price the Dabeli tasted good. Pav Bhaji though wasn't great on taste. It was just spicy and lacked the punch.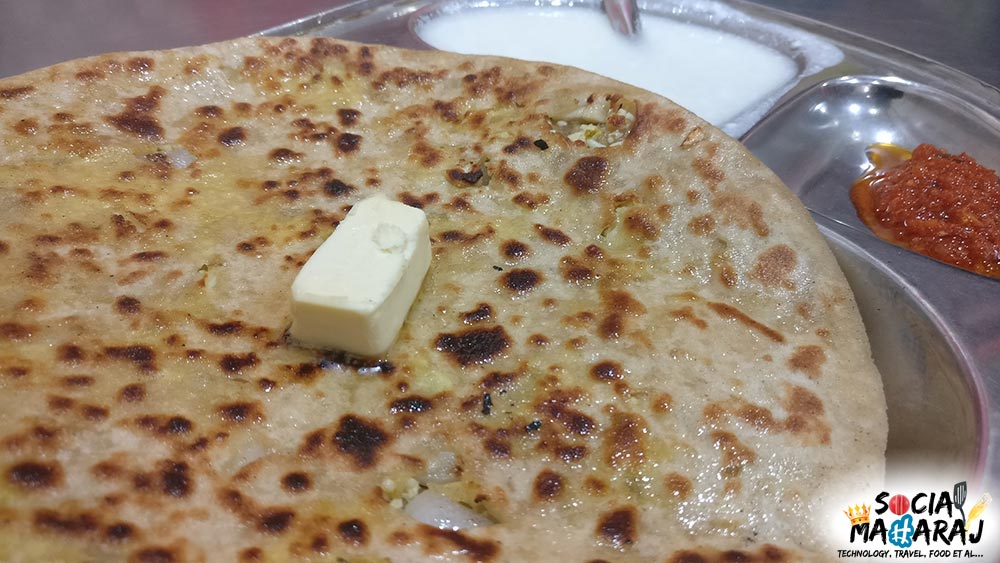 Panchwati Fast Food Center
We were looking for places to eat in Nanded for breakfast and decided to check this place out. The seating area outside the restaurant isn't that clean. But the inside area is a tad better. There weren't many items on offer during the early hours, so we decided to go with Paneer Paratha, Mix Paratha, Chole Bhature and Lassi. The Chole Bhature didn't taste good. But the Paneer Paratha was laden with Paneer and was good on taste. They served the Paratha with curd and a 'garlicy' pickle that we all loved. I tried the butter milk and that was good too. Overall a decent place to dine. But don't be surprised if you find rats at times.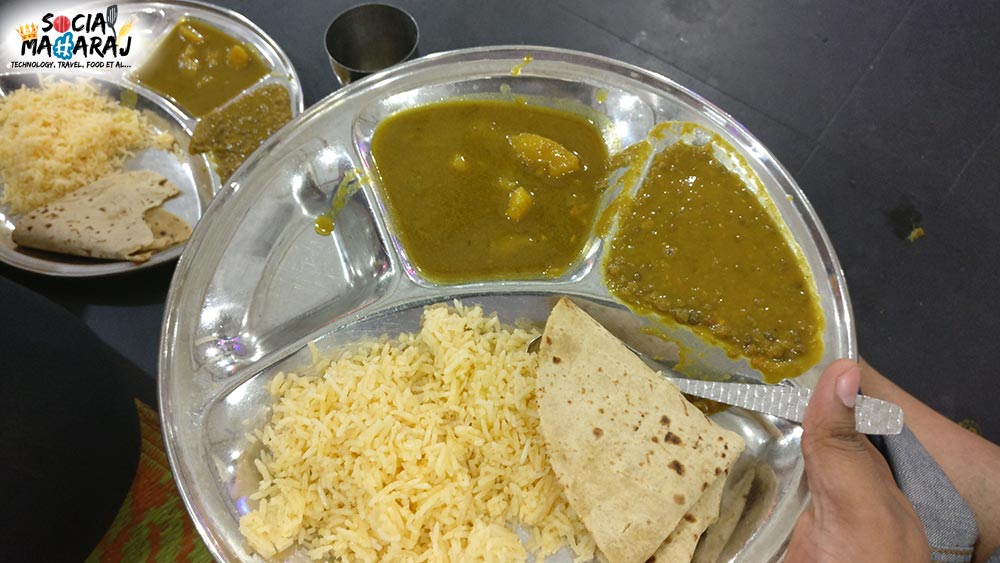 Billa Doodhwaala
One of my friends told me that they serve 'kaadha doodh' in Amritsar which is very tasty. Kaadha Doodh for all of you who don't know is 'extra' boiled milk with dry fruits. We were on the look out for the same in Nanded too. We came across Billa Doodhwala right across Shri Langar Sahib Gurudwara. It's was easy to spot, thanks to the bright pink board. The place is more of a juice / cold drink / milk shake center that also serves 'kaadha doodh' Priced at Rs 20 for a regular glass, the milk was tasty. I denied to try it at first, but loved it later on. A good place to have milk post dinner.
Sunder Hotel Dhaba
Another restaurant on the main road leading to Langar Sahib from Hazur Sahib Gurudwara is Sunder Hotel Dhaba. This is probably the one place that is crowded at all times. The restaurant / dhaba serves both vegetarian and non-vegetarian dishes. We opted for a pure vegetarian dinner and ordered Bhindi, Paneer Butter Masala, Maah ki Daal and Tandoori Roti. The food was average and more on the spicier side. So if you love spicy food, you might like this. The dal tasted good but the Paneer was a major let down. They have an AC family hall in case you are planning to dine with family.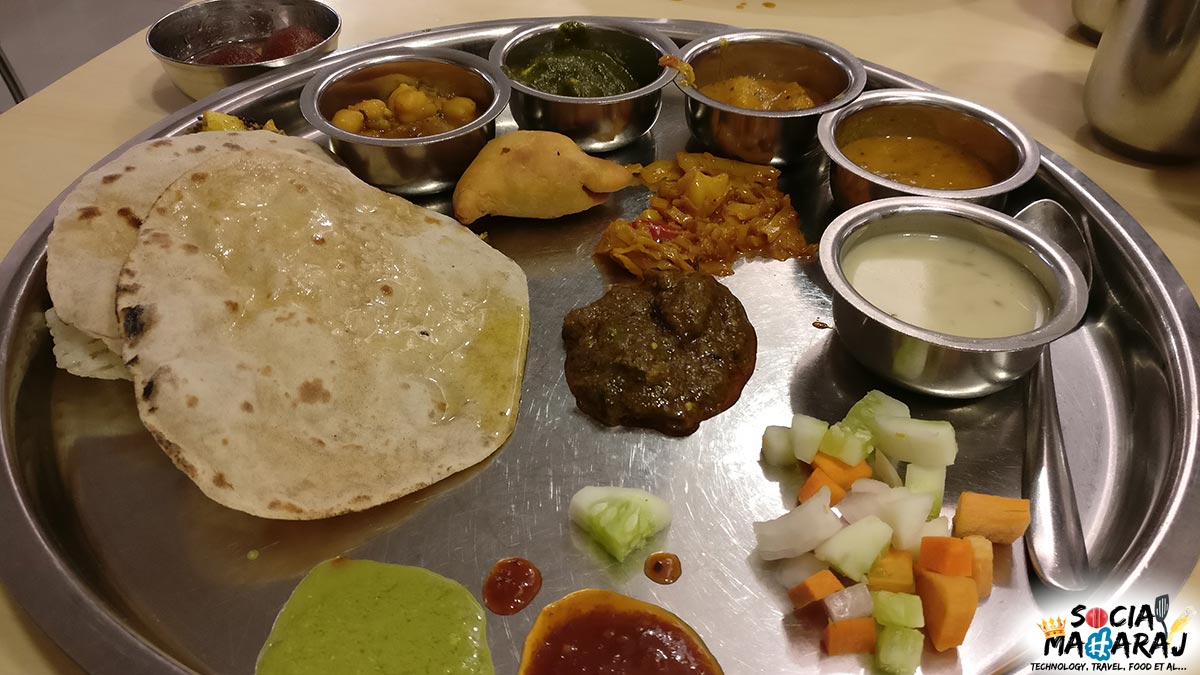 Durvankur Thali
This is probably the best meal we had in Nanded after the Langar. Located opposite to the Police Headquarters, Durvankur thali is a pure vegetarian restaurant serving only thali. They don't have any menu, just walk in and get eating. The thali served is a mix of Gujarati, Maharashtrian and Punjabi items. The items in the thali includes Gujarati Kadhi (My favorite), Dal, Cabbage, Brinjal curry, Palak Paneer, one Chole curry, Roti, Rice, Samosa, Khandvi, Salad, Sweet and Jaljeera. The service was quick and the restaurant ambiance was pretty good. The servers were pretty interactive. The food tasted good, slightly spicy but manageable. I was busy gulping Kadhi and Roti, was eating after ages. For Rs 210 per plate, the price seemed justified. If it were around the 160-180 mark, I would have loved it even more. Overall, if you are in Nanded and want to have a wholesome meal, then Durvankur Thali is the perfect place to be.
Apart from the mentioned places, you can find a lot of stalls and food carts along the road towards Langar Sahib selling variety of dishes. So there's no chance that you will sleep hungry when in Nanded. This was a list of places to eat in Nanded based on my experiences.
Conclusion of Nanded Series
Well, that brings us to the end of the Nanded Series. I had a fun time writing about it and I hope you loved reading it too. I've written about all the important places we visited. Right from the Gurudwaras to the Forts and Food joints, I've covered all that we did. Well if you missed out on anything, here's a list of all that I posted:
So Did you like my Nanded series ? Was it good, or could have been better ? All suggestions are welcome – I'm all ears. If you think, there's anything that could be improved, do mention in the comments below of Tweet to me at @atulmaharaj