"Farsaan' for all those who don't know, is basically the chiwda(mixtures, dalmotes – watever u call it), bhajiyas, Dhoklas, Ragda..*drooling* 😉 😛
Well this is something one must try at least once in his/her lifetime from Gujarat (Ahmedabad, Surat etc). People assume that the Gujarati cuisine is full of sweet. I agree to all of you, but that doesn't mean you don't want to try it ! Farsaan is something that is light on stomach and 90% taste. These taste amazing ! *drooling* Farsaan is not as heavy as the Dilli ke Chole Bhature or Masala Dosa. This can be eaten at anytime of the day.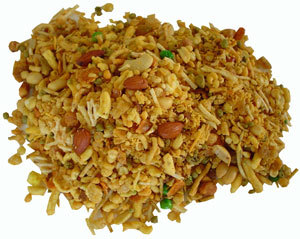 I love the Farsaan Mixture. I also like the Dhokla…. in short I like everything *drooling* 😉 Whenever I get a chance to have them, I usually buy small amounts of all of it. And this certainly substitutes my dinner. If you don't like the sweet taste, don't worry, everything isn't sweet ! You can try the Ragda or Dhokla or the Batata Vada or the mighty Samosa ! 

And if you think that you can find all these things under a big brand. The answer is NO ! These items can be found even at the small shops, road-side shacks with no compromise in the taste at all ! But still if you want it from a big shop, you can try Mehta, Jalaram in Ahmedabad, these are some famous names in Amdavad in the field of farsaan !
By now I have literally wet by keyboard ! I wish I get to eat these soon. If any of you are courteous and pity me, please do send in few Kilos of these 😉 😛 So keep *drooling*, but do try them when ever you in Gujarat ! 🙂