In my previous post, I already spoke about my First Impressions – User Reivew of the Tata Nexon. This one is going to be about my experience during the Tata Nexon Bloggers Drive. It was a lazy Sunday afternoon when I get a call from an unknown number. A lady with a charming voice tells me that I've been selected to be a part of Tata Motors Nexon Bloggers Drive event. This was supposed to be held in Kochi from 28th-29th July. Without much thought, I quickly approved my availability to attend the event. I'm guessing it was because of the Tata Hexa event that I was a part of last year.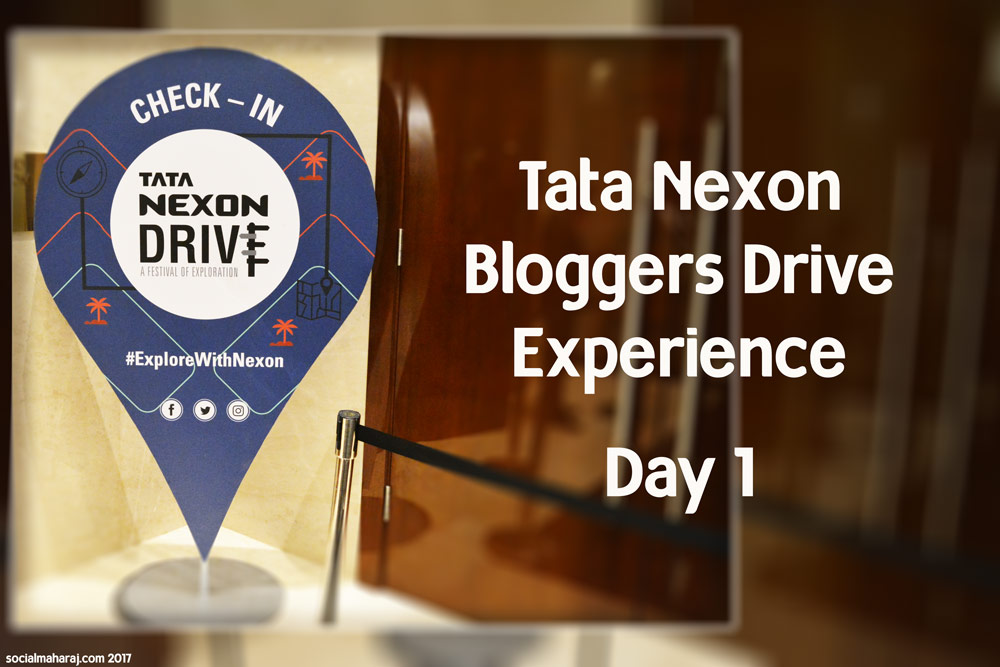 Moreover, I hadn't visited Kerala and this was my first time to the state, hence more excitement. It was not until Thursday, I came to know about the other bloggers who were a part of this. 13, yes only 13 bloggers were selected to be a part of this. So a proud moment for me indeed ! I was glad to find a few familiar faces in the list. Was joined by a fellow blogger from Hyderabad. So here's my experience of Tata Nexon Bloggers Drive – Day 1.
Arrival in Kochi – The queen of Arabian Sea
I was supposed to be boarding Indigo Airline flight to Kochi from Hyderabad. Upon some googling, realized that the flight was coming in from Delhi and that another blogger was flying in the same flight. As usual I reached the airport early and did away with the check in, security checks and stuff. This wasn't the first time I was complimented for my moustache by the security personnel 😛 It wasn't my first visit to the Hyderabad Airport, so instead of loitering around, I decided to explore the Plaza Premium Lounge at Hyderabad Airport (detailed post coming up soon).
Soon I spotted my blog buddy as the boarding announcement was made. We walked down the aerobridge towards the aircraft. While in queue I already spotted my fellow blog buddy who was flying in from Delhi. Exchanged pleasantries and took our seats. The flight was 1:50 hrs, probably the longest 1.50 hrs of my life ! Soon we were closing in on Kochi Airport and I was amazed by the thick forest cover around. I've flown in and out of so many Indian cities, but have never seen a greener patch than Kochi's. Also learnt that Kochi Airport is World's First Airport to run 100% on Solar Power. Well I knew I was in Kerala – a state with highest literacy and a pioneer in e-governance plans.
Check in to JW Marriott, Lulu Mall
We were greeted by a wonderful lady at the dedicated counter of Tata Nexon at the Airport exit. We were handed over our badges, I quickly took mine and put it around my neck. The moment we walked out of the airport, we felt like celebs for a while. Soon a guy from nowhere comes up with a Tata Nexon board in his hand. I did take a photo with that board too. The hotel is about 20kms from the airport and took us almost 45mins to reach. The roads are good but traffic isn't.
Reached the Lulu Mall campus (Had a good laugh in my mind hearing the name of the mall) Driven to the porch of the hotel, we were at the JW Marriott. My first time stay here. Were greeted by two pretty ladies at a dedicated Tata Nexon desk setup for the special Tata Nexon Bloggers Drive. Did the required formalities and were handed over the keys (cards?) to the room.
My room was at the 19th floor. I entered my room and WOW ! Two king size beds with this super amazing view of the city, I couldn't ask for more. Huge window with the breathtaking view of Kochi was surely the Wow moment. Wait a minute, there's something kept on the bed, goodies ! One of the best part of Tata Nexon Bloggers Drive. Good decathlon products – rain jacket, umbrella, bag and more.
The coffee table had some interesting stuff on it, a coconut shaped item and a photo of Kathakali dance. I wondered what it was, later on realized it was edible. Quickly headed to the restaurant at the ground floor Kochi Kitchen (detailed post coming soon) Meet a lot of new bloggers and other familiar faces. We were then taken to a Social Media Command Center which looked more like a missile launch center with 5 huge LCDs. Playing COD would have been a great idea 😛 Apparently this was were the entire social engagement was being done. Tweets, Retweets, Likes, Tags etc every single thing was being tracked. I quickly uploaded a photo on twitter and voila, there I was on the big screen !
Tata Nexon Bloggers Drive – Product Briefing
It was 7pm and we were headed to the ball room for the product briefing. with most of us dressed in black, the Team in Black took the seats. I've already met the folks at Tata earlier so we had an instant connect. We had Mr. Ashish Sahni (Head – Digital Marketing, Tata Motors) starting the show with an AV about exploration and about the Tata Nexon Bloggers Drive. Followed by Mr. Vivek Srivatsa (Head – Marketing, Tata Motors) talking about the automobile sector and the Tata Nexon. Another amazing AV of the Nexon followed before we were briefed about day 2.
The route was exciting. We were supposed to be driving from the hotel to Greenberg Resort in Idukki, somewhere about 90kms. It was going to be hectic ride the next day. We were warned of the ghat roads during the later stages to which I told the organizers that I haven't done such ghats before. We were split into a team of 3. Which eventually changed to team of 4 due to shortage of driver bloggers as many backed off after listening about the ghat roads.
Exciting Day 2 awaits – Tata Nexon Bloggers Drive
After the product briefing, we all had a drink (most were at the bar, while I was enjoying my Blue lagoon drink with pop corns) We had a sumptuous dinner as the clocked ticked. Reached the room at about 11pm and both me and my roomie weren't sleepy and hence played some music on the Bluetooth speaker + alarm in the room. (Yes the room had a Bluetooth speaker, my first time) The sound quality was simply superb. Suddenly I got a call from my school friend at almost 12 in the night, that he's coming to the hotel to meet me. It was a short but sweet reunion with him. I was again in my bed at around 1 am with all the excitement about Day 2 of Tata Nexon Bloggers Drive. Read my next post on Day 2 experience of Tata Nexon Bloggers Drive 🙂