Do read my previous post about Tata Nexon Bloggers Meet Experience – Day 1 before proceeding. Like always, we had an early check out – 5:30 am. With little sleep, I got up at 4am and got ready to experience the car. We did the check out formalities and headed towards breakfast. (Wish we could stay a little longer :() Anyways, before having breakfast I walked out of the hotel only to see the beautiful red and blue Nexons lined up in full glory. Quickly had breakfast, since there weren't many items, I had cereals. There were others who were a part of the event having breakfast when I noticed a girl taking a time lapse of the breakfast. Cool ! We then headed to the the porch to get a close look of the cars.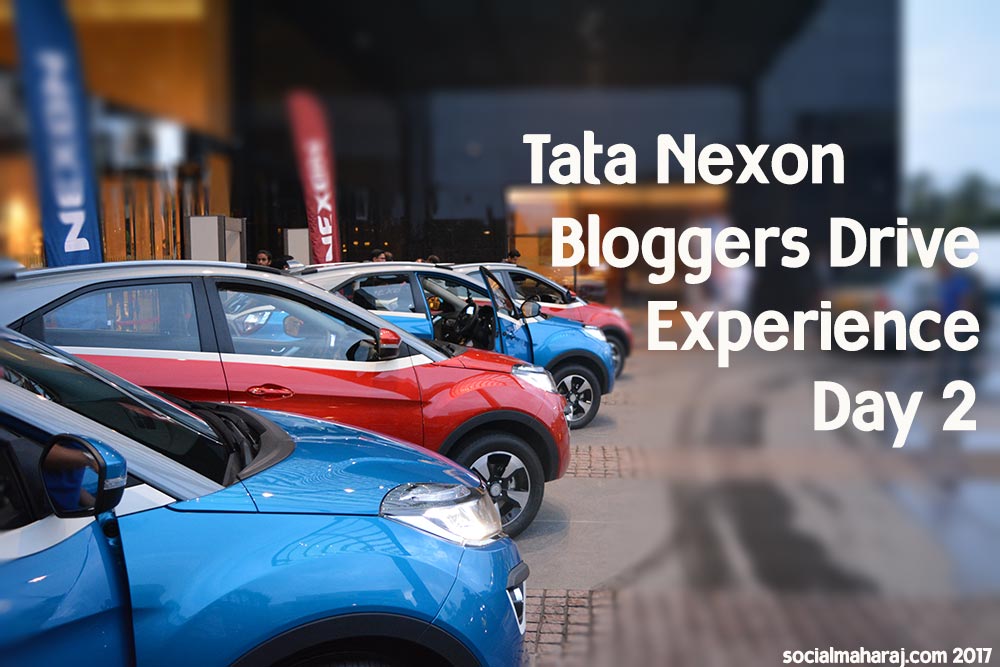 Like I mentioned in the last post, we were now a team of 4. So it was me, Aswhini – a well established poet/author/blogger, Arjun – guy from Indiblogger team and myself. We guys knew each other some what so didn't take much time. However we were looking for the girl who was in our team. And it turns out to be the one who was taking a time lapse of the breakfast, Reshma – a fitness and nutrition vlogger / instagrammer. So it was a team of 4 strangers going for a ~200kms ride ! Sounds amazing Isn't it ! Here's Day 2 of Tata Nexon Bloggers Drive experience.
Early morning Drive to Greenberg Resort
There were two variants of the car – petrol and diesel. And our team was supposed to be driving the petrol variant, red color. Further, my car had a GoPro Hero 4 hooked up on the windshield. Looked exciting. Soon there was Mr. Ashish looking dapper calling out all of us for a group photo before the start of the drive. I decided to drive the car from the hotel. And the first car to be flagged off from the hotel was ours. First car flagged off, driven by me, Oh yeah ! We soon met our tracking / support car that would be 'behind' us the entire journey back to the hotel. However, not long before we realized that the navigation wasn't working and we lost the sight of our support car too. Called up the car, he guided us and soon fixed the navigation (Simply reconnecting the cables did the trick) The road was good and the car was swift, in no time I touched 90kmph before my team mates reminded me of the speed limit. Damn !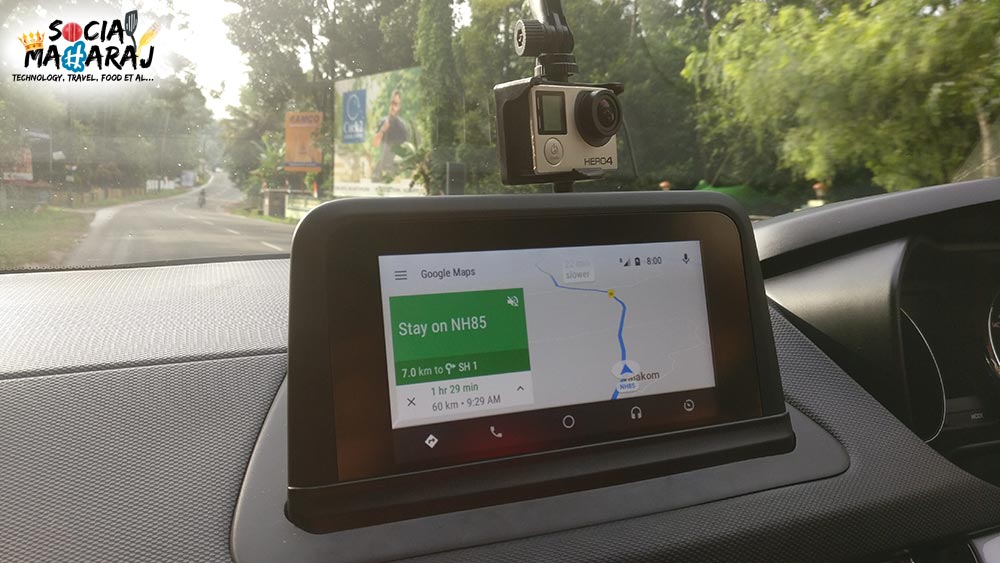 Driving through scenic roads to Greenberg resort
We took turns driving through the amazing roads in Kerala. Even though the roads were single lane, the road condition was simply superb. Didn't encounter many potholes on the road. The only thing that was bad was the traffic. Glad we left early so that we avoided the morning rush. Soon Reshma took to the wheel and boy she was a Pro ! She did ask "How am I driving ?" I was like, "Superb yaar, best among all of us". She was like, "No ! There are many guys who say women are bad drivers." Well at that moment, that fact would definitely be wrong.
The Bakar Squad! \m/#XFactor #ExploreWithNexon @TataMotors pic.twitter.com/4unvvgc1VH

— Shubham Gupta (NeO) (@shubham_neo) July 30, 2017
Came across a scenic place and took lots of photos and a boomerang too showcasing our excitement ! It was time for the ghats to commence and our support guy from Tata advised me or Reshma to take the task. I gathered some courage and told, I'll drive. Thanks to Reshma and everyone else for trusting me with this. A total for 12 hair-pin bends, I hadn't done such ghats ever before.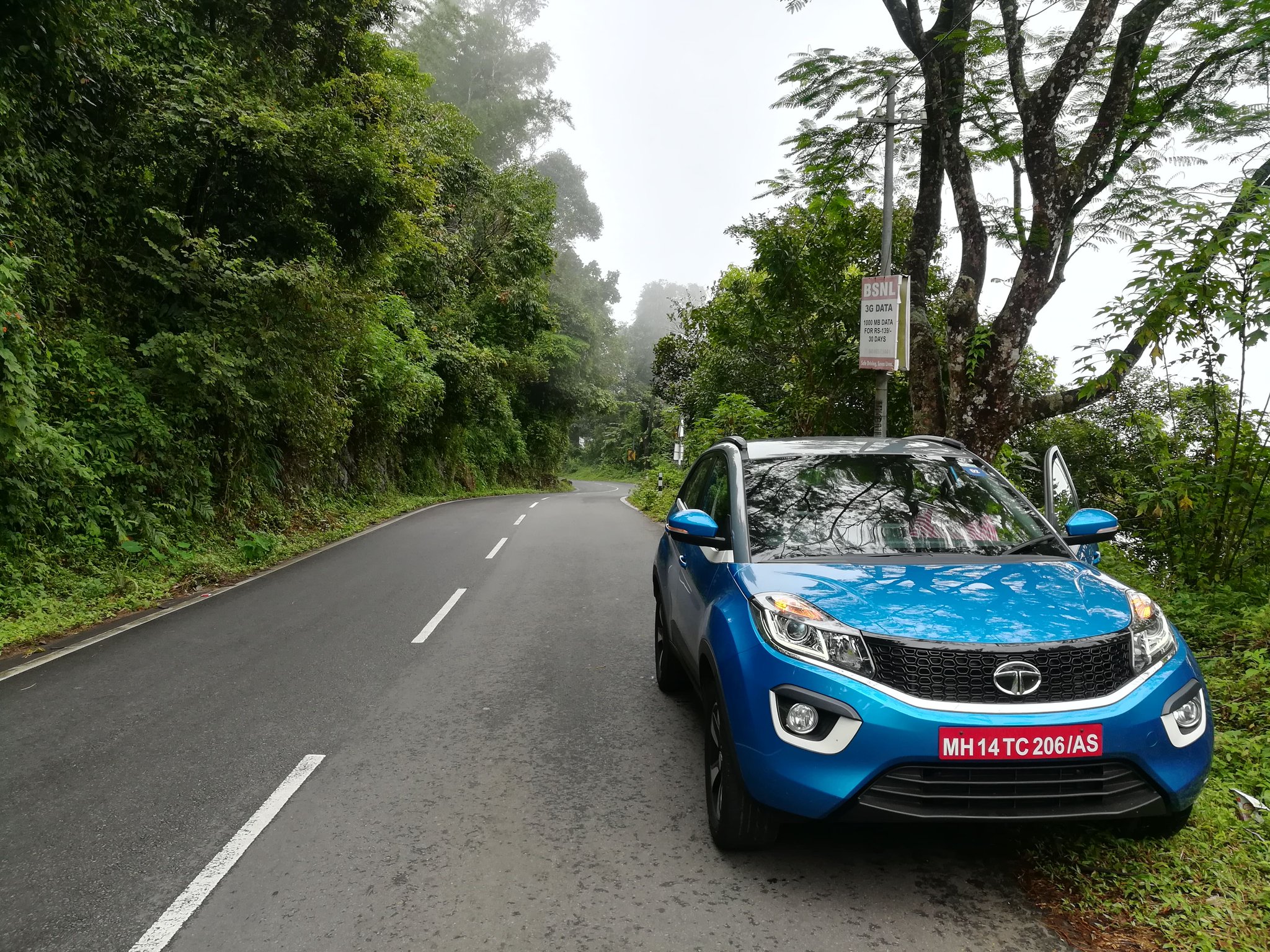 The only thing that I am scared about is the car getting switched off or sliding downhill. Luckily it happened only once and I was able to manage it, thanks again to Reshma for the guidance. We reached the resort. That place reminded me of Panchgani / Mahabaleshwar. Clouds, rain, sunshine everything in a span of few minutes. Totally loved the place. The entire area didn't have any mobile connectivity so couldn't post or check-in that time 🙁 This was where we were supposed to change the cars.
So from petrol, it was time to experience the power of diesel. After our breakfast the photo session, we took the car. A blue one this time. Reshma took the task of driving while I had a laugh riot with Arjun at the back seat. We stopped on our way for clicking photos. That's when the support guy came and warned about the heavy traffic for the remaining part of the journey to the hotel (~60kms) Again he suggested my name and since Reshma had driven already, I took the task again of driving back to the hotel.
Traffic, Chaos and everything else on the roads of Kochi
The sun was beating down as I maneuvered the car in the city traffic. The traffic was bad, bumper-to-bumper as they call it. At once I saw a bus guy trying to overtake from the wrong side and I was like, "Activa nikaalne ki jagah nahi hai, bus nikalega tu ??" (There's no space for a two wheeler to go, you are trying to take your bus through it ?) another laugh riot session for few minutes before we crossed the traffic. During the journey, we had a lot of amazing and memorable talks. Reshma talking about her vlogging journey, Arjun about his journey and our Amity connection. It was fun. We were following the navigation while the support car told something else. It was not long before, he left us and went to the hotel 😛 I got tired and asked Reshma to take over. I was again 'off duty' and had another laugh riot in the back seat before we reached the hotel.
Tata Nexon Bloggers Drive comes to an end
We returned to a great display of tradition and culture of Kerala. Folks at Kochi Marriott had setup a great buffet spread including specialty dishes from Kerala. There was Paneer Butter Masala also in it. Since I was already full, I took a little of Paneer and rotis. We took our tables at the pool side and relived the journey.
See how strange and unexpected life is. Few hours ago, we didn't know each other and now weren't able to stay away. We have become besttest of friends ! Thanks guys for the amazing ride. And as the clock kept ticking, it was time for the folks to reach back to their cities. It was Reshma, Arjun and Ashwini who left early due to an early flight while me and other went to explore the nearby Lulu mall for a few hours before heading to the airport.
The Tata Nexon Bloggers Drive finally came to and end. Two days of exploration, luxury, great roads and most important the amazing friends we made. It was probably the first time when I met bloggers first and then followed them on their social media channels. However, there were a few bloggers whom I wasn't able to meet 🙁 But I;m sure to catch up with them in future. Once again, a big thanks to Tata Motors for organizing this amazing drive. Check out all my Tata Nexon related posts here. Have anything to share ? Mention in the comments below or tweet to me at @atulmaharaj