The barbecue craze is slowly and steadily catching up. Be it a huge city or a small town, barbecue restaurants are cropping up everywhere. People are in love with the barbecue concept, and flock to these always-house-full restaurants. A couple of most famous Barbecue restaurant chains in India are Barbecue Nation and Absolute Barbecues. I've visited Barbecue Nation in Hyderabad and Lucknow, while I've tried all the three outlets of Absolute Barbecue's in Hyderabad.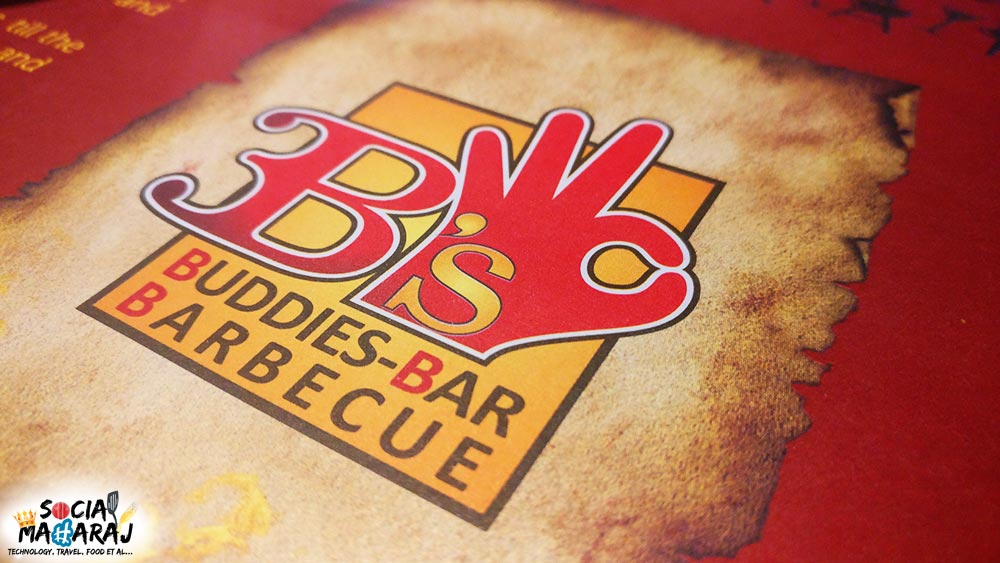 I've become a fan of Absolute Barbecues, their hospitality is top-notch. Every single item they serve can be personalized which is great. Even though many of you might feel the prices are slightly on the higher side, trust me it's totally worth. Anyways, coming to 3B's Buddies, Bar and Barbecue where I was for dinner few days back. 3Bs are a different brand under the ABs umbrella, so the expectations were high. But did 3B's Gachibowli meet the high expectation levels ? Read on to find out more.
Lively Ambiance
3B's Buddies, Bar and Barbecue is located on the first floor, above KFC, Indiranagar in Gachibowli. The entrance to the restaurant isn't grand but the ambiance is pretty good. Having a seating capacity of about 50 people, the place is kind of small and is usually packed during dinner. We were a group of 10 and hence took a bigger table. The seats are pretty good, but some did feel that the height was low.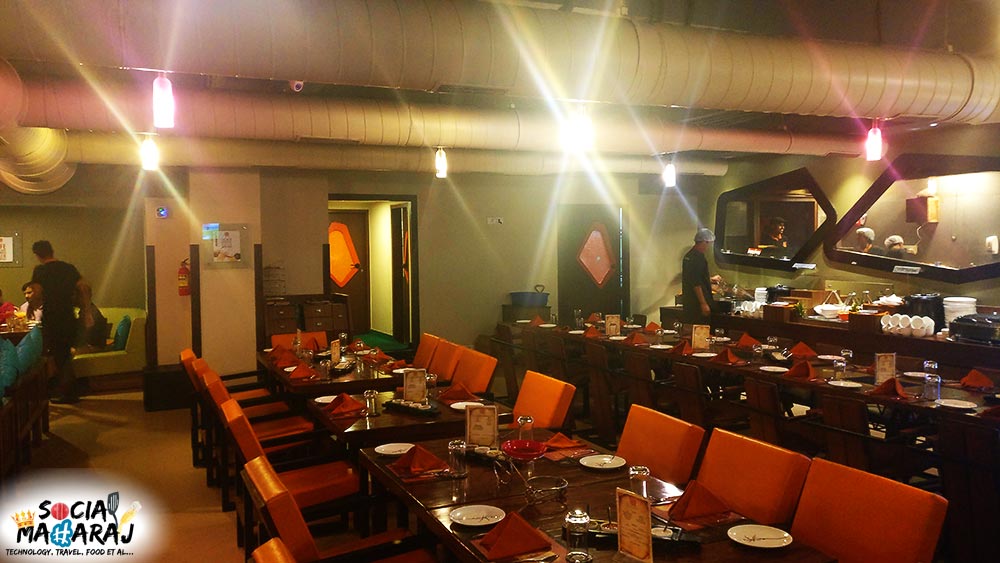 Anyways, the ambiance is great, the music playlist is amazing and the dj(or whoever took care of the music) deserves a pat on his back. The buffet area however is a little congested. There is no grill on table concept, and all the starters are served on the table. So as for ambiance, 3bs score good.
Average Food at 3B's Buddies, Bar and Barbecue
As someone said, Expectation is the mother of all sorrows, this was the case at 3Bs Gachibowli. The fact that this was a label under Abs, I went in with very high expectation, but unfortunately it didn't fall in line. The starters were good I'd say. Though spicy in the beginning, it was good that the folks got it customized. The next 'lesser-spicy' version of the starters were good. My pick would be the Crispy Corn, Garlic Mushroom and Cajun Potato. Paneer – which is like gold for vegetarians – lacked the punch though. Even for my non vegetarian buddies, the fish lacked the flavors. Even though it was served a couple of times after customization, they didn't relish it that much.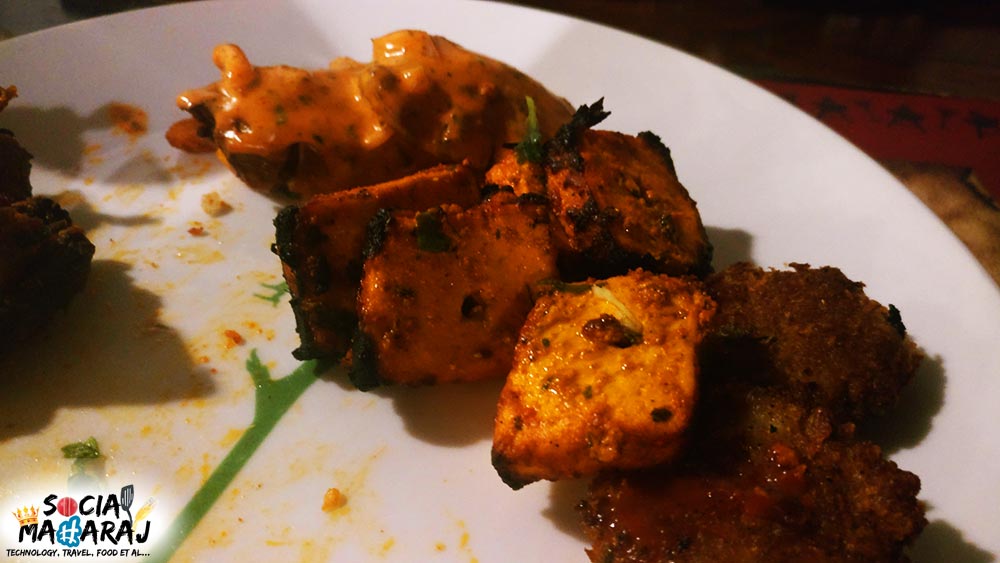 On the main course front too, things weren't great. The dishes on offer are relatively less (considering it's a resto-bar, people tend to drink more that eat). For vegetarians there was Paneer Tikka Masala, Veg Biryani, Dal Khichdi (wonder who eats Khichdi at restaurants !). Non-veg consisted of a chicken curry along with chicken biryani. Rotis were served on the table which was good. Frankly, the food wasn't good. Paneer was more like rubber and even the gravy that was laced with masalas, lacked the taste. Since most of us were already full, we didn't eat much of the main course.
Desserts and Drinks at 3Bs
We went in for the non-drink package at 3Bs that doesn't include any drinks. We ordered a couple of beers, a Virjin Mojito (for me) and a Lemon Iced tea (again for me). Mojito was fine, not too sweet, just how I like it. But the Iced Tea was bland. The person did replace it with a supposedly 'better' one but all it had was more sugar. So not one of the finest Iced tea I've had.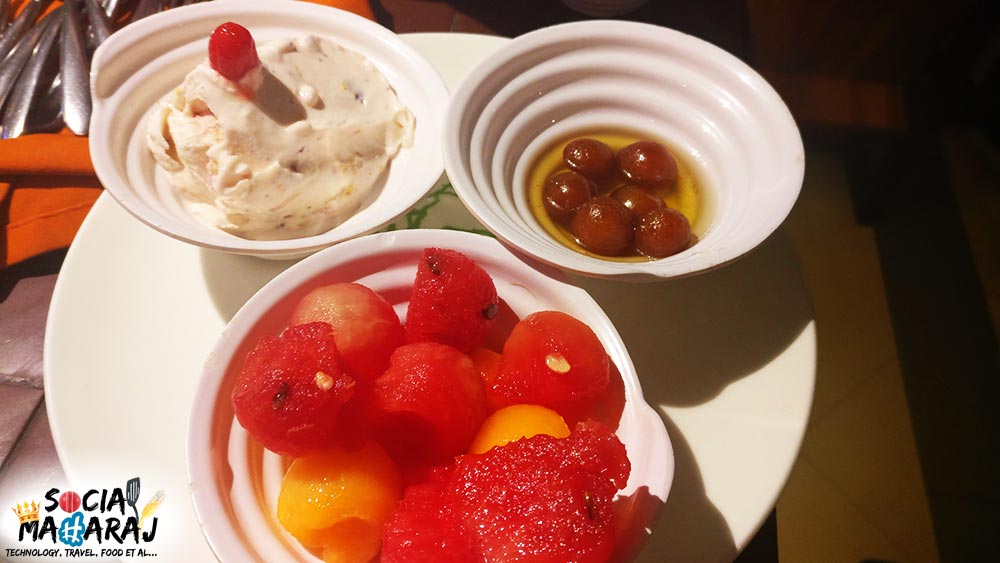 On the desserts front, there were a couple of pastries, fresh fruits, Gulab Jamuns and their trade mark Pan Kulfi. Without giving a second thought, I went in for the Pan Kulfi and that didn't disappoint. Apparently there was coconut on the pastry, well that's a first for me ! Gulab jamuns were okaish and not great. Overall, desserts were average too.
Final Verdict of 3Bs Buddies, Bar and Barbecue Gachibowli
Priced at Rs 475 (all-inclusive) for a veg/non-veg buffet, the deal is fine. However, I've had better buffets at almost similar rates. Being a vegetarian and not drinking isn't a common sight now a days. and that's the question I'm always being asked, how can a foodie be a vegetarian and not drink ? If you are like me, then I'd suggest you can give this place a miss. However if you are planning to spend some great time with buddies and enjoy some amazing cocktails, then 3Bs is a good place for you. The place lets you have a good time with your friends without burning a hole in your pocket. That's all from my end about 3Bs. What are your thoughts on 3Bs Buddies, Bar and Barbecue ? Share it in the comment below or tweet to me at @atulmaharaj