One of the major changes that we are seeing in the current times is that, people are ready to experiment. Be it experimenting with the looks or trying out new cuisines, people are up for it. I remember, Thai and Japanese cuisines weren't the talk of the town a few years ago. But today it's all about Sushi and Pad Thai Noodles. However there's one such cuisine that has been there for quite some time now and that's Italian. Pastas and Pizzas have invaded our kitchens and have become a part of our food routine. Moreover, our gujju friends have also come up with their own version of Pizza – Jain Pizza, Pav Bhaji Pizza and what not ! Nonetheless, I love my White Sauce pasta and Pizzas and don't mind experimenting with it. So when the folks from Ovenstory approached me to try out their new range of cheese base pizza, I said "Bring it on !" So here's my review of Ovenstory Pizza.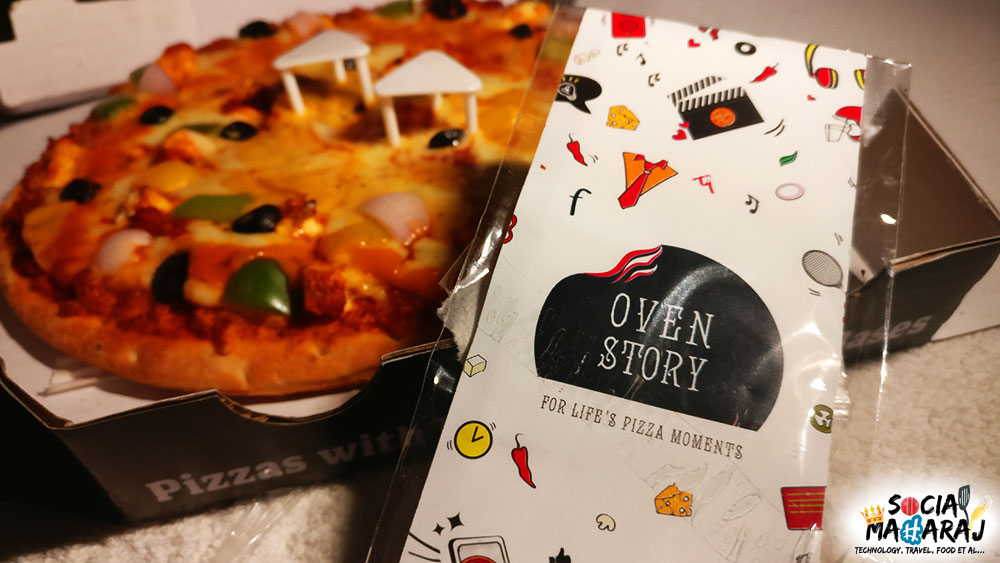 Ovenstory – the newbie in Hyderabad
Ovenstory is a relatively new outlet when it comes to Pizzas in a country where Dominos is a raging bull. But even their menu hasn't seen much change in the recent time – not for the vegetarians like me. I have tried almost all the vegetarian options they serve and hence always lookout for a change. Ovenstory boasts of their new Cheesy Base Pizzas with unique flavors. They do have a handful of outlets in the city. The only thing to note is that they don't have dine-in facility. But the good part is, they are listed on every Food ordering app ! No body would mind getting some yummylicious pizzas on their couch.
Your Pizza Your Story
With a limited but exotic menu, Ovenstory sure goes overboard when it comes to unique combinations. Their signature pizza bases include 4 Pepper Cheese, Chipotle Cheese, Peri Peri Cheese and El Clasico Cheese. Apart from Pizzas they do have some side dishes including Bruschettas, Garlic Bread and Choco Lava Cakes. Being a vegetarian I didn't have a tough choice choosing a pizza as there were only 7 of them. One of the thing's that I don't miss out at Mc Donald's is their Peri Peri masala. I so love it. So when I saw the menu at Ovenstory, I knew what exactly I needed ! Peri Peri Picante Pizza – a perfect mix of peri peri cheese with Tandoori Paneer, Olives and Onions. How does it taste ? Read on to find out.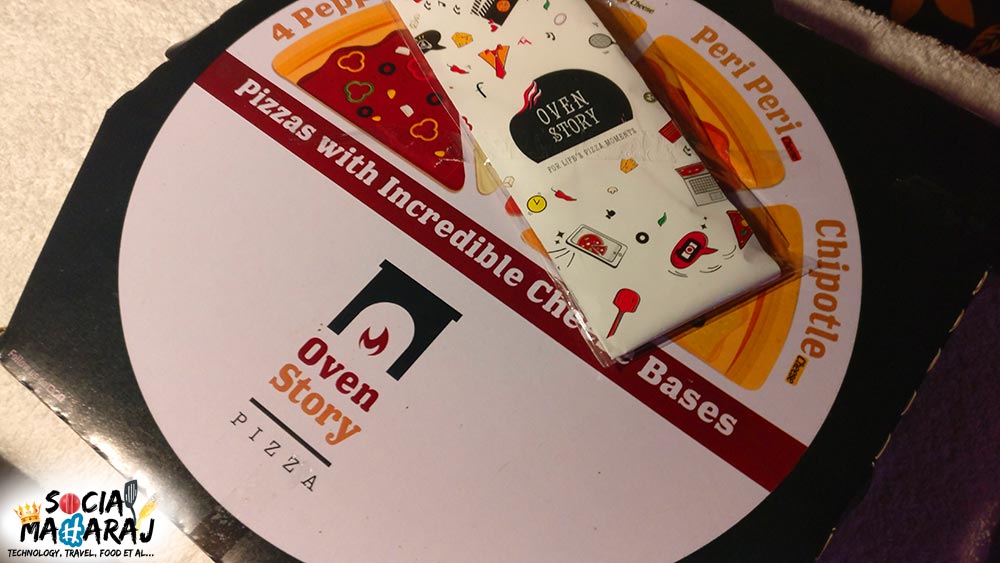 The delivery was quick, and folks from Faasos were given the task to deliver it. Have had good experience with Faasos earlier too. The pizza box was black in color for a change and looked it. Packaging was standard, lots of sellotapes though. An extra pouch with a tissue paper and seasoning were provided. The seasonings were good. Coming over to the Pizza. It was colorful ! The cheesy base with Peri Peri gave it an amazing, golden-yellow color. The tri-color bell peppers enhanced the color while olives and tandoori Paneer did the rest. Overall a very tempting pizza. Full marks to Ovenstory for this one.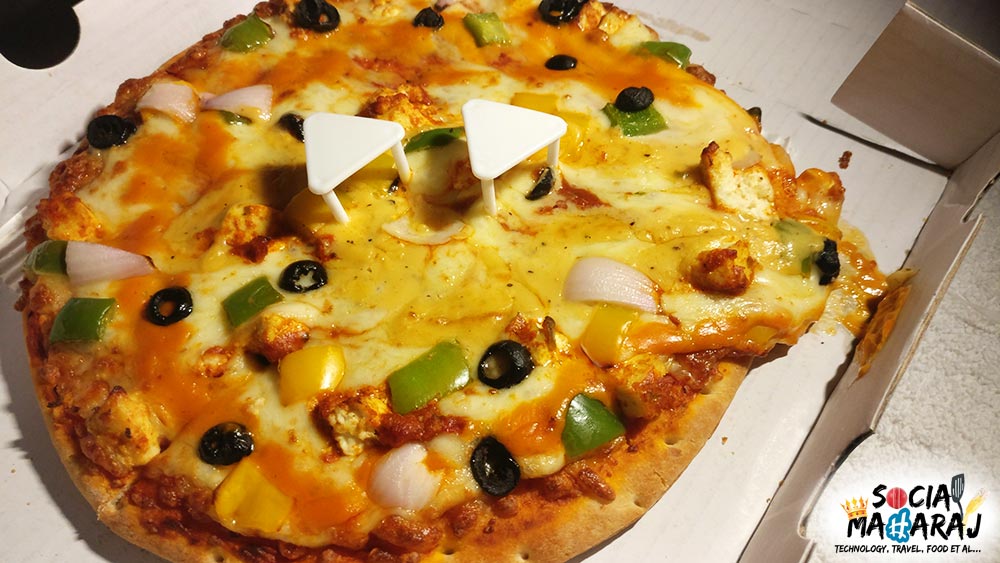 Moving on to the taste. I loved it. Peri Peri + Tandoori Paneer, what else do you want. The taste was very good, especially the peri peri masala mixed with the cheese. It was a tad high on salt but manageable. So taste wise it was good. The only downside was the pizza base. I had expected a more fluffy and soft base which wasn't the case. The pizza base was pretty hard (it wasn't thin crust) and took some effort to chew. Also the pizza slices weren't cut out properly hence sharing it took some effort. But 5/5 to Ovenstory for the unique flavor and taste.
Final Verdict – Loved the OvenStory Experience
Limited but exotic is how I would term Ovenstory's menu. The variety is less but the pizzas on offer are amazing. Their USP is the blend of these amazing flavors and the rich taste. I loved the Peri Peri Picante Pizza, great on taste. Only if the base was better. Overall an amazing experience with Ovenstory. Was hesitant in trying them earlier, but now I'm sure that I will try out the other flavors also. Have you tried Ovenstory yet ? How's your experience ? Share in the comments below or tweet to me at @Atulmaharaj