My exploration of Sindhi Colony took a good hour to find out the places. The PG road stretches for almost a kilometer and one can get tired finding places to eat. You can easily identify the famous ones based on the crowds present. One such place that I talked about was Chachaji Vada Pav which is probably flocked by hundreds on a daily basis. After having some yummylicious Vada Pav and Dabeli at Chachaji Vada Pav in Sindhi colony, it was time to try something else.
Walking a good 15 mins from Chachaji towards Sunshine Hospital, you will come across Sri Balaji Dosa house on your left. I know you would be wondering, when did Dosa become a street food ? Well every place in Sindhi Colony has it's own uniqueness. Just like Chachaji Vada Pav served coconut chutney with Vada Pav, Sri Balaji Dosa House has some unique dosas to tickle your taste buds.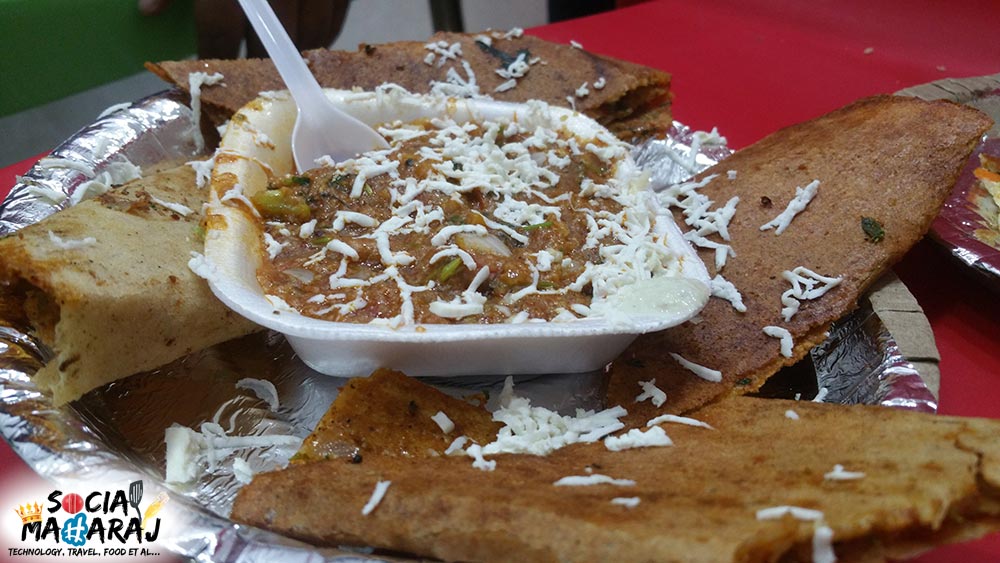 Sri Balaji Dosa House – Sindhi Colony
Sri Balaji Dosa House is right off the main PG Road and it's fairly easy to spot. Often flocked by many, you know you are at the right place. Though the place is very small, people queue up to get their items parceled. The cooking are extends upto the road. They have a long (really long) 'tawa' to make multiple dosas at a time. Considering the size they make, the tawa can have at least 10-12 dosas at one instance. They have small seating area, which can house about 8-10 people at max. The place can get hot and humid at times, so I would prefer eating outside. Anyways, here's my review of dosa at Sri Balaji Dosa House in Sindhi Colony.
Pizza Dosa at Sri Balaji Dosa House
The menu at Sri Balaji Dosa house isn't a fancy one. It's a single page menu that lists out the items including the simple idli to their unique Pizza and Burger Dosa. We had already made up our minds to try the most uniquest dosa at the restaurant. We ordered a Pizza Dosa and Burger Dosa. But since Burger Dosa wasn't available, we decided to fall back to Pav Bhaji Dosa. The order did take sometime to be made, maybe it was due to the crowd and the fact that there was only person who was cooking.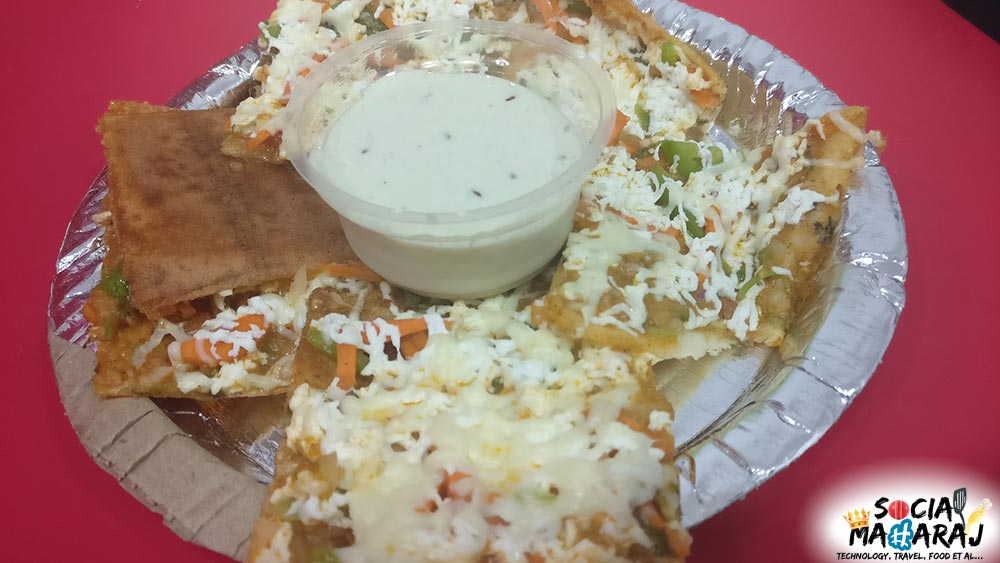 When the dosa arrived, we simply loved the look of the Pizza Dosa. The base dosa was crispy and the masala along with the grated cheese was just amazing. It was unique combo that I had tried and was totally justified. On the other hand, the Pav Bhaji dosa was a let down. I had thought it would be something unique, rather it was just a plate of Bhaji served with plain dosa :/ Also this one was spicy too. Overall, we enjoyed the food, would have loved to try out other things as well.
Yummy Dosas at Sri Balaji Dosa House
With a simple menu of unique items, Sri Balaji Dosa House has hit the sweet spot. Also the pricing is modest – the costliest dosa at the restaurant costs about 150Rs. The variety of dosa is good and are great on taste too. We loved the Pizza dosa and would surely recommend each one of you to try it whenever you are at Sri Balaji Dosa house in Sindhi Colony. Have you already been there ? Agree with our review or have a different view ? Share in the comments below or tweet to me at @atulmaharaj