I'm sure you have been following my "Street Food" journey for quite some time now. It was a couple of weeks ago that I visited the famed Sindhi Colony in Hyderabad. Got a list of places to try out from all the Foodies on Twitter and Facebook. So a big shout out to them for helping me find out the best places in Sindhi Colony. Most recommended was Chachaji Vada Pav for the lip smacking Vada Pav and Dabeli. Here's my review. Next was the Sri Balaji Dosa House for Pizza Dosa, review here. Anyways most of the suggestions I got was for main course, but one of the various comments I got was to try out the Soda at the Famous Soda joint. So here's my review of the variety of Sodas at Famous Soda.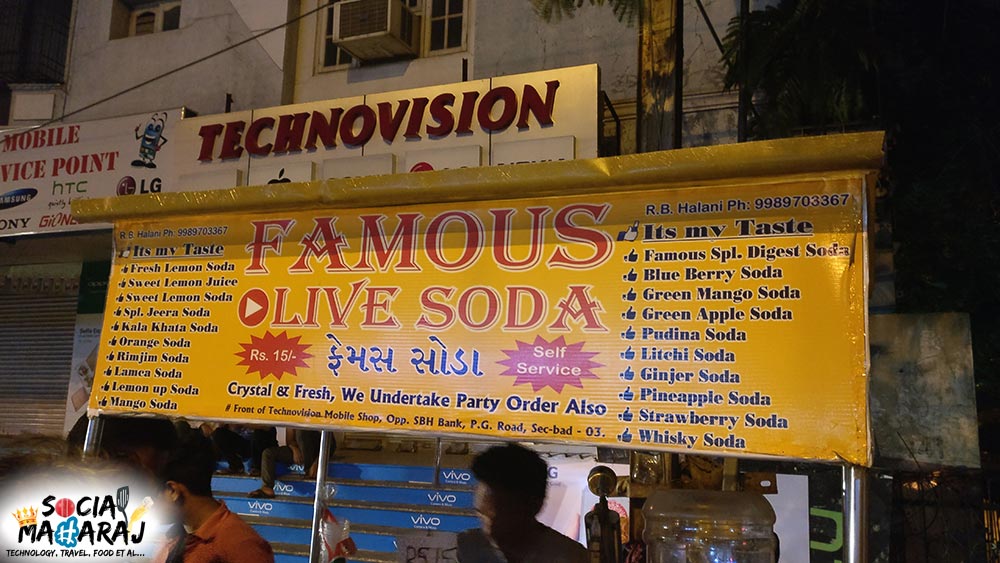 Famous Soda Review
We were done relishing some of the finest foods Sindhi Colony has to offer. Now it was time for something that could 'settle' things in out stomachs. And what better than a glass of refreshing soda ! Having stayed in Ahmedabad for years, I know this trend. You will find a lot of soda shops in the city that are flocked by thousands of people. And when I read the display board at Famous Soda, I realized I was at the right place. Written in Gujarati, Famous Soda, I knew I was in for a treat. Got a chance to speak in Gujarat and must say I'm still good at Gujarati (Gujarati at heart and Gujarati at stomach)
Variety of Sodas at Famous Soda
They have over 20 variety of sodas from the commoners like Lime, Orange, Jaljeera soda to some exquisite flavors including Green Apple, Pineapple to name a few. Since we were a group of 5, we ordered 5 different flavors – Green Apple, Pudina, Lemon, Ginger and Pineapple. Of all, the people's choice was green apple as it was 'hatke', I liked my Pudina flavored soda as well the all time favorite lime soda. The soda however wasn't 'that strong' – lacked the fizz. I mean I don't know whether it was because we went late or something. The soda could have been much better had there been more fizz.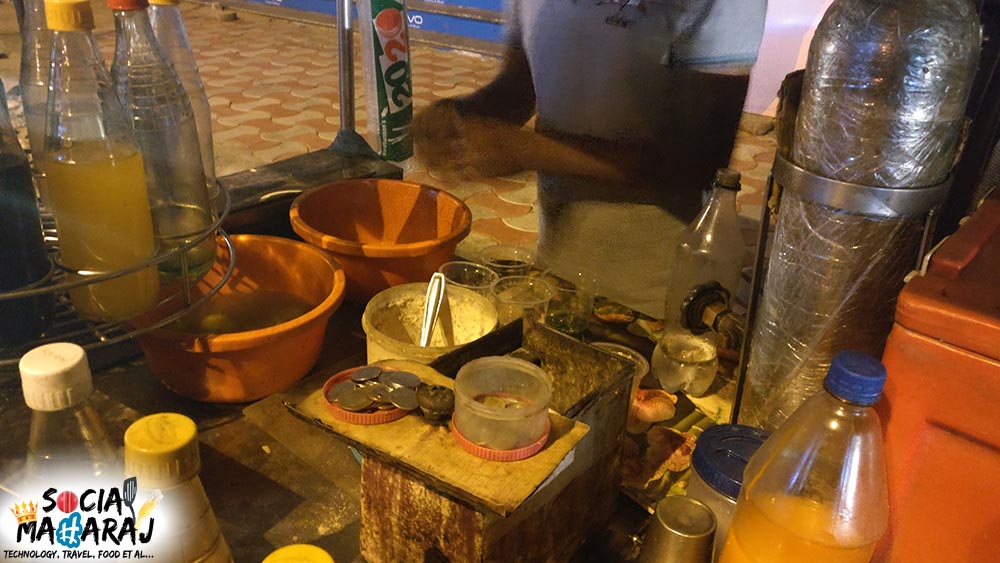 Nevertheless, after all the yummuylicious street food at Sindhi colony, you need something to douse the turbulence in your stomach. Famous Soda in Sindhi Colony has just the thing you are looking for. With a variety of sodas on offer, you'll have a great time. What more, if you are a Gujarati, you can spend a great time talking to the owner who might suggest some more lip smacking food joints. So overall, Famous Soda joint is a place worth trying. have you tried this already ? Do share your views on Famous Soda or tweet to me at @atulmaharaj