Customer Satisfaction is one of the most vital and key elements for any service provider. They all want their customers to be happy with their services especially now with almost everyone being vocal on Social Media. So if you are receiving mails to provide feedback / suggestions then you aren't the only one. We all are in fact on the same boat. It's based on our feedback that these companies tweak their services / products. Moreover, many companies are now rewarding their customers for providing a feedback or completing a survey. And the latest one to join this bandwagon is Google. And they are doing this through their new app – Google Opinion Rewards. So here's a post that will tell you how to Earn Google Play Credits with Google Opinion Rewards.
Google Opinions Rewards – all you need to know
Created by the Google surveys team, Google Opinions Rewards is the latest app on the Play Store – at least for the folks in India. So the team is responsible for collecting user feedback and suggestion in the form of surveys for a range of Google products. By this means, Google aims to collect user feedback and mould their products to the exact user requirements. So the question is How do you earn with Google Opinion Rewards ? Well here's how to Earn Google Play credits with Google Opinion awards.
Earn with Google Opinion Rewards
Google Opinion Rewards app was launched in India a couple of weeks back. The app is available on the Google Play Store. You can download it from here. To earn with Google Opinion Rewards, follow the below mentioned steps:
Install the app from here
Login with your Google Id
Fill up the details (You're asked for this only if you don't already have a Google Wallet)
Submit a short sample survey
You are ready now ! Just wait for any surveys to be available
After you answer a survey, Google with automatically credit to your Wallet
This Google Play credit has to be used within 1 year from the date of issuance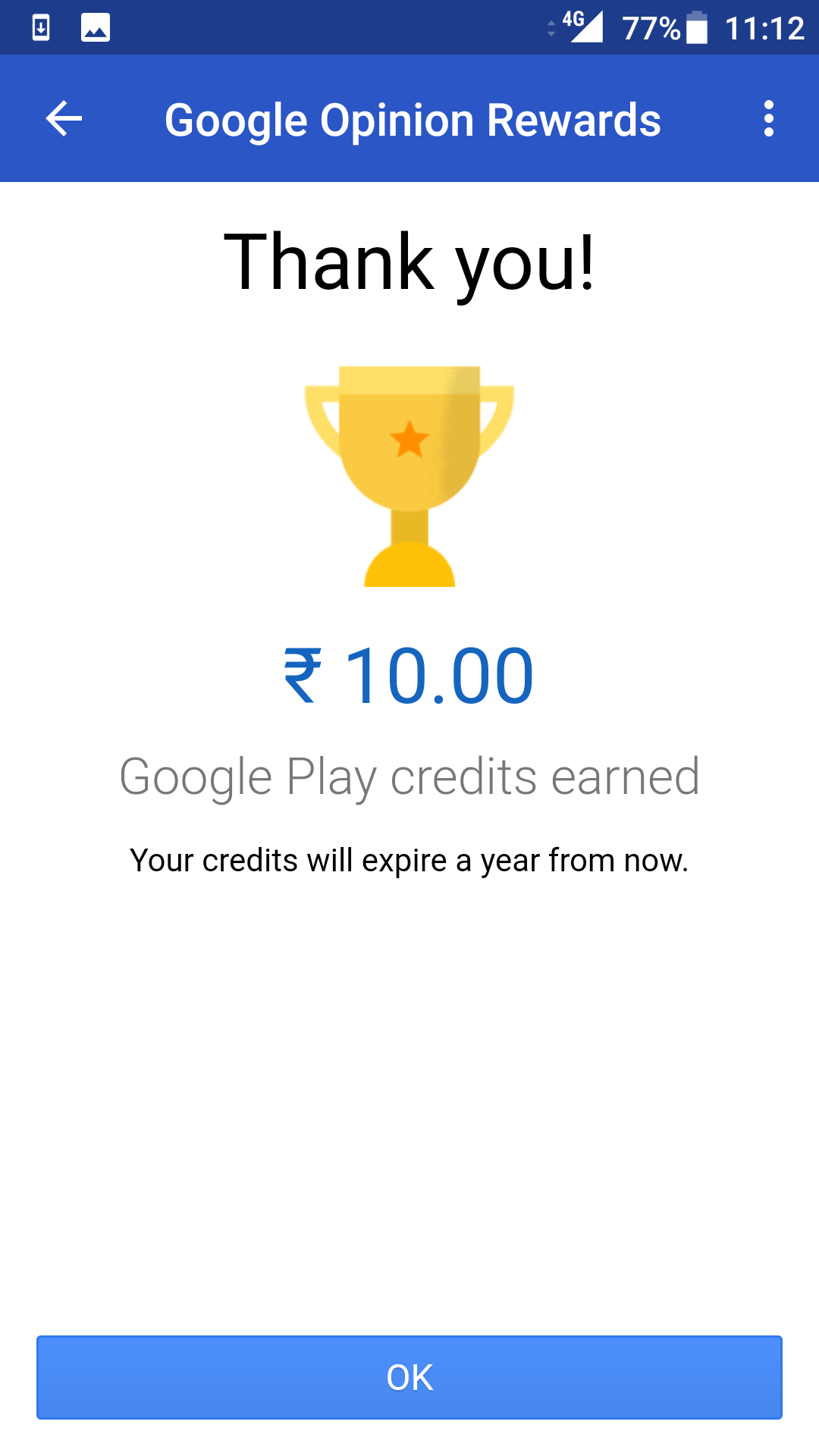 So, now that you are aware of how to Earn with Google Opinions Rewards app, it's time to get the app and start earning. But do keep one thing in mind, please be honest in submitted surveys in general. You feedback is actually important for the company as based on your views, they shape their products. So be true and complete surveys with Google Opinion Rewards app and start earning ! Facing any issues ? Have I missed anything ? Tweet to me at @Atulmaharaj