Gone are the days then Vanilla, Strawberry or Butterscotch were the most loved flavors of ice cream. Today we have anything and everything like Caramel, Coffee, Kiwi and what not. Moreover we now have dedicated ice cream parlors that serve delicious ice creams. One of the first ice cream joints I visited in Hyderabad was Creamstone – they are class apart when it comes to ice cream parlors. Since I'm always on the look out for new food joints, I came across Eskimos in Gachibowli. I used to drive past this outlet everyday but never really had time to check out what it has to offer. A couple of weeks back, I had to meet my friend after work and this was the place we both mutually agreed upon. So here's a quick review of Eskimos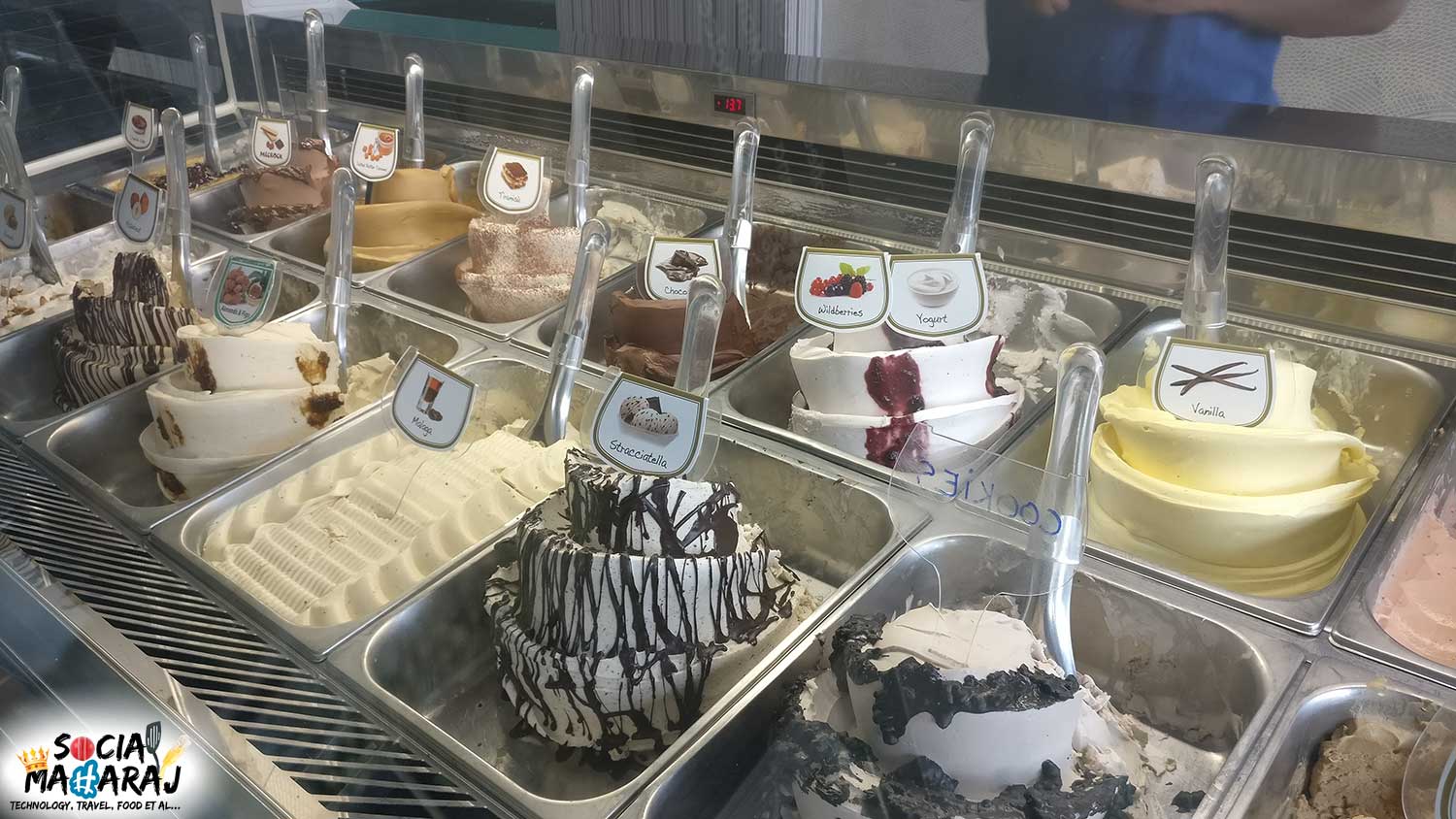 Simple Ambiance with assortment of ice creams
Eskimos is a small parlor, can house no more than 20 people at once. The interiors are bare minimum and that is something I love. Like most other food joints, Eskimos too has glass walls due to which it tends to get hot inside in the evenings. We had to ask the person to reduce the AC temp for better cooling. The parlor serves milk shakes and ice creams. I'm a fan of Oreo Milkshake and wanted to try that. But that wasn't available that day. So had to go with ice cream. Being an ardent Coffee Lover, I decided to go with Coffee flavored ice cream along with an Almond one for the nutty flavor. My friend on the other had tried Tiramisu along with Malaga. It didn't take much time for the ice creams to reach our tables.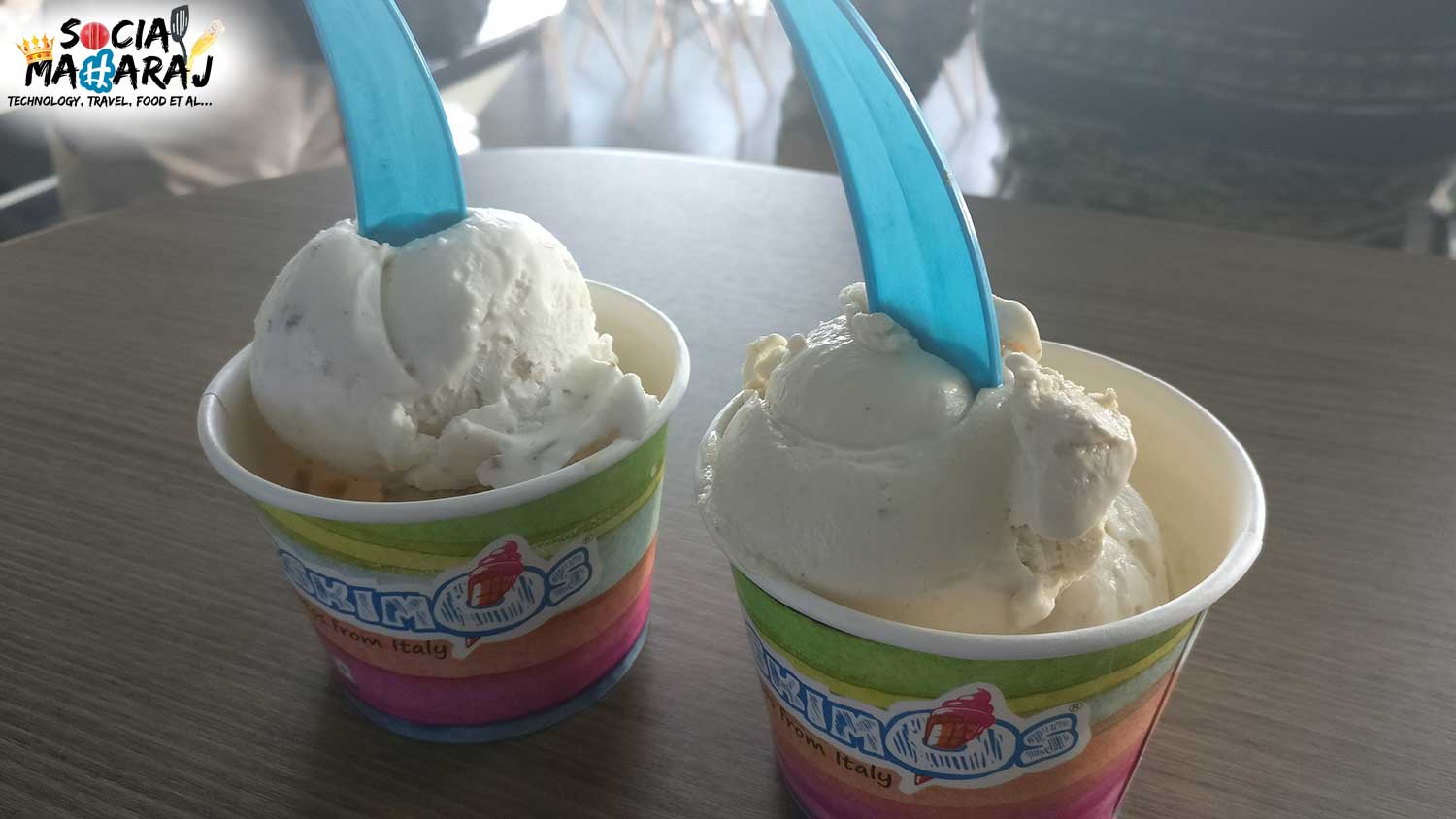 Ice Creams with a difference at Eskimos
Since me and my friend were meeting after months, we didn't realize how time passed and the ice creams reached our tables. Frankly we were a bit disappointed looking at the quantity served. Though there were two scoops, it seemed less. Anyways, the coffee ice cream was pretty strong and hence I loved it. Coffee couple with roasted Almonds is a heavenly combination in my opinion. So I thoroughly enjoyed. Tiramisu and Malaga on the other hand were good, but lacked a punch. The flavors were there, but were subtle hence it tasted like any other ice cream. Overall I felt the ice creams were okaish. They have a lot of variety though, hence one might take a visit or two to try them all.
Final Verdict – Eskimos worth your penny ?
We paid about 500 Rs for two ice creams (4 flavors, one scoop each). So considering the quantity, I feel the ice creams are slightly over priced. If the amount is increased a little, it would be justified. They have the variety for sure. And the fact that you can taste before you order is great. I did expect it to be like Creamstone, where you can make-your-own-ice-cream, but that wasn't the case. Overall it's a good place to hangout with friends for hours. Because that's what we did ! Ordered an ice cream and spent a good couple of hours rekindling the old memories. Again, if you want to try unique ice creams, you can head to this place. If you have already been here or feel that I've missed out anything, please tweet to me at @atulmaharaj