"Your call is important to us, our executive will attend you shortly…" bored of hearing this every time ? Get on Twitter – the new Customer Care. Everyone – individual or corporate – want to harness the power of social media. An individual might use it to connect to like-minded people while the corporates use it to reach their customers. Social Media has increased the customer reach manifold – Twitter in particular. Thanks to those #hashtags which makes it easy to post about a topic, and thus the hash in our logo too 😛 Take a moment to look around you and identify the brands you are surrounded with. Now google and see how many brands are on Twitter. I bet more than 75% of the brands surrounding you would be on Twitter.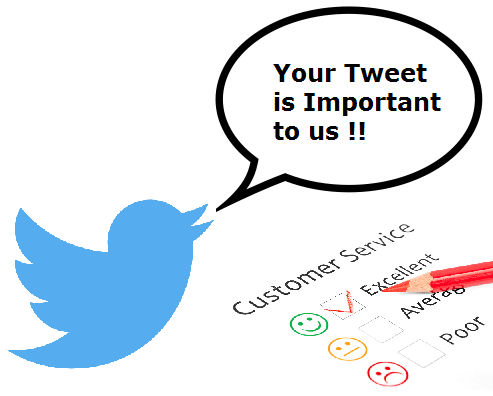 Most of the leading private brands including the likes of Airtel, ICIC Bank, Tata Motors, Jet Airways, Mc Donald's to name a few have presence on Twitter. And thanks to Modi that many of the government ministries are now on twitter. Twitter has become a great place for consumers to get their grievances addressed and that too in a short span of time (in most cases). So if your 3G is not working ? Launch a tweet to @Airtel and get a response in no time. Twitter has definitely become the new Customer Care destination.
@Atulmaharaj Hi! Please DM an alternate contact number & allow us to look into this, we'll connect with you to share an update… cont1

— Bharti Airtel India (@Airtel_Presence) July 12, 2015
Many brands on Twitter have a dedicated "handle" for dealing with customers to simplify things for themselves and the customer. Do you even know that there is a dedicated customer care email id and phone number printed on the product cartons ? Many of us aren't even aware of it. 5 years ago you wouldn't have even known whom to contact in case of any issue. Comes in Twitter to cut the frills for you to connect with the brand and thus turn itself into a Customer Care destination.
So Why exactly Brands care about your tweets ?
 Twitter has an enormous active user base – about 302 million active users in May 2015. Who would want to miss out on such a potential consumer base.
Twitter helps brand convert strangers to customers and eventually to promoters, thus they want to ensure that the existing customers are happy because if they are happy, the good word-of-mouth publicity will come into picture !
 The brand image is highly volatile, especially on Twitter. One wrong tweet and the brand could be in the firing line. The recent British Airways Sachin Tendulkar fiasco is the perfect example – Read more about it.
Recently we saw a lady tweeting to the Railway Minister about a man harassing her. She tweeted with the details of the train to the Rail Minister and in less than an hour the Railway Police Force reached the spot and took charge of the situation. In another instance, a man tweeted to the Rail ministry requesting to stop the train for 10 mins instead of 2 mins and provide a wheelchair for his ill father. To his surprise not only did the train halted for 10 mins, he was greeted with the station master and few other along with a wheelchair.
@namratamahajan1 Please contact 182 Security helpline. Also send your PNR and other details — Ministry of Railways (@RailMinIndia) November 26, 2015
Now you see how easy it is to get your problems solved in no time and that without any extra time or money. With many customer care number not being TOLL-FREE, tweeting to the brand directly is a "FREE" way to get your issue resolved !
Welcome to Twitter – the new Customer Care.