I admit, I'm a selfie fan. (A groupfie fan rather :P) If you meet anyone who knows me personally will agree to this fact. Whether there is an occasion or not, I'm always armed with my smartphone ready to capture a groupfie ! Though my current phone OnePlus 3T doesn't click 'amazing' selfies, I manage to do a decent post-processing job 😉 [Read: How to click amazing Selfies]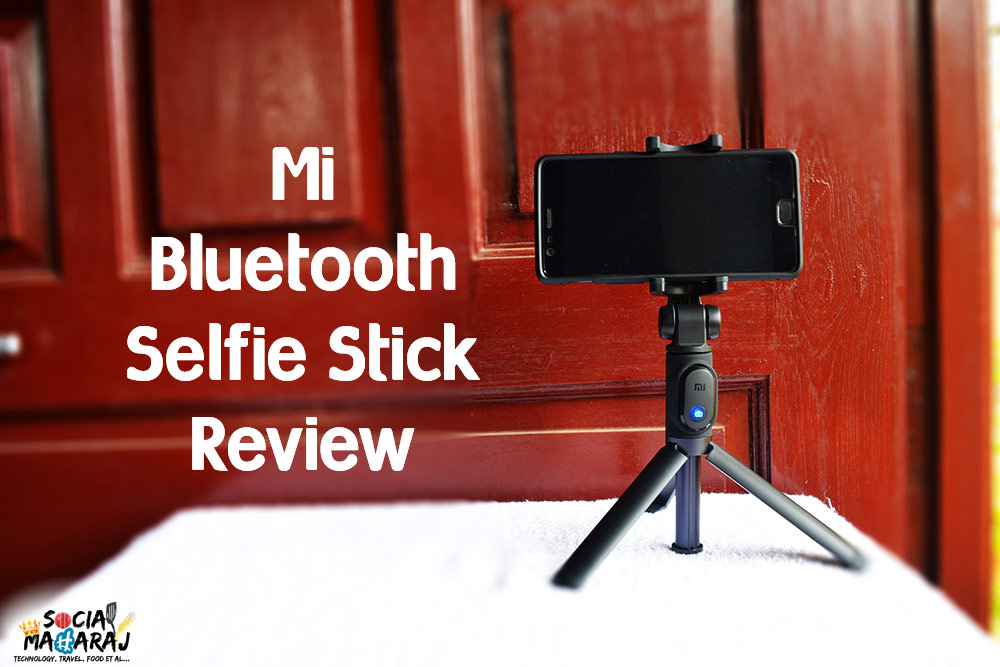 With the ever-growing need to take groupfies, I realized it was time to invest in something. Though I have the 'Kanoon ke haanth' (In India there's a saying that the hands of the laws are long enough that you cannot escape) I needed a selfie stick. I had seen many on Flipkart and Amazon, but couldn't find anything worth. Then I turned to AliExpress. Yes, I've been shopping on AliExpress for quite some time now. Be it a mobile case, stand or a selfie stick, I've got them all from AliExpress. So this time around, after a lot of research, I decided to purchase the Xiaomi Mi Bluetooth Selfie Stick that comes with a Tripod. BTW this isn't available in India yet. So here's a review of Mi Bluetooth Selfie Stick with Tripod.
First looks of the Mi Bluetooth Selfie Stick
Packaging and Build Quality
The packaging is amazing, and shipping was good. Took about 15 days for the shipment to reach me from China, via Singapore, Chennai and Mumbai. So kudos to the service of AliExpress. Since the product isn't available in India yet, the entire box was in Chinese. So there isn't much to read. But as always, a great looking box by Xiaomi. The Mi Bluetooth Selfie Stick comes in a matte finish white box which looks premium.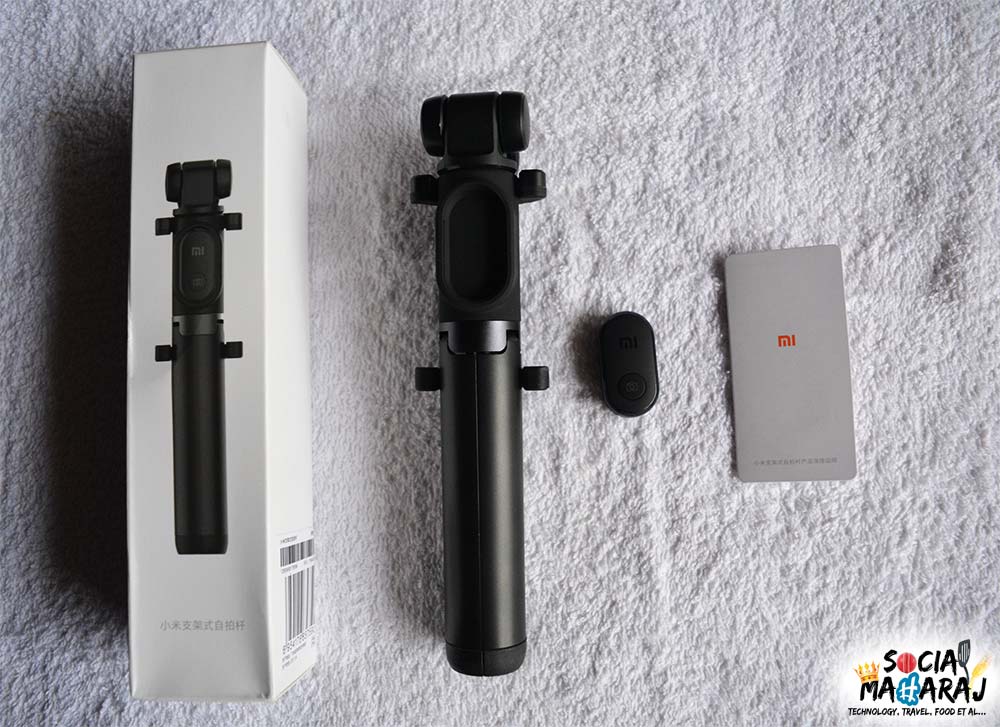 Coming to the Build Quality, it is superb. Even though most parts of the Mi Bluetooth Selfie stick are made from plastic, the build quality is commendable. The plastic used is of premium quality (as you would expect from Xiaomi) and give a rich feel to the aam Selfie Stick. The clamp is quite flexible and should fit any smartphone. The extension rod is made of aluminum and is little rigid during first time use. Further the extension rod isn't 'too long' as one might expect. But perfect for my long arms 😛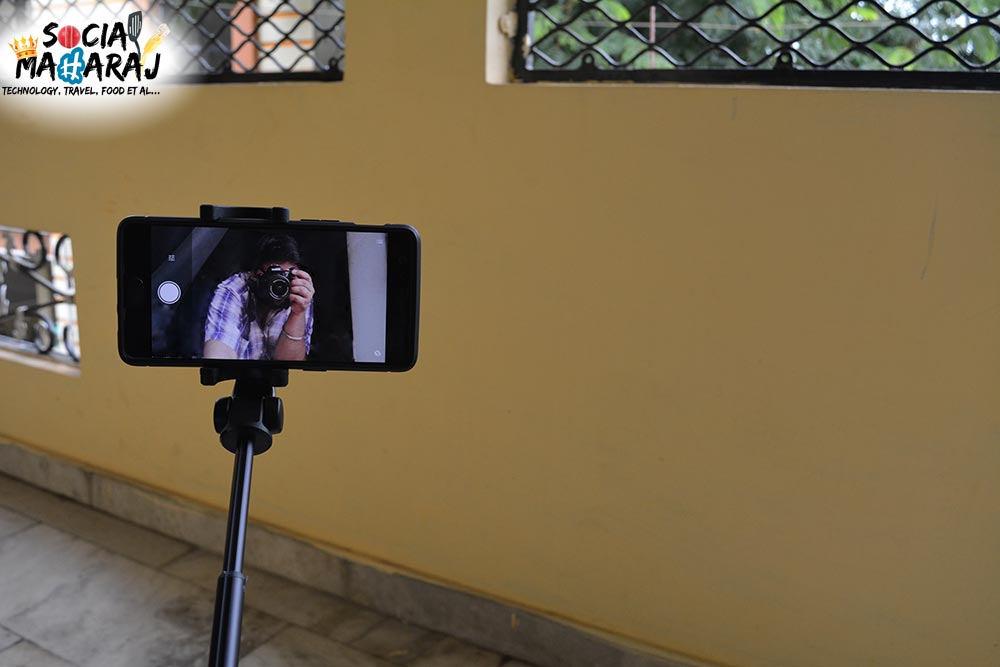 Selfie Stick with a Tripod – Mi Bluetooth Selfie Stick
The Mi Bluetooth Selfie Stick is very compact and doesn't take much space. Can easily sit in the corner of your handbag and might probably fit in your pocket. One of the major reason I went for this Selfie stick is because it has Bluetooth and a Tripod. Not a single Selfie Stick that I came across on Indian shopping sites had this. The Tripod is very easy to use and is very sturdy. A perfect for vlogging (if you use your mobile camera to vlog) and taking time-lapse videos. The grip is superb and feels good in hand.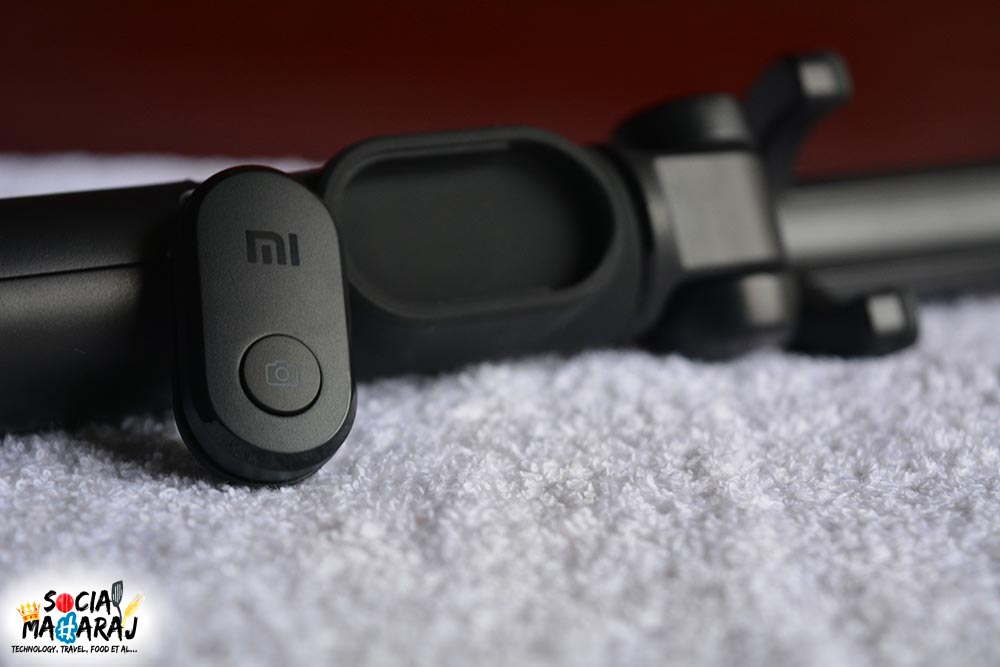 Since the selfie stick uses Bluetooth, it is all more easy to take selfies now. Whether it's a groupfie or a self video, this little wireless controller does a great job. I did expect a charging cable with this one, but nothing came in the box. It uses the normal micro-USB cable to charge so that's not a worry. The Mi Bluetooth Selfie stick ensures that your 3.5mm jack is free so that you can use it for any other purpose.
How to pair Mi Bluetooth Selfie stick with your smart phone ?
Since all the manuals inside the box was in Chinese, there wasn't much of help from it. However pairing this is a breeze. Simply turn on Bluetooth on your phone make sure it is discover-able. Press the button on the Mi Bluetooth Controller until it starts flashing. Flashing light means, it has entered into pairing mode. Look for a device named "X…." on your visible devices list on your phone. Select it and pair it. Voila ! That's it, you are now ready to take amazing selfies !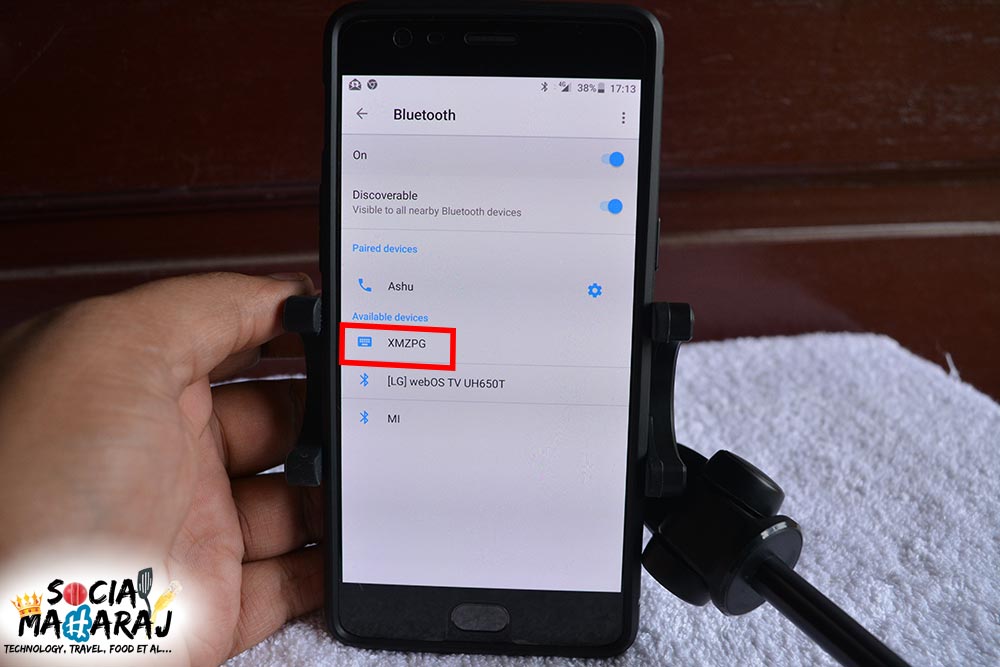 Final Verdict – Mi Bluetooth Selfie stick is a must for every vagabond
I don't know when this product will officially launch in India, but whenever it does, I'm pretty sure it will run out of stock soon. With a price tag of ~$17 (~Rs 1100) this might seem a premium for many, it indeed is. Since I always believe in buying good quality products that would last long, I didn't mind shelling out this much. Moreover the Mi Bluetooth Selfie Stick with the tripod is unique and solves multiple purposes. I'm truly satisfied with my purchase and with the AliExpress experience. If you have any queries on this, do mention in the comments below or tweet to me at @atulmaharaj