The Aam Aadmi is no more Aam, thanks to the internet he has all the information just a tap away. I'd relate a well-informed customer to a double edge sword. It can be easy to sell him your product or he simply knows more about your product than you do. In fact as per a survey almost 95% of Millennials expect brands to have a Facebook presence. Customers might fill up a KYC form at multiple steps, but understanding your customer is the toughest task. Amazon's Jeff Bezos has rightly said "It used to be that if you made a customer happy, they would tell five friends. Now, with the megaphone of the internet, whether online customer reviews or social media, they can tell 5,000 friends." That is the power of social media and the internet.
Thanks to the internet (again) that many brands have ditched the traditional print and OOH media and are relying solely on Digital Media. And with Social Media, it becomes even more important to understand the dynamics of your environment, target audience and the campaign itself. Social Media Campaign is not only about sharing few posts or having influencers talk about your brand. It is even more critical to understand how your campaign is being perceived by your target audience.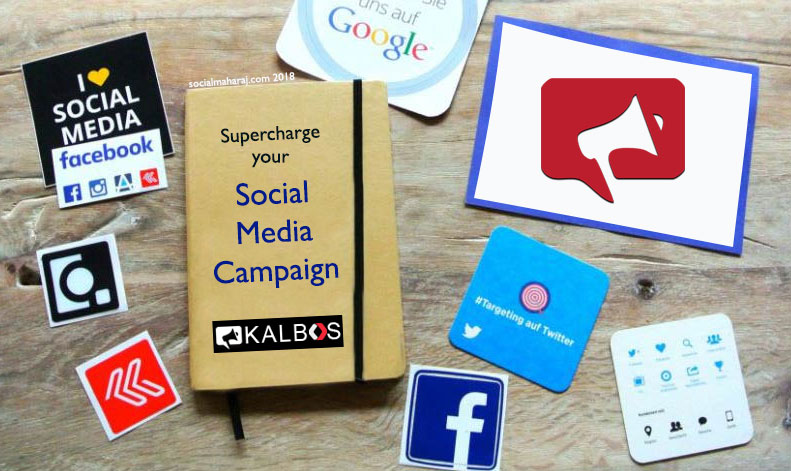 Are they getting what you are trying to say ? Or has your campaign hurt the sentiments of any group ? With so many questions around and the complexity involved, overseeing your Social Media Campaign is a tough task. How do you get an end to end view of what you are doing, what your customers are talking about, who are your brand ambassadors. Don't worry, here's a tool that can take care of everything so that you do what you are supposed to do – take wise decisions. Presenting Kalbos, an intelligent tool with an arsenal of services to help you make the most of your Social Media Campaign.
What's special about Kalbos ? How does it help manage your Digital Marketing Campaign
If you think that a Social Media Campaign just includes auto scheduling of posts and replying to queries, you are very wrong. There are a whole lot of other things that are involved and Kalbos helps you identify them. Kalbos is not like any other auto scheduling services that can post a tweet / post on your behalf at a predefined time, it has a basket of features that can help you precisely target the right people and get more out of your social media campaign. Kalbos comes with intuitive Social Media dashboards that will give you all the insights of your social media account at one place. Say you have connected your Twitter profile, you will see all the tweets, followers, keywords, DMs all of it at one place.
Respond to your customers with ease
One feature that will come handy if you are serving your customers over social media is the Customer Response System. Kalbos has you covered with its advanced response system that helps you reply to customer queries at ease. You can create teams and agents and the queries will be assigned to them. This ensures that your customers are satisfied and always go with something when they come to you. You can later analyse the queries and work with your internal teams on the outcome of the analysis. This is a great tool if you are just starting your business and you want to provide the best experience to your customers. After all 76% of customers believe the customer service they received shows how the company values them as a customer.
Read your Customer's Mind
The stand out feature of Kalbos that I pretty much liked was the Data and Sentiment Analysis tools that are made available. Whether you are a single user, professional user or a company, you get these data analysis tools with your subscription. Sentiment Analysis is a very powerful tool to analyse what netizens are talking about your brand. Are they happy or angry ? Sentiment analysis tool carefully and intelligently segments the social media posts based on positive, negative and neutral sentiments. With this data in hand, you can get working to ensure people talk more positive about your brand than negative. Also with its advanced Keyword tracking and analysis tools, you can see who is talking what about your brand. Not only keywords, you can track hashtags and mentions too.
My views on Kalbos
I was approached by the team to try out this tool. I was amazed by the capabilities of Kalbos and quickly setup my Twitter account. Setting up was a breeze. It allows you to link Twitter, Facebook, Instagram, Pinterest and LinkedIn accounts. The basic tier is free to use but is limited to only 2 users and 2 accounts. They have plans for professional users as well as companies. The dashboard is pretty clean and changes based on the account which is active. Since I connected my Twitter Account, the dashboard had all the metrics like no. of Tweets, Like, Followers, Following. The interesting part was the Suggest to Follow and Keywords. Kalbos actually analysed my tweets and came up with a keyword cloud that shows the keywords that I've been tweeting about. I went ahead with the basic plan and quickly tried the most common publish and scheduling feature which seemed to work fine.
The Sentiment Analysis Tool is something that I surely wanted to try. I was surprised to see that it worked pretty accurately and segregate my tweets. So all the tweets where I spoke good about something were put under Positive Sentiment and so on. It shows a good pie chart about the same and a much-needed tool who are running a social media campaign. The User Response section is quite easy to navigate and creating teams and agents is super easy.
Kalbos helps extract valuable insights from your social media campaign
In the end, I'd say that Kalbos has got some good tools in its basket which can help you ace your social media campaign. Sentiment Analyzer, Keyword and Hashtag tracking along with Customer Queries Response tools are enough to help you with your social media campaign. During my initial days of using Kalbos, I found that most of the functions were in place and functioned well except a few minor glitches here and there. The team has been very supportive and has been constantly working towards improving Kalbos so that you can take a chill pill. That's it about Kalbos. What are the problems you face as a Social Media Manager ? How do you manage your campaigns. Let us know in the comments below or tweet to me at @Atulmaharaj