Just like feature phones are not to be seen much, LAN cables too have found shelter in offices and server rooms. Gone are the days when you had the RJ-45 LAN cable (showing off) coming in from your modem / router to your desktop. BTW I still have my desktop hooked to the router using a LAN cable. Today wherever you go, WiFi is the first thing you want. Moreover there have been instances when Internet has been interchangeably used by WiFi. Most hotels, restaurants and public places are now providing free Wifi access. At homes too, the ISPs are coming up with great bundle offers and providing WiFi routers. If a person is a geek, I'm sure they'll have a separate router and not an ISP provided one. I had been using the TP Link MR 3220 Wifi Router for close to 5 years now. The router is an excellent router with good coverage and a feture to use a 3g/4g dongle. Read more about the TPLink router in my earlier post here.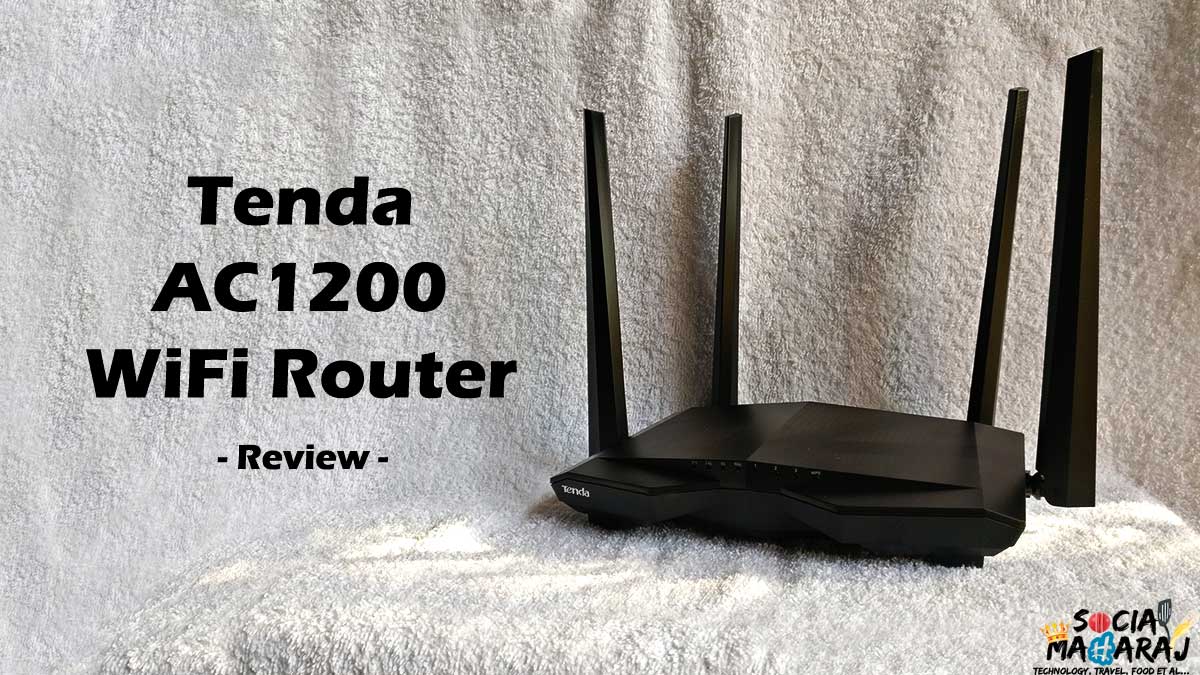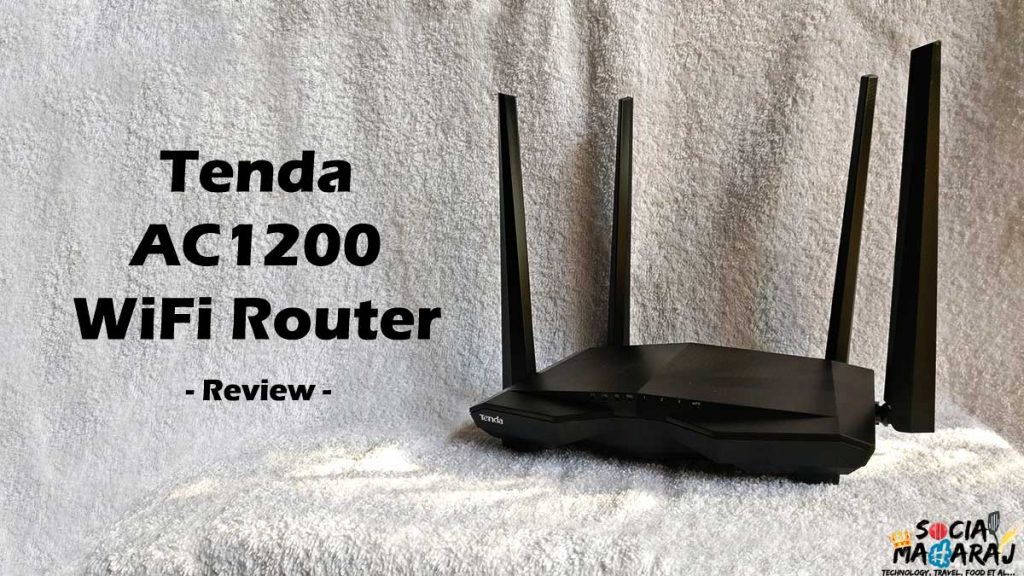 After almost 5 years, I've decided to move on from the TPLink router and get myself a new one. The reason Why I ditched my TP Link MR 3220 is because it had issues with DHCP, I had to manually assign static IPs to each device. When I connect any device using hot-spot, it wouldn't connect due to this and had to change the adaptor setting always. Also I noted a connection drop quite frequently. Due to these reasons, I was on the look out for a decent WiFi router. I wanted a router that had a good range and guest Wifi Access.With these in mind and with a sale going on at AliExpress, I decided to buy the Tenda AC6 AC1200 Dual Band Wifi Router. I've purchased the router from Tenda's official store and it costed me about Rs 1800 including shipping. That's way cheaper than Amazon or Flipkart. It did take about 15 days for the shipment to arrive from China via Singapore, Chennai and Mumbai. Now that I've used it for almost a week, here's a review of Tenda AC6 AC1200 Dual Band Wifi router.
Tenda AC6 AC1200 Wifi Router Review
Packaging and Design
Based on my previous orders on AliExpress, the packaging had been beefier always with all the bubble wrap. for instance my Xiaomi Bluetooth Selfie Stick came in a relatively bigger box. For the Tenda AC6 AC1200, it was just wrapped in a cover that had the address details. When the postman delivered it (If you choose AliExpress Standard Delivery, it will be delivered by India Post) I just hoped that the router was fine. I opened the cover which had just the box with no protection whatsoever. Also the box was kind of  opened and there wasn't any seal. That probably because I requested for an EU plug that would work in India. So packaging was below the Ali Express standard, but glad that the product was fine.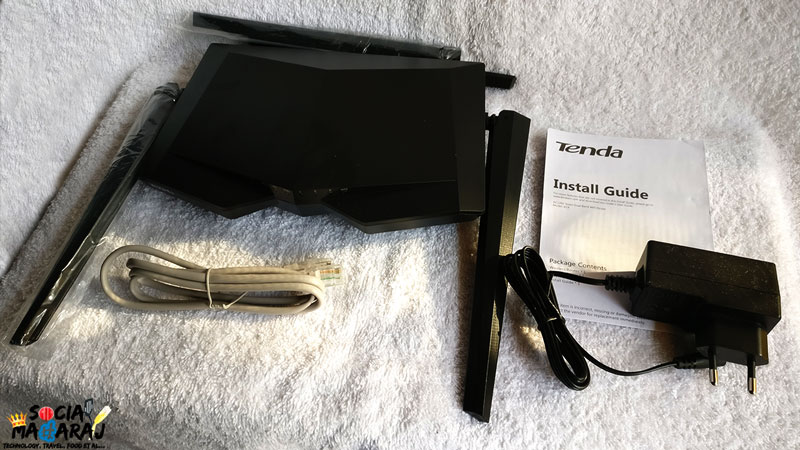 Coming to what's inside the box. The Tenda AC6 AC1200 box consists of the router itself, a Power plug, a LAN cable and an instruction manual. I know many people don't read an instruction manual, but you should make it a habit to read about the products you use. The router's antennae are folded and neatly wrapped in a cover. The design is pretty good – it looks different from the other routers in the market. Even though the router might look beefier, it's pretty light weight and feels plasticy. Also this is an amazing fingerprint magnet, so do have something in place for it. Overall the router does look good.
Tech Specs
The Tenda AC6 AC1200 WiFi router has some of the best in class features. Here is a Technical Review of the Tenda AC6 AC1200 Wifi Router, this is a dual band router that comes with the following features:
LAN Ports:3 No USB port 🙁
Wi-Fi Supported Frequency: 2.4G & 5G
Function: VPN,Firewall,VOIP,QoS
Antenna:4*5dBi external antennas
WAN Ports:1 x10/100Mbps
2.4G Wi-Fi Transmission Rate:300 Mbps
5G Wi-Fi Transmission Rate:867Mbps
Guest Network, Smartphone Management, Scheduled Sleep, Parental Controls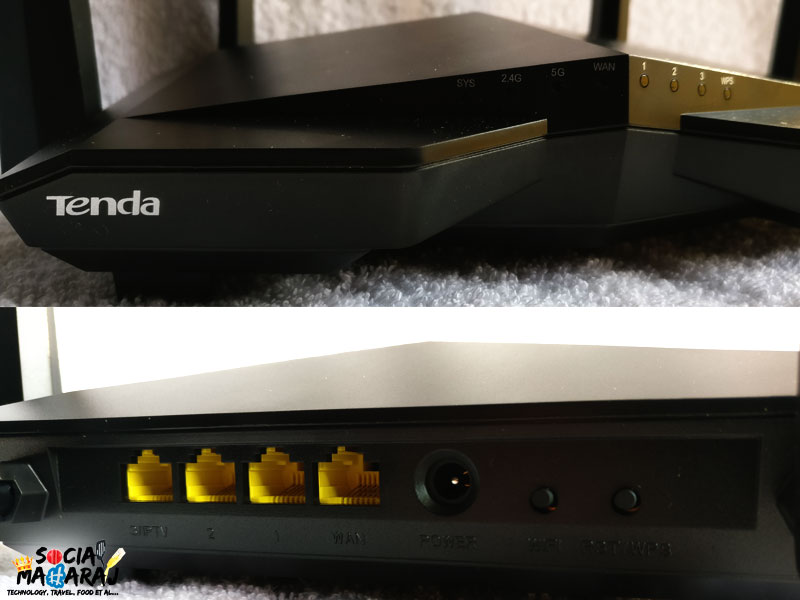 Setup and Usage Review
Setting up the Tenda AC6 AC1200 Wifi Router was a breeze. All I had to do was plugin the power and the WAN cable and voila it detected all that was required. To add to this, you can use this router in PPPoE, Static IP and Dynamic IP mode. I'm using ACT Fibernet here in Hyderabad. By default it connected using the credentials that I provided when the popup appeared. However to use ACT Fibernet with Tenda AC6 AC1200 Wifi Router, you can choose the PPPoE mode and enter the username and password. Since this is a dual band router, you will see two WiFi SSIDs with the same names with _5G suffixed in one of them. The router allows you to disable a particular band. Since this router comes with Guest Network access, you can easily set it up to allow guests to access internet without seeing what's on your network.
The router management portal is quite neat and minimalistic. I did have to dig in a bit to find the required options, but isn't a concern. Whatever you need the most is on the main homepage. Further, there is no router admin username and you simply have to set up the password to access the router admin page.. If your devices support, you can use 5Ghz band for enhanced speeds. Further the Tenda AC6 AC1200 Wifi Router allows you to disable / throttle the speeds on individual devices which ensures the devices that don't need internet aren't hogging up resources. The router also allows you to disable the LEDs which in my opinion might be helpful if you sleep in the same room where the Wifi Router resides. The Tenda Mobile App has almost all the basic features that you would need to manage your network. One thing that I did notice is that the router doesn't have a comprehensive logging feature so you cannot track which IP/website was accessed from the network.
Final Verdict – Tenda AC1200 Dual Band Wifi Router
For about Rs 1800, the Tenda AC6 AC1200 WiFi Router was indeed a great deal. I've been a loyal AliExpress customer and haven't had any issues ever. The product was purchased from Tenda's official store on AliExpress and shipping was pretty fast. The WiFi Router is certainly one the best in class when it comes to the 1200mbps segment – barring the Asus RT-AC1200G which costs about Rs 10,000+. This isn't a high-end router but if you are looking for some boost in your internet speeds along with more coverage, the Tenda AC6 AC1200 router is perfect for you. That's all about the Tenda AC6 AC1200 WiFi router Review. If you have any questions, suggestion please mention them in the comments below or tweet to met at @Atulmaharaj