Okay, this post is coming up after a long long time.It has been sitting in the drafts folder for quite some time now and I didn't actually/probably didn't get time to work on the photos for this one. It was a Sunday evening, I was strolling along with friends in Tarnaka hoping to find a good restaurant. Trust me, finding a good restaurant on Zomato in Tarnaka and around areas isn't that easy. You won't actually find many options. In the end we decided to walk in to Kim Fung Chinese Restaurant in Tarnaka. So as they say better late than never, here's my review of eating Chinese at Kim Fung in Tarnaka Hyderabad.
Small and Homely ambience at Kim Fung
The restaurant is located right under the Tarnaka Metro station. You might take some time to locate the restaurant but eventually find it. At first I thought that it's a two storey restaurant, but it isn't. The ground floor is more of the store cum kitchen while the first floor is the dining area. The restaurant is very small and can barely have more than 15-20 people at once. It actually feels like you are dining someone's house. The billing counter is at one corner. The restaurant does have AC so that you can be cool while eating the hot and spicy Chinese food. So ambience wise it's not great. It feels more like a food joint where college students hangout. So not many marks on the ambience, but its manageable. I couldn't take the photos of the restaurant because there were way too many people inside.
Authentic Chinese at Kim Fung ? Read on.
We were a group of 6 and were lucky to find place for us. Being a mix of both vegetarians and non vegetarians identifying dishes to try from the menu didn't take much time. For vegetarians we ordered Dim sums, Honey Chilly Potato, Chicken Manchurian along with Malaysian Noodles, Veg Fried Rice, Schezwan Rice and Paneer Manchurian Gravy. The service was quite on the slower side and the server does goof up with orders. So make sure you get what you want. Having eaten Desi-Chinese, I don't actually know how real Chinese actually tastes like, but I'll tell about how it tasted.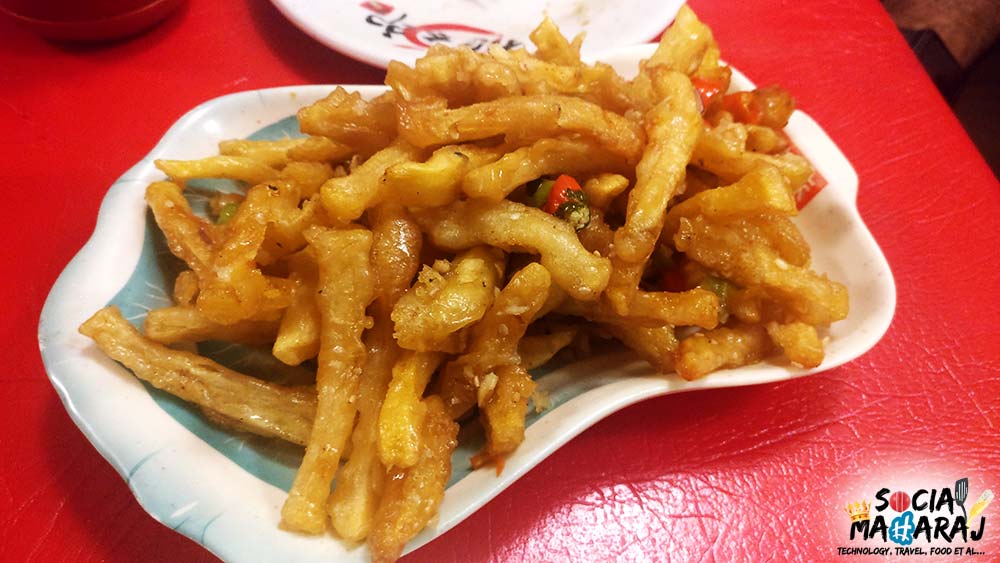 The starters – Dim sums were bland. The filling was mostly veggies including cabbage, carrot and other stuff. It was garnished with fried onions but still didn't enjoy it much. Honey Chilly Potato was a surprise. We were expecting a Soya Sauce, Manchurian type gravy but what we actually got was golden coloured deep friend potatoes with chilly flakes on them. Honey Chilly Potato you see ? Non vegetarian items were also okaish and not too great. There aren't much variety for vegetarians and we had asked the server, who suggested these.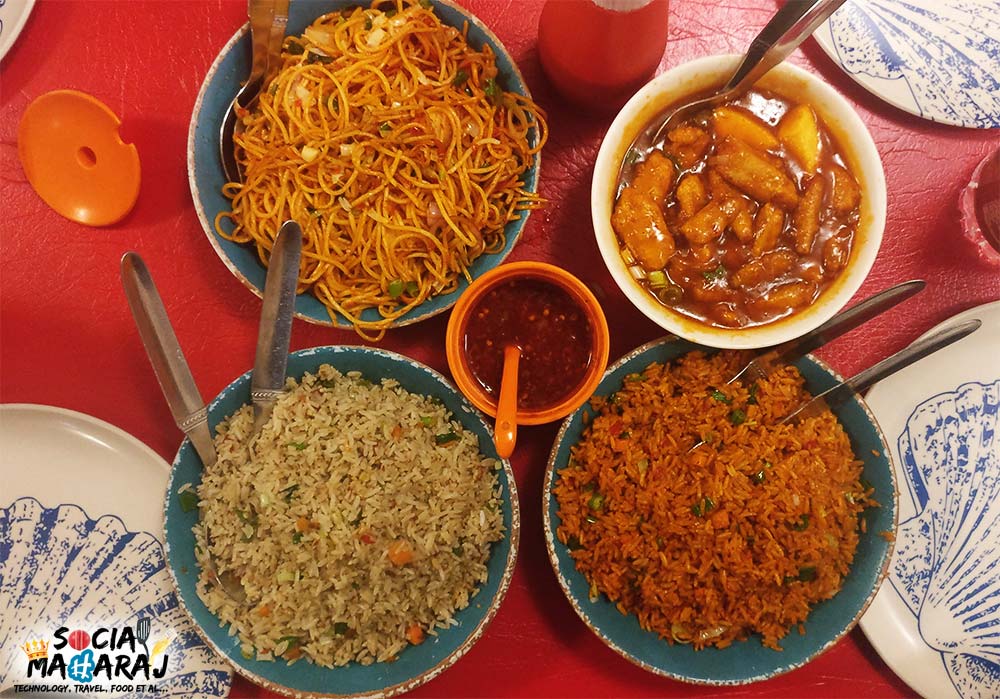 Moving to the main course, it did take ages for it arrive at our table. Again, I don't think we ordered anything so special that the chef had to go to China to source the ingredients. Eventually it did arrive at the table. First looks ? Amazing and totally drool worthy. The noodles was okaish but had lots of veggies which I love. The Malaysian Rice tasted just like any other regular Chinese Fried Rice only difference – it was white in colour. The Schezwan Rice good, but some of my other friends didn't like it much.
Final Verdict – One time Visit
If the service quality and speed is improved, I'm sure that will make the dining experience better. Like I said earlier, maybe I've eaten too much of Desi Chinese and hence didn't find anything special in the food. But yes, they do have plastic chopsticks and you also get a free lesson on using them too. The people are good and humorous. Overall it was a good experience but not somewhere I'd go again. Kim Fung has a lot of areas to improve but looking at the number of people the restaurant manages to attract, it is already a hit among the locals. If you've already been to Kim Fung, what to do you think about it ? Worth it, not worth it ? Mention in the comments below or tweet to me at @Atulmaharaj