Gachibowli is the one area in Hyderabad where you'll find people from different places staying and working together. It's kind of a mini India with the rich cultural diversity. And with so many cultures residing at one place, there has to be places to suit each one of them. Hence we have an assortment of restaurants in the area specific to regional cuisine. Not to forget, the working folks who are on the look out for places to call it a week and resign. One such place that I was invited to experience was the Masquerade Experience Lounge in Gachibowli. It's a refreshing lounge in the heart of Gachibowli. Like always, here's the review of Masquerade Experience Lounge Gachibowli.
Masquerade by Mystery Rooms
Lively, Colorful Ambiance
Masquerade Experience lounge is an offering of the Mystery Rooms (will talk about this in my next post) It's located at the ground floor of the Platina building off the Gachibowli Miyapur road. One can easily spot it as it's on the main road. The first thing you'll notice after entering Masquerade is the blast of colors. Every wall in the lounge is insta-worthy and has some great abstract art. They have board games and play stations on offer too.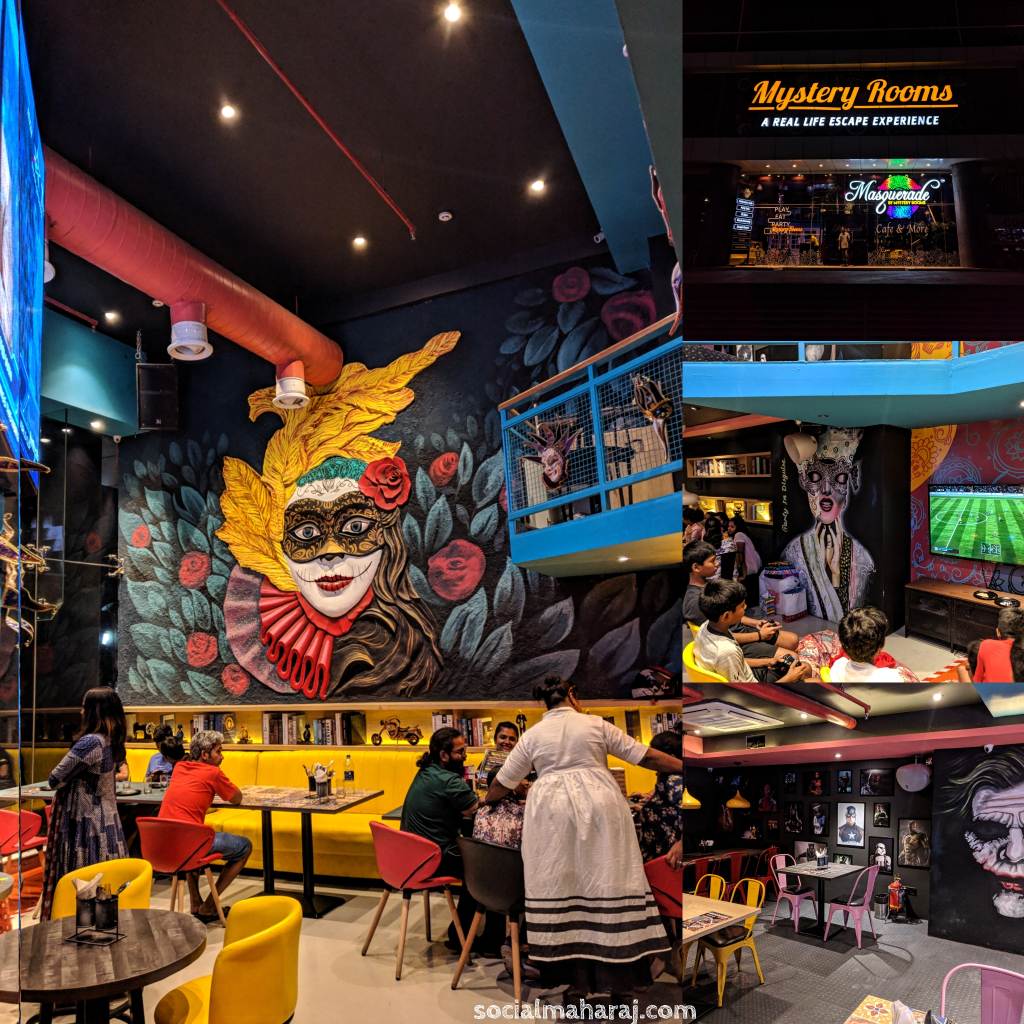 Apart from these they have a huge screen that was live streaming the World Cup match. As for seating, it's quite congested especially the ground floor. The upper deck is reserved for parties and group bookings, but thanks to the Rishab and team for allowing me to spend my evening there. The playlist is super amazing and loved every song they played. Overall, it's a wonderful place to chill out with friends. But do note that it can get noisy at times. And you shouldn't miss out on clicking photos, especially if you are quite active on Instagram. If you are, why don't follow me there ? @Atulmaharaj
Food at Masquerade Experience Lounge
Masquerade offers a range of multi-cuisine and fusion dishes along with some unique drinks. The place doesn't serve alcohol but their mocktails are quite different. Read on for the food review of Masquerade.
Photo-worthy & Drool-worthy Starters
The menu has quite a variety when in comes to starters. They have a wide variety of vegetarian, non-vegetarian starters along with some real quirky fusions. Since we were both vegetarians, we decided to go with Cheesy Nachos and Chipotle Paneer Tikka. I must say that their plating was amazing. Both the starters were served in a unique way. Nachos were served in an inverted umbrella along with the sauce while Paneer was served on a huge ring.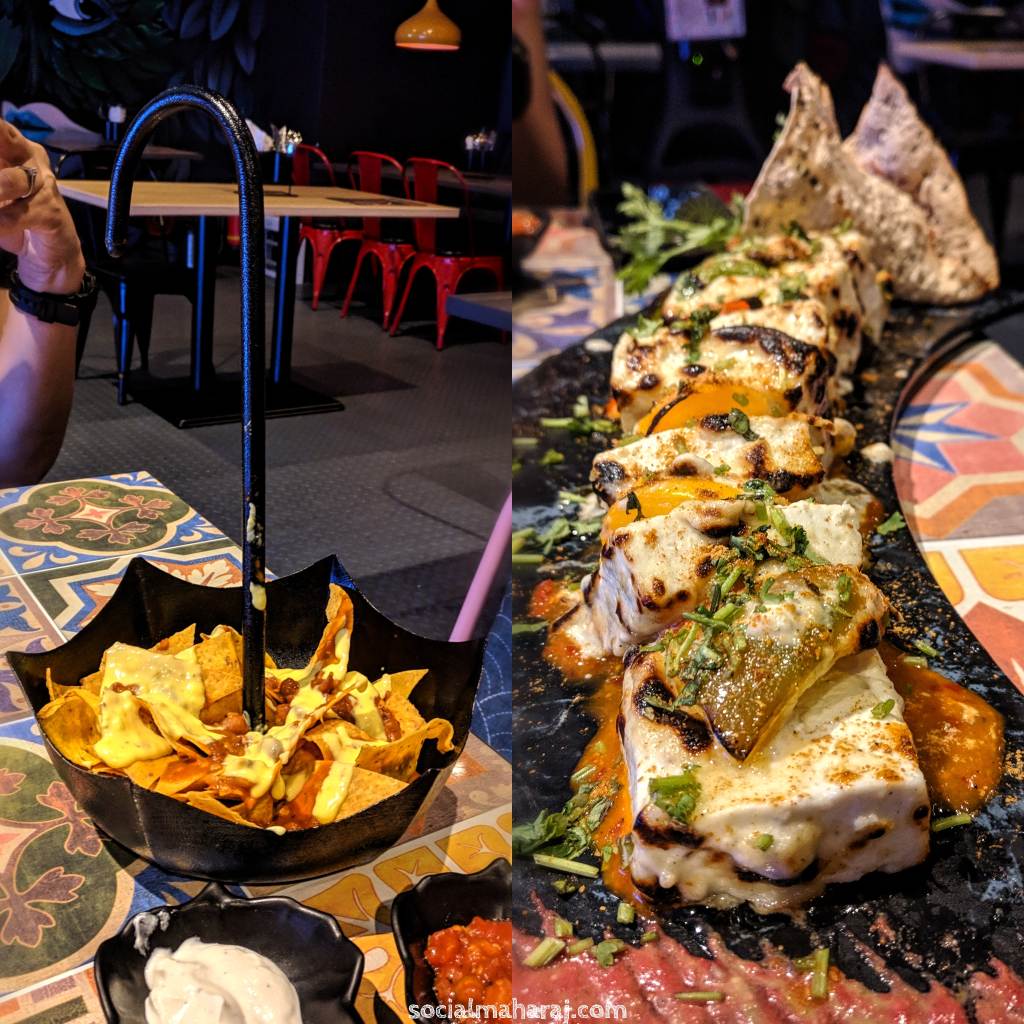 Nachos was loaded with cheese and had a dash of Rajma. Served with Mayo and Salsa dip, it tasted pretty good. Chipotle Paneer was a malai based Paneer Tikka which was tender and succulent. The flavor was good and the mint chutney complemented it well. From what we had, I can say the starters were pretty good and I can vouch the other fusion items they had would be good too.
Mains & Burgers
They do have Italian dishes like Pasta, Lasagne and Pizza on their menu. But we were almost full after the starters, we decided to order a 3 Pepper Cottage Cheese Burger along with my favorite Smoked Dal Makhni and Garlic Naan. As we talked about blogging and everything related to it, we had dishes on the table. The Burger looked appealing with the dips and crispy french fries. Again full marks for presentation.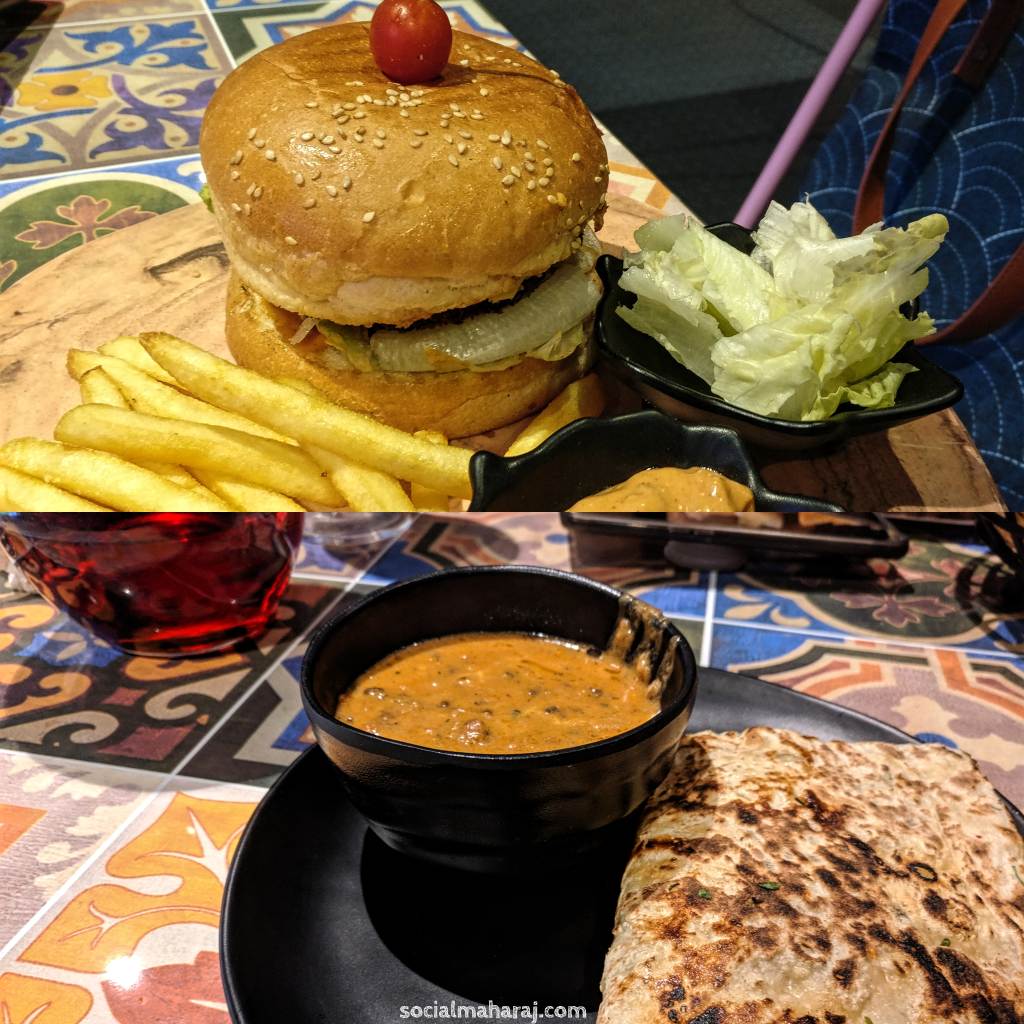 Me being a fan of desi food, wanted to try my go to dishes. Dal Makhni and Naan were on the table soon. The Dal Makhni had a butter cube on the top. The quantity was on the higher side as compared to what I've had at other places. Coming to the taste, it was ok. The Makhan is a bit too much which is muting the taste of the dal. And also for some reason I found the dal to be a little sour. So yes The Dal Makhni could be done well. They had various Paneer, Mushroom, Chicken and Mutton dishes on offer too. So I feel if you go to Masquerade, you should try those.
Thirst Quenching Mocktails
Masquerade has a quite a lot of options when it comes to Mocktails. They have some refreshing and unique mixes when it comes to drinks. Since we were two, we ordered their signature Masquerade Mystery Melon Cooler along with a Blueberry Smoothie. Both the drinks came in quickly and surely caught our attention. The smoothie looked like any other smoothie however the melon was the attention grabber. A watermelon filled with the mocktail placed over a glass bowl filled with red liquid. Note that you cannot drink that liquid in the glass bowl. I actually tried doing that, but the server asked me not to 😛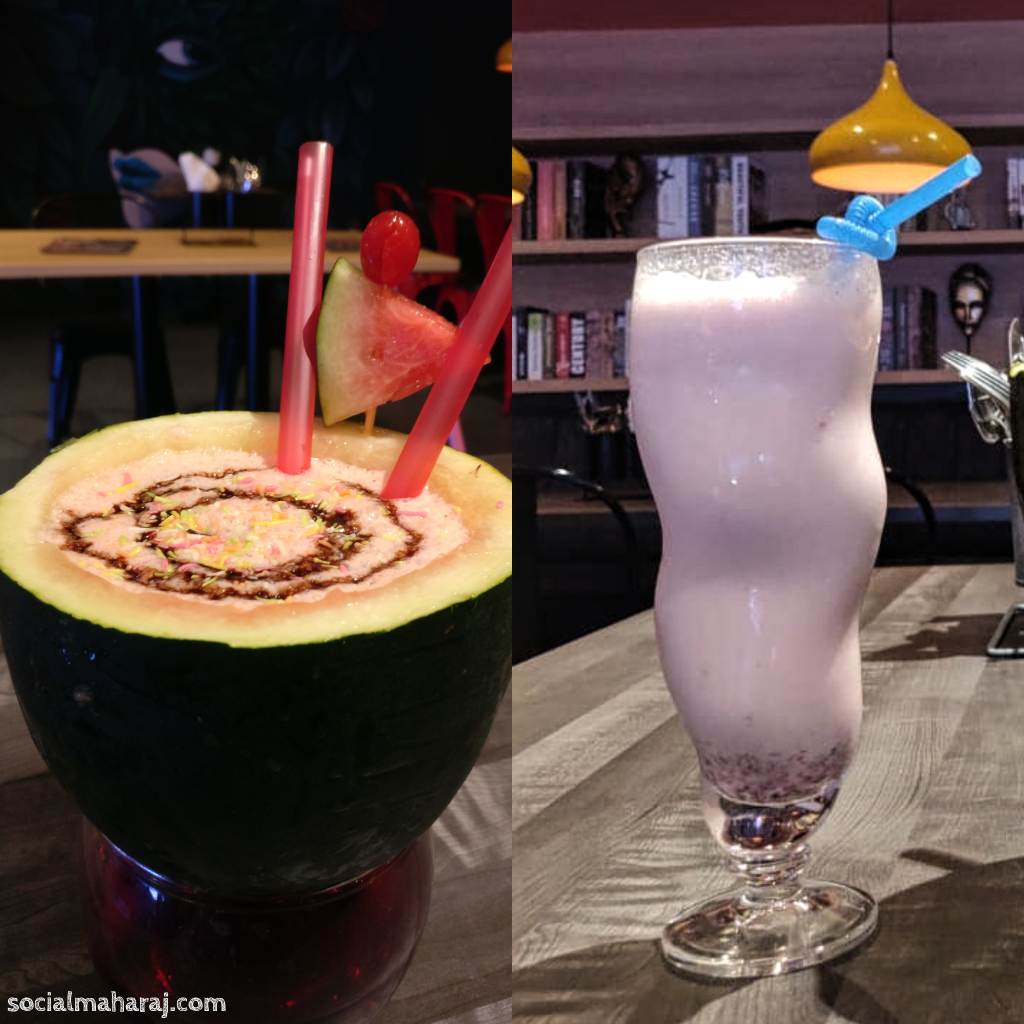 The watermelon cooler was a mix a couple of juices laced with chocolate chips and confetti. The drink was surely refreshing but slightly on the sweeter side. The chocolate chips came in only during the fag end, but they gave the drink a different twist. Overall, this is a good drink to try when you are there. And I can bet that they are very good in the mocktails department.
Final Verdict: Masquerade is worth experiencing
New offering by Mystery Rooms, Masquerade the experience lounge Gachibowli is a place to experience. The lounge is lively, has a blast of colors and is totally insta-worthy. Though a little congested, they have an upper deck where you could sit too. The board games and video games are a crowd puller especially children. They are also coming up with a dedicated Virtual Reality section on the upper deck. The food is good and has a wide variety. The service is good and a big shout out to Angam for attending us and Rishab for coordinating the dining experience. I'll conclude by saying that it was a Saturday well spent and you should visit Masquerade too. If you've already been there, how was your experience ? Mention in the comments below of tweet to me at @Atulmaharaj