Everyone from my friends and internet (possibly) know that I'm a very frequent visitor at Ohri's especially Ohri's Jiva Imperia and Ohri's De Thali. Reason ? Well first of all both of them are pure vegetarian restaurant in Hyderabad. Secondly both are quite close from the place where I stay. That makes it me and my family's preferred place to dine. Good on taste and doesn't burn a hole in the pocket. They've recently opened an outlet of Ohri's Chowpatti in Begumpet.  Chowpatti is their brand for various street food offerings. Last weekend I was there and tasted their street food offerings. So here's a review of Ohri's Chowpatti Begumpet.
Grab a bit and walk
Though the Ohri's brand is known for their amazing decor at most of their restaurants, Ohri's Chowpatti is different. If you've been there recently, you would have seen a small van right next to the main entrance. Yep, that's the Ohri's Chowpati truck. It's not a typical food truck concept as there's no seating available. One simple goes there, orders what they want, take/eat and walk off. So there isn't anything like an ambiance here. However the place is quite clean – something that isn't relatable to street food.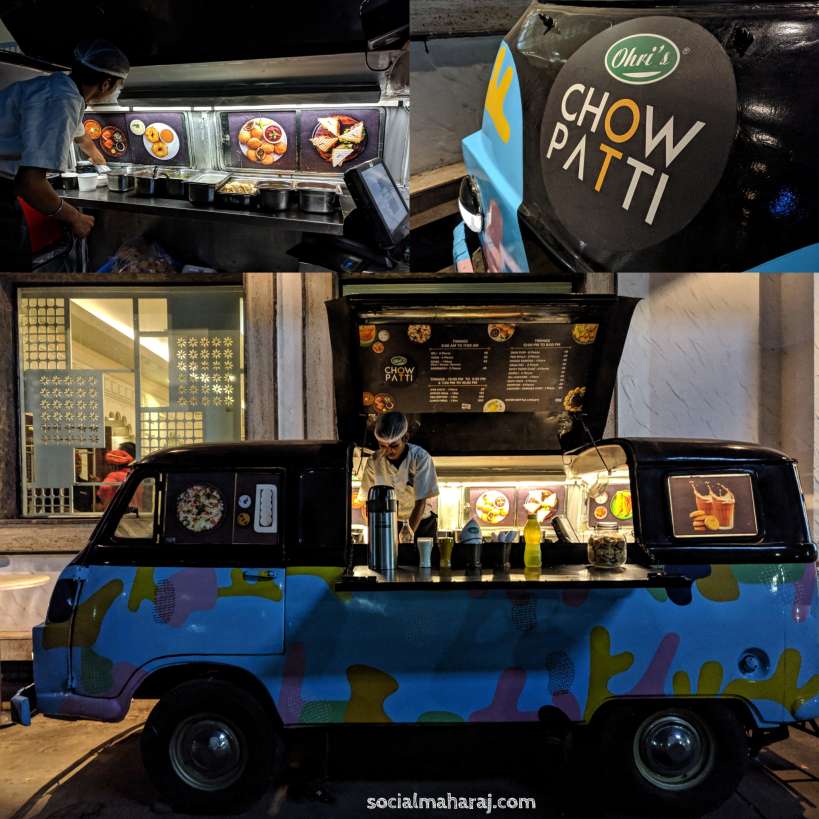 Best dishes at Ohri's Chowpatti
Ohri's Chowpatti in Begumpet is all about street food. The menu isn't quite expansive but has all that a street food lover would look forward too. They have everything from Vada Pav, Dabeli, Pav Bhaji, Raj Kachori, Pani Puri, Dahi Puri, Paapdi Chaat etc. The best part about Ohri's Chowpatti is that every dish they has costs just Rs 49. And trust me, the dishes are totally paisa vasool. Though there's no seating, I'm thankful to the manager Ram Kishanji for allowing me to taste these inside the restaurant. So, what are the best dishes ? Here are the must have street food dishes at Ohri's Chowpatti.
Delicious Dahi Puri
I'm a big fan of Dahi Puri and even have it often at home too. When outside, I usually stay away from this because of the condition of the curd. More often than not, the curd isn't fresh and doesn't taste good. Also most places don't have much filling in the Dahi Puri which makes it average. But folks at Ohri's Chowpatti have got it bang on. The Dahi Puri is crunchy and is stuffed to the fullest. Boiled channa, vegetables, sev, spicy boondi and peanuts. This is bathed with curd, tamarind chutney and green chilly chutney. The filling + the taste is just superb. And at Rs 49 for 8 pieces of this, you surely don't want to miss out on this.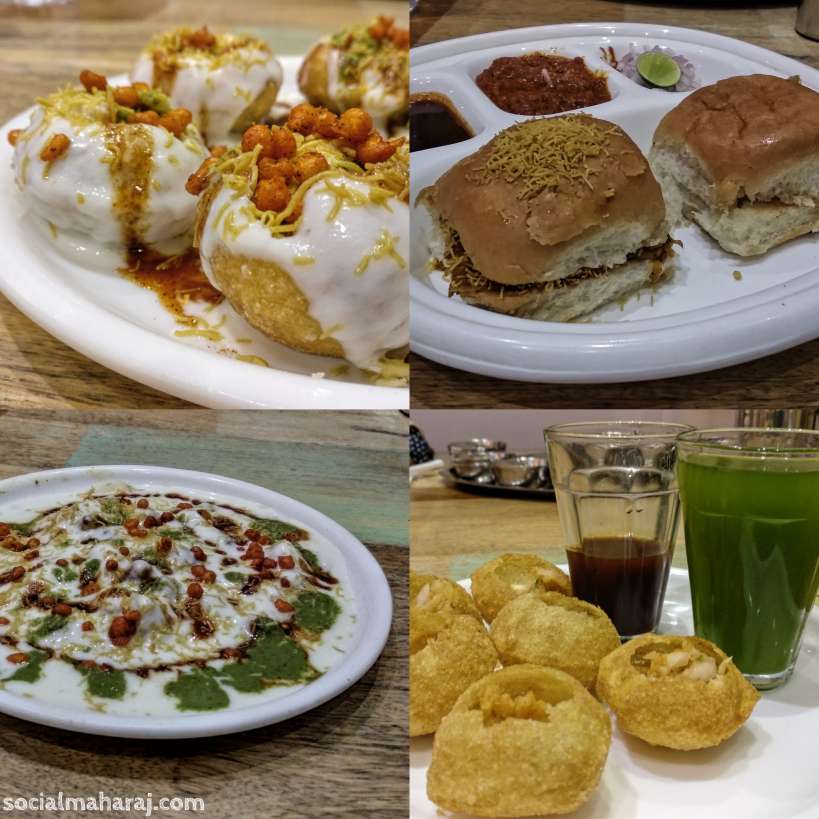 Spicy yet Tasty Pav Bhaji
Pav Bhaji is one of my favorite street food dishes and have been eating it since I was in school. Not many places are able to get the taste right but still have a lot of people visiting them. Pav Bhaji here is quite delicious. Not quite like the Bombay Pav Bhaji, but the taste is good. Slightly on the spicier side, the pav bhaji is flavorsome. This coupled with soft pavs, onions and lime – just what one would want.
Simple and Subtle Dabeli
The next item, I'll suggest you to try at Ohri's Chowpatti is Dabeli. They've got the Dabeli stuffing pretty close to what I used to have in Ahmedabad. Flavors are a little muted but still tastes good. With the crunchy sev and soft pav, the dabeli here is a must try. For 49 Rs you get two pieces of these good, tasty and filling Dabelis, what else would you want ?
Final Verdict: Must Try Ohri's Chowpatti
They have a lot of outlets and this one in Begumpet is one of them. Though it's not a full dine in restaurant, it does attract a lot of people. Thanks to the offices in the vicinity. Priced at Rs 49 per dish, they've got street food right. The cleanliness and the taste at that prices is unmatched. The Dahi Puri was surely the star of the night and so was the Pav Bhaji. Pani Puri was average, the puri was crunchy, but the pani could have been better. Overall Ohri's Chowpatti is a great place for some delicious street food with clean surroundings. Have you been there already ? How was your experience ? What's your favorite street food ? Mention in the comments below or tweet to me at @Atulmaharaj